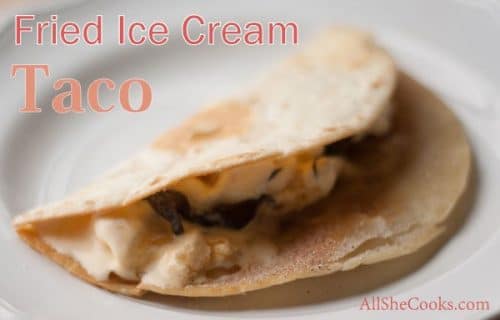 Ice cream cones… move over.  There's a new taco in town.  See how much I love you?  I'm sharing a Fried Ice Cream Taco with you.  That's love, baby!
Every recipe has a story, and I always think to myself… I'm sure this has been done before.  And it probably has.  But here's the thing.  While eating a yummy Fried Ice Cream dessert the other day, I thought to myself: wouldn't it be fun if I just put all the ingredients in a tortilla for a grab and go treat?
Okay, so it's not quite 'grab and go' for the person preparing the treat, but it is very simple and not time consuming.  Let me put it to you this way: while I was preparing the recipe and taking photos for this post, I also made 3 other recipes and photographed them.  Now, to be honest with you, some of them went together and I was multitasking.  All in about 30 minutes.  Seriously.
The biggest chunk of time making Fried Ice Cream Tacos will be spent frying up the tortillas in a bit of olive oil.  Did I mention that I love EVOO.  And M&Ms.  Not together of course.
So… lightly fry 6 inch flour tortillas for as many tacos as you are making.  You might want more than one… this isn't the same as a heaping bowl of ice cream after all.  Myself, I'd probably settle for one.  And then come back for another later.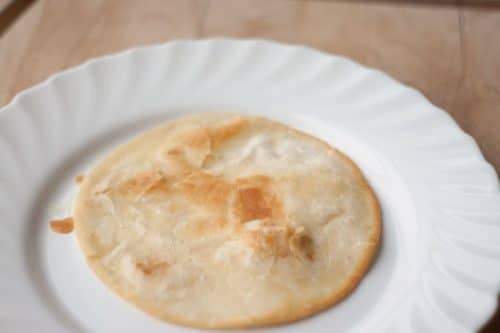 When the tortillas are cooling, sprinkle with cinnamon and sugar.  I use 1/2 cup sugar to 1 teaspoon of cinnamon.  You can use just a little or be more liberal… the choice is entirely yours.  Be free-spirited.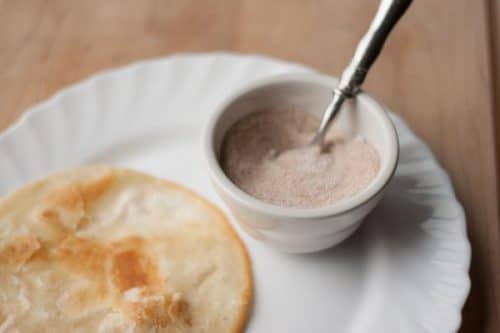 I could seriously eat these cinnamon-sugar tortillas with absolutely nothing else on them.  I mean, they've been lightly fried in EVOO… they're kind of crispy, and they are golden!  Who doesn't like gold?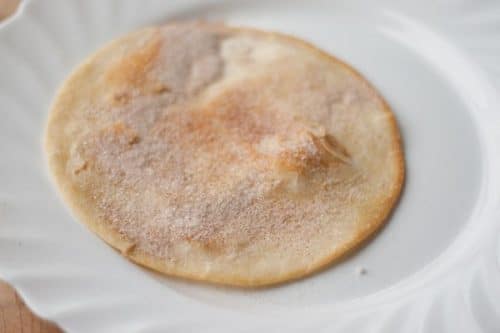 If your tortilla is still sitting there and hasn't made its way into your belly, give it a good ole scoop of ice cream.  Now… at this point you could steer off course and start adding in all kinds of different variations.  And I probably will do the same at some point.  But for now… focus.
Fried Ice Cream Taco.  My daughter's favorite dessert when we go out to a Mexican restaurant is Fried Ice Cream, hence my fascination and desire to come up with a fun way to make it at home.
There are only two more ingredients to add.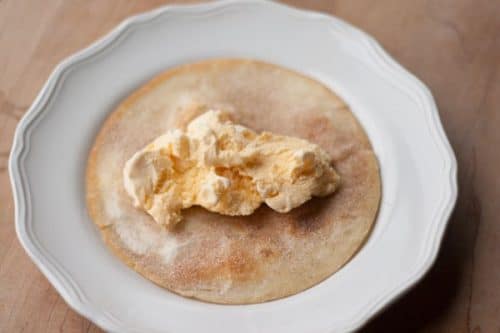 Honey.
Yes, dear?
Seriously… just add a drizzle of honey.  Sweet honey.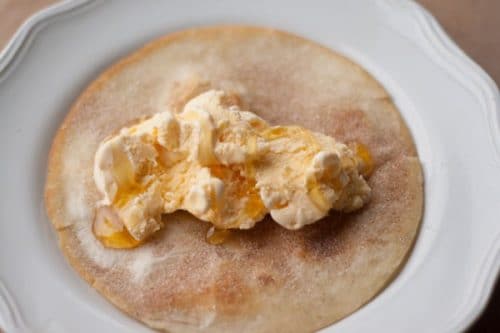 And chocolate.  I would have used my homemade Hot Fudge, but someone (I'm not naming names) finished it off without letting me know.  And, I have to go to the store to get more ingredients.  So, I made do by melting chocolate chips.  Worked out just fine, although the hot fudge would have made for a prettier picture.  Good thing this isn't a conceited taco we're talking about.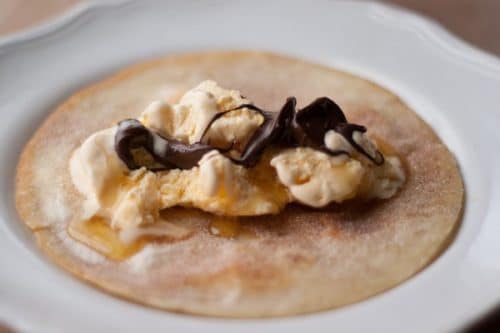 Fold it up and eat it like a taco.  Fair warning, it might get a little messy, so this Fried Ice Cream Taco is a perfect ice cream snack to eat outside on a hot summer day.  BBQ, have some friends over, and make them a treat that shows you care.
Print
Fried Ice Cream Taco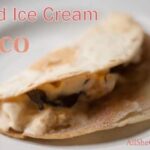 Fried Ice Cream Tacos are the perfect addition for a cookout. Fry the tortillas ahead, and warm them up a bit to save yourself from frying tortillas when you want to be having fun at your party.
Author:

Jessica, AllSheCooks.com

Category:

Dessert
Ingredients
6-inch flour tortillas
Olive oil
1/2 cup sugar
1 teaspoon cinnamon
Vanilla ice cream
Honey
Chocolate syrup or hot fudge
Instructions
Lightly fry flour tortillas in a couple tablespoons of olive oil. Add additional oil as needed if frying more than a couple tortillas.
Mix together
The following two tabs change content below.
Latest posts by Jessica McCoy (see all)