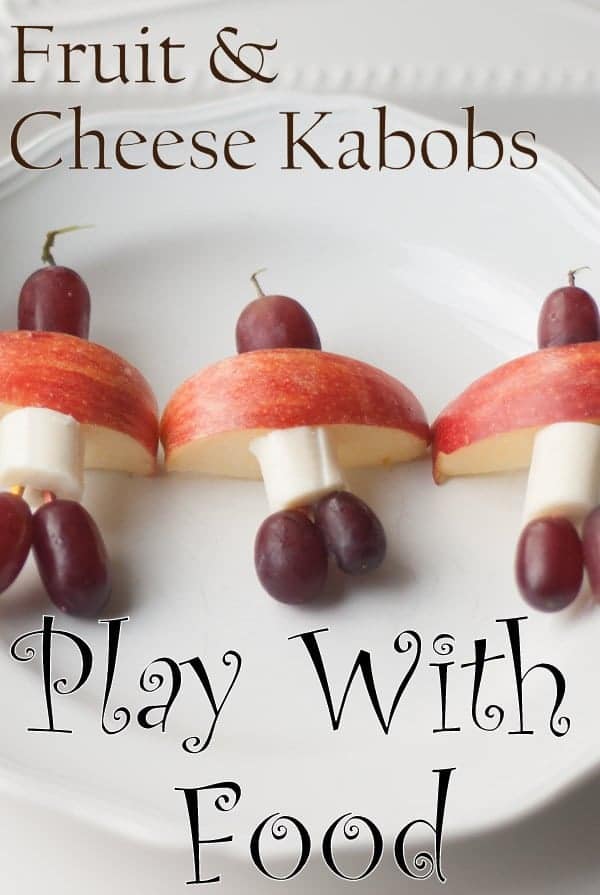 Looking for healthy snack options?  How about fruit and cheese kabobs?  Think about it… fruit and dairy are two food groups that are so important for the growth and development of our children, not to mention our daily health as adults.  So, why not combine two things that are uber good for you and put them together in a fun way?  And… while you're at it, why not let your kids play with food?
When I was contacted to work with Frigo® Cheese Heads® String Cheese on some recipe concepts using their products, I was excited at the opportunity to come up with some new ways to use cheese products that my kids love.  Creative fun with food not only allows children to explore foods that might not be on their list of favorites, it also allows them to think outside the box.  I handed my daughter some toothpicks, apple slices, chunks of Frigo® Cheese Heads® String Cheese, and grapes.  My idea was to simply make cute little fruit and cheese kabobs for an after school snack.
Kids being kids, my daughter played with her food and got some creative snack ideas going.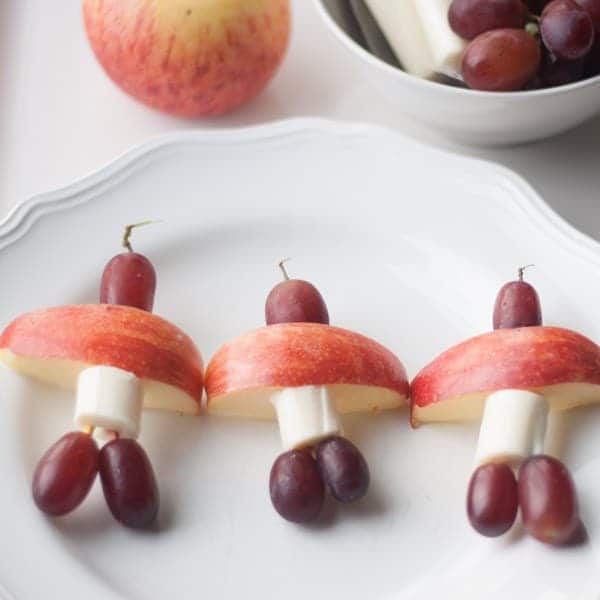 Yes, those are little fruit and cheese people, with cute little grape legs in case you couldn't tell.  How cute are they?  I love that a simple idea can be made into something that is amazingly fun for kids.
Keep Apple Slices Fresh
We've all done it.  Cut up an apple and leave it for just a little while and the apple slices turn brown.  Not fun, and when serving apples on kabobs or just slices for to serve at a party with fruit dip, brown apple slices don't make a flattering presentation.  Did you know that there is an easy way to solve this common kitchen problem?
A simple food prep tip will have you serving gorgeous apple slices in no time!  Either sprinkle apple slices with citric acid powder or lemon juice.  Put the apple slices in a bowl and add a small amount of water to cover.  Let the apple slices soak for a minute or so and then take out and drain on an absorbent towel.  This trick to keep apples from browning is a no fail and works great to keep pears from browning too.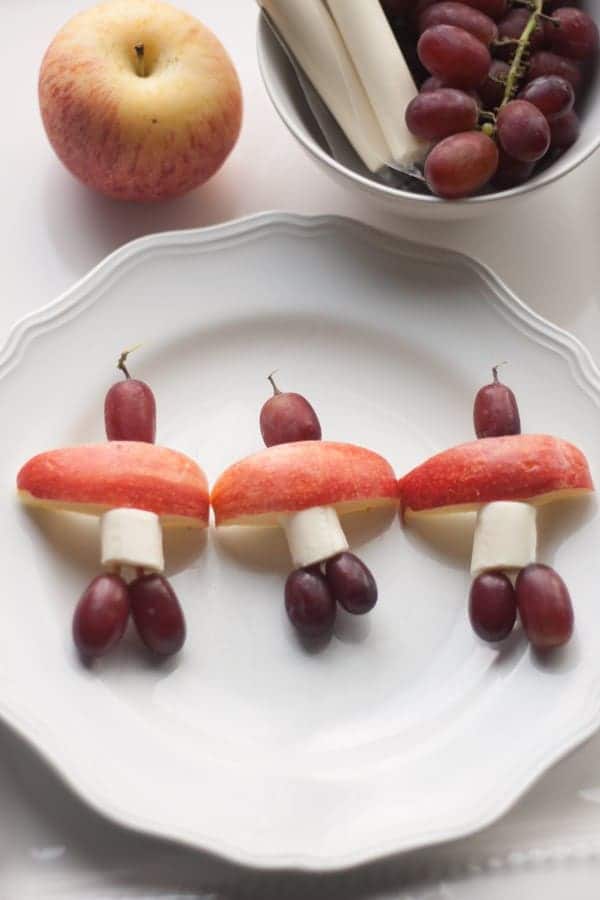 What a quick and fun snack idea, right?  All you need is a few ingredients that you likely have on hand most of the time anyway, especially if you have a household with school-age kids.  Healthy snack options that are quick, engaging and inexpensive to buy are always at the top of the list.  Give these Fruit and Cheese Kabobs a whirl, and see what fun creations your kids come up with!
(Disclosure: This post is sponsored by Frigo® Cheese Heads® String Cheese.)
Print
Fruit & Cheese Kabobs- Playing with Food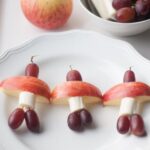 Author:

Jessica, AllSheCooks.com
Ingredients
Grapes
Apples to slice
Frigo® Cheese Heads® String Cheese, cut in chunks
Toothpicks to spear fruit and cheese with
Instructions
Slice apples, cut cheese into chunks, and place apples, cheese and grapes on toothpicks. Let your kids experiment and make different creations with this fun snack.
The following two tabs change content below.
Latest posts by Jessica McCoy (see all)