Hi folks! Julie from This Gal Cook's here. I'm excited to be guest posting on Jess's blog today. Instead of only talking about food, I'm going to speak with you about some Google Plus basics, how Google Plus can help your page rankings and how to get started with it (or increase your skills and following if you are already using it.)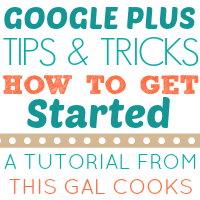 But first, let me share a few of my favorite recipes with you. So get comfy, grab a snack and enjoy the recipes and useful networking information that I am going to share with you today!
Fluffernutter Peanut Butter Cup Ice Cream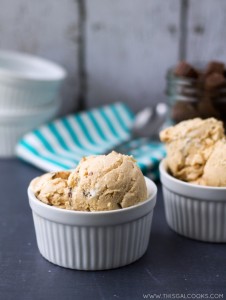 Slow Cooker Chicken Enchilada Rice Bowls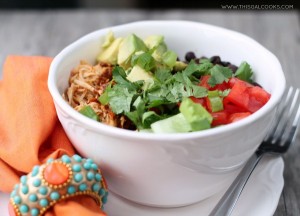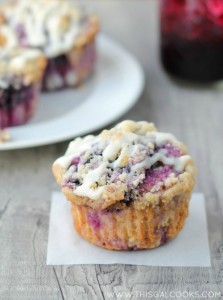 How many of you are using Google Plus? How many of you have heard about Google Plus but haven't yet started using this valuable social media tool? How many of you have no idea what Google Plus is? I'm sure most of you have heard of it but just in case you haven't, here's a brief introduction to Google Plus.
From Wikipedia and my own knowledge:
Google Plus is a social media platform developed by Google. Started in the summer of 2011, Google plus has quickly become one of the most popular social media networks. In early 2013, registered users surpassed registered users of Twitter, making it the second largest social media outlet in the world! This alone makes Google Plus a very powerful tool for sharing your content and networking!
Features include a stream, circles, hangouts, messenger, instant upload, hashtags and increased page ranking with regular use! We will get to some of those features in just a moment.
Have I peaked your interest into using Google Plus yet? If I told you I increased my following by over 600 followers since the beginning of June, would that peak your interest? It was super easy to do!
You see, up until a couple of months ago, I wasn't a power user of Google Plus. But some frustration with Facebook (gotta love Facebook reach telling you that only 200 out of your 2000+ followers are seeing your posts) I decided to invest more time into it. Now don't get me wrong, I still use Facebook because it is a powerful tool and many companies look at Facebook followers when they are deciding whether or not to work with you, but I've definitely stepped up my Google Plus usage and I even enjoy it more than Facebook.
Setting Up Your Google Plus Account
Ok so now you are ready to set up your Google Plus page. Now I am not going to go into a lot of detail on this because I am going to assume that you are already signed up with Google Plus. But if you are not, just head over to plus.google.com, follow the instructions to create your page and bam! You are ready to get started.
The first thing I recommend doing is connecting your Google Plus profile to your blog. This is called Google Authorship. This is great for SEO and page ranking and it will make your content more searchable. Have you ever noticed people's photos next to their blog in Google Search results? Have you wondered how to do that? Sign up for Google Authorship. That's how you can get your photo next to your blog search results! Here is the link to sign up for Google Authorship. INSERT LINK. If you have specific questions about setting up Google Authorship, please email me at thisgalcooks(at)gmail(dot)com and I will be happy to help you.
After setting up Google Authorship, start adding people to your circles. You can create numerous circles in order to organize who you follow. For example, I created an "All About Food" circle for people who share recipes or have food blogs, a "DIY" circle for people who share DIY tutorials and projects, and a "Blog/Tech Info" circle for people who share blogging information and technology related articles. I cannot stress enough how important circles are. When I first started with Google Plus, I pretty much lumped everyone into two categories. When I finally decided to categorize everyone, it took over an hour to do. Yikes!
SEO and Google Plus
SEO. That is the hot topic in the blogging world right now. It's the hot topic with anyone who has any type of website. What is SEO? I'm not going to get into the nitty gritty of it but simply put, SEO is Search Engine Optimization. Will your posts show up in the first few pages of Google search results or will you be buried numerous pages in? You want to be at the front of search results! Connecting your blog to your Google Plus account, as I mentioned before, is one way to help with SEO. Another way is to comment on other peoples Google plus posts, plus one other posts (click the little +1 button located at the bottom left of the post), tag people when you are sharing their post or speaking directly to them, and share your blog content on Google Plus! Include the name of your blog post in your Google Plus post. Google likes this. They will rank your blog posts higher in search rankings. But don't worry, if that recipe that you shared has a common name, such as chocolate chip cookies, more than likely, if you shared it on Google Plus, you will probably show up in the first couple of pages of a Google Plus search with the result being your Google Plus post. I know it isn't your actual blog post but your Google Plus post does have a link to your blog post, right? It should have a link to your blog post! See below for a photo example of what I am talking about.
Miscellaneous Google Plus Tips
To tag someone in a post, type "@" and then start typing the person you want to tags name. A drop down will appear (see below) with a list of names. Click on the person you want to tag.
Bold your text on important parts of your post (title of the blog post you are sharing, topic that your post is about, etc.) This will catch the reader's attention. To bold text, open it with the * and close it with the *. For example, if I wanted to bold "Cherry Crisp" I would type *Cherry Crisp*
Join Google Plus Communities. This is a quick way to meet new people, gain new followers and network!
Participate in Google Plus Blog Hops. I just happen to host a weekly networking party with four other fabulous gals as well as four co-hosts, The Grow Your Blog Networking Party. In fact, my party is live right now. Just head on over to my blog, This Gal Cooks, and link up your blog and your Google Plus page! With a total of eight hosts and co-hosts, this party has great exposure! Another blogger who does a Google Plus party is Jenny from The NY Melrose Family. Her hop is a monthly one. Be sure to find her on G+. She is a G+ guru!
I hope you enjoyed this brief tutorial on Google Plus. If you have any other questions or would like some more in depth information, feel free to contact me. You can find my contact information by visiting my contact page.
The following two tabs change content below.
Latest posts by Jessica McCoy (see all)