Best sandwich ever with some gouda cheese!
Looking for a good grilled cheese recipe?  Maybe some sandwich ideas for parties?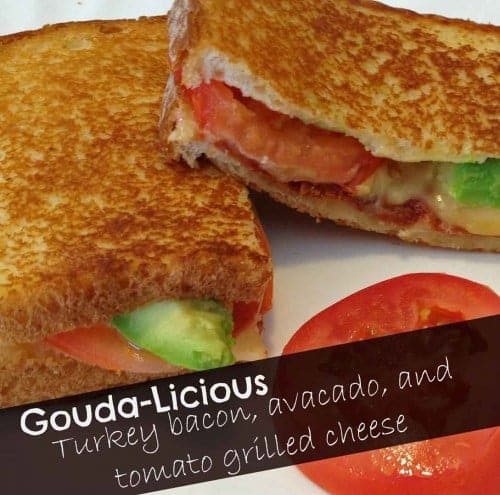 Sometimes a sandwich needs a makeover.  Period.  The same ole gets really boring after a while, and taste buds need a switch.  So, this week I've been experimenting with flavors and mixing it up in the kitchen with a good old standard: the basic grilled cheese sandwich.
Growing up, I remember always having a package of Kraft singles in the refrigerator.  It was a good standby and an easy lunch to fix for a pre-teen or teenager.  Fast and easy… coat the bread with butter, put a slice or two of processed cheese between the slices, stick it in the sandwich maker, and Lunch!
Now, my tastes have become more refined.  I guess you could call me a cheese snob.  I won't buy the processed cheese slices… can't stand the taste.  I buy sliced Cheddar, Gouda, Mozzarella, Colby and now and then some other fancified sliced cheese that I happen upon.  Yes… I know fancified isn't a real word… but I like the sound of it.
So… this week, Grilled Cheese Snobbery was born.  Okay… I'm sure I'm not the first to really be a grilled cheese snob, but if you haven't tried being a grilled cheese connoisseur, you're really missing out.
For my out of this world Gouda-licious Turkey Bacon Grilled Cheese Sandwich, you will only need a few ingredients.  Put them all together and they equal amazing.  A.Maz.Ing.  Totally.  I'm loving this Gouda Turkey Bacon Grilled Cheese.  Tasty, healthy and oh so good.
Print
Gouda-licious Turkey Bacon Grilled Cheese Sandwich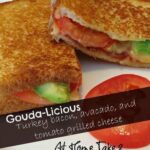 Author:

Jessica, AllSheCooks.com
Ingredients
cottage bread- 2 slices
Gouda cheese- 2 slices
turkey bacon- 2 slices
tomato
avocado
butter or margarine
Instructions
Cook up that turkey bacon in the microwave on a paper towel according to package instructions. About a minute should do it.
Then, butter one side of each slice of bread and then layer: one slice Gouda cheese, bacon, another slice of Gouda, tomatoes and avocado slices.
Top with the other side of bread butter side up and grill sandwich over medium high heat until toasted.
Finally, flip the sandwich and toast on the other side. Serve up your Gouda-licious with tomato slices or deli pickles. Enjoy!
The following two tabs change content below.
Latest posts by Jessica McCoy (see all)