You should try our Grilled Chicken recipe.

Who doesn't like grilling out, right? When the weather gets warm, you can bet my family will be doing the same thing that millions of other families across the United States and around the world are doing. It's time to grill out baby, and a grilled chicken recipe is just what's on tap.
So… get your charcoal going, because that's how this chicken is cooked. Now, if you're using a gas grill, you'll need to adjust time accordingly… but I can't quite tell you how. You see, I've never cooked on a gas grill. My family has always been a charcoal-loving, backyard grilling type of family. While I love the idea of turning on the flame with a gas grill, I have to say that the flavor that a charcoal grill provides is out of this world heavenly.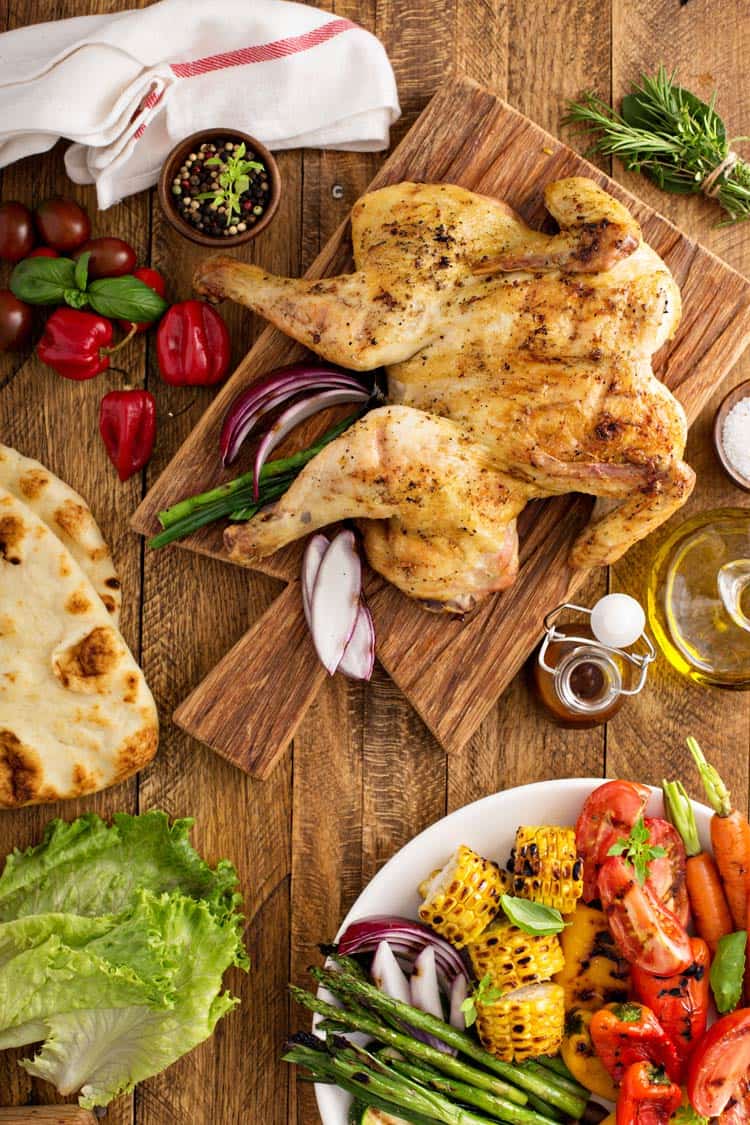 Have you ever cooked chicken halves on the grill? If you haven't, this is really a recipe that you need to add to your summer cooking-out plans. These Perfectly Grilled Chicken Halves are really just that- perfect. You'll be amazed at how flavorful and tender the chicken is, and it's ready just about an hour after it's put on the grill.
Before you even start preparing the chicken, mix up the Chicken Rub: rosemary, Adobo, and pepper.
To get the chicken ready for it's barbecue debut, it needs to be cut down the middle to half it. I find that using a chopping knife works nicely.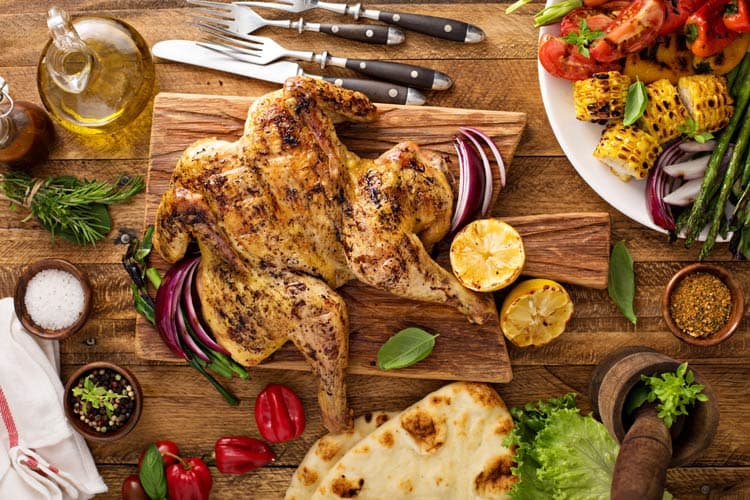 Next, loosen up the skin almost like you're going to pull it off. The purpose here is to make a big pocket that can be used to hold seasoning and help keep the chicken from drying out during cooking.
Then, add about half of the Chicken Rub under both chicken halves.
The remainder of the Chicken Rub will be rubbed in to the top of the chicken skin. Sprinkle it liberally over the top and then just work it all into the chicken.
Toss chicken on a hot grill, split side down and allow them to cook for about 30 minutes. Flip and cook for another 30 minutes on the other side.
Using a cooking thermometer check the meat to make sure that it has been cooked to poultry specifications. The goal when grilling poultry or pork is always to use a thermometer to ensure proper internal temperature has been met. Because there are so many variables in grilling, the times I am giving you in this post are estimates, and are based off of the time it took me to prepare this meal.
Grilled Chicken Breast Recipes
And there you have it: Perfectly Grilled Chicken recipe. I normally serve this with Cooler Corn on the Cob and a variation of Fruit Pudding that you're going to LOVE, but you could load up on any number of grilled vegetables! Grilled Asparagus is also amazing.
And what's more… the leftovers of these Perfectly Grilled Chicken Halves are amazing in the Grilled Chicken Tacos and Chicken Chef Salad that I'll be sharing with you soon.
Print
Perfectly Grilled Chicken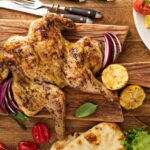 Ingredients
1 whole chicken, 4-5 pounds
1 tablespoon rosemary
1 tablespoon
1 teaspoon pepper
Instructions
Cut chicken in half. Loosen skin so it pulls away from the chicken to form a pocket.
Mix together spices and rub half of them under the chicken skin. The remaining half needs to be rubbed over the skin on the outside of the chickens.
Cook on a hot charcoal grill for 30 minutes, flip and cook on the other side. Insert a thermometer to ensure proper internal temperature has been met before removing from the grill.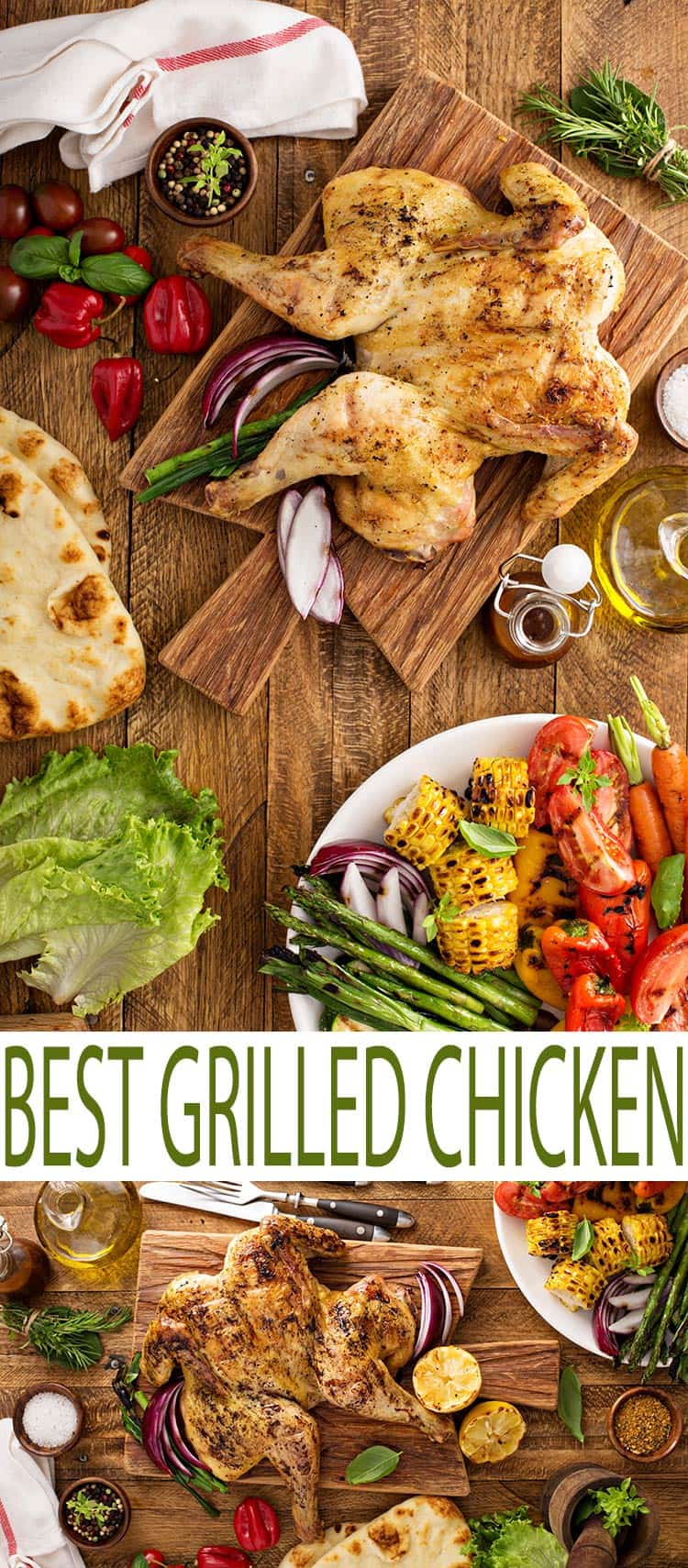 Save
Save
The following two tabs change content below.
Latest posts by Jessica McCoy (see all)