Looking for a Midwest family getaway? Gurnee, IL is a Midwest family vacation destination. If you're looking for a fun-filled time with a variety of activities to satisfy family members of all ages, this is a great place to go.
My family recently took a trip to Gurnee to relax, unwind, and just chill out for a bit. We wanted a quick getaway vacation that wasn't something we'd have to take a week to recover from. Since Gurnee, Illinios is just 2 hours from us, it was the perfect choice.
Where to Stay
Keylime Cove Indoor Waterpark Resort is the place to stay when vacationing in Gurnee, because it's also the perfect waterpark playground for when you want to just let the kids use up every last bit of energy they have before bedtime. Our stay at Keylime Cove was so much fun and the kids are begging to go back already.
Where to Play
Besides playing at Keylime Cove, or the ever popular Six Flags Great America, why not try something new?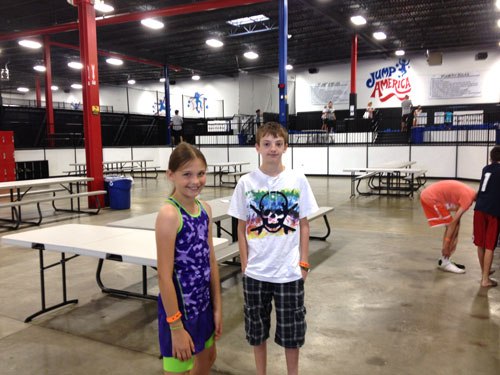 Jump America is an indoor trampoline park in Gurnee, IL. It is the perfect place to take your kids for an evening of trampoline fun. Take a break from amusement and water parks and get some insane exercise playing trampoline dodge ball. Seriously! Trampoline dodge ball is an activity that is fun for the whole family, and let me tell you... your kids will be sweaty and ready to hit the shower when they are done playing. It is fun, exhilarating and gets the adrenaline flowing.
We visited Jump America on a Tuesday evening and our son played dodge ball the entire time! We'll have to go back so he can see the other things Jump America in Gurnee has to offer.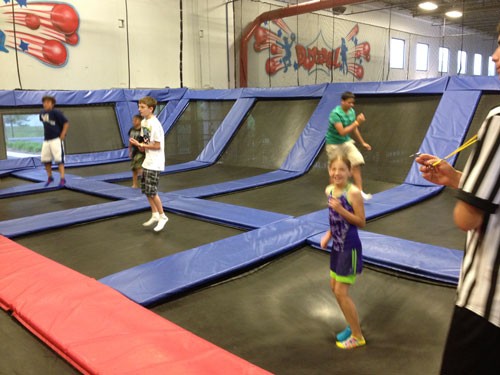 My husband and daughter had a blast jumping all around the trampoline park. Who wouldn't?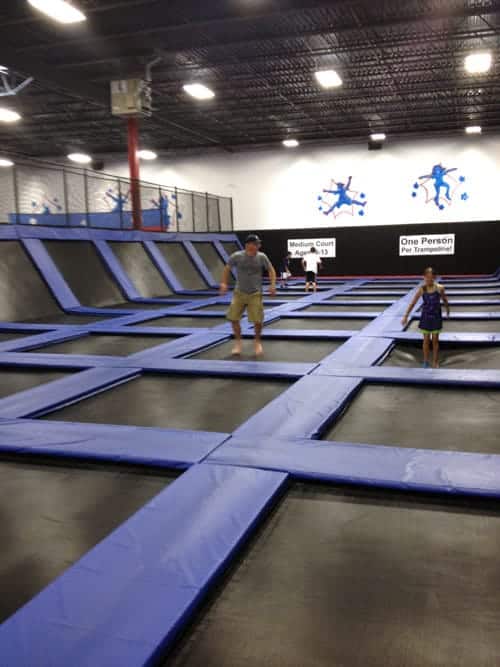 There was even a trampoline aerobics class going on while we were there. From jumping on the trampolines for just a little bit (in between taking pictures of my kids and watching my son bring it in dodge ball), I can tell you that trampoline anything would be an insanely good workout.
Jump America does birthday parties, and also hosts teen nights. If we lived closer, we would definitely take advantage of both of those! And be there every Tuesday night for dodge ball.
Where to Shop
Gurnee Mills® is the place to shop when visiting Gurnee, IL. Take a break from Six Flags and other activities and stroll through the largest outlet mall in Illinois. Since Gurnee Mills is an indoor, climate controlled shopping mall with over 200 stores, you will have a comfortable shopping experience no matter if it is summer, winter or any time in between.
Stores at Gurnee Mills® include Neiman Marcus Last Call, Saks Fifth Avenue OFF 5TH, H&M, Bed Bath & Beyond, and Bass Pro Shops Outdoor World. During our visit, my daughter and I enjoyed Build a Bear, Nike, Justice/Brothers, and the Disney Store.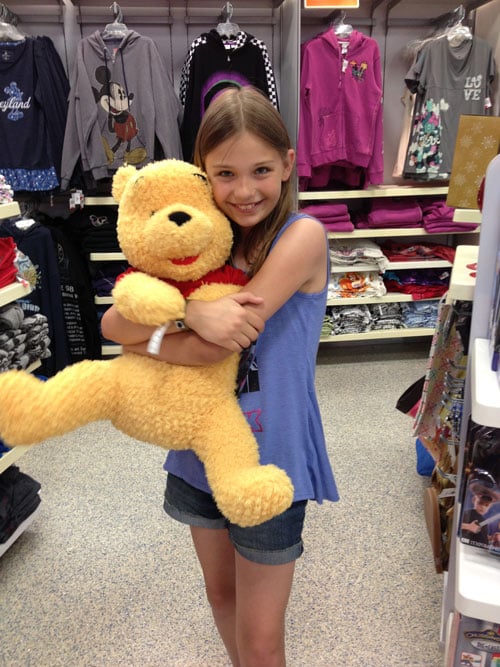 We also dined at Rainforest Café, which is always a fun experience.
Make sure you save room for a Volcano, a brownie ice cream sundae with sparkler lit on fire. To add to the fun, there is a thunderous announcement 'Vol.CA.NOO' that is announced by the waitstaff on their way to deliver the huge dessert. The menu says the volcano serves 2 or more, but seriously keep in mind the 'more'. My daughter and I ate as much of it as we could, but had a few brownies left over. Our family of four could have handled the dessert nicely.
Gurnee Mills is located at the intersection of Interstate 94 and Grand Avenue (IL 132) in Gurnee, IL, 40-minutes between Chicago and Milwaukee.