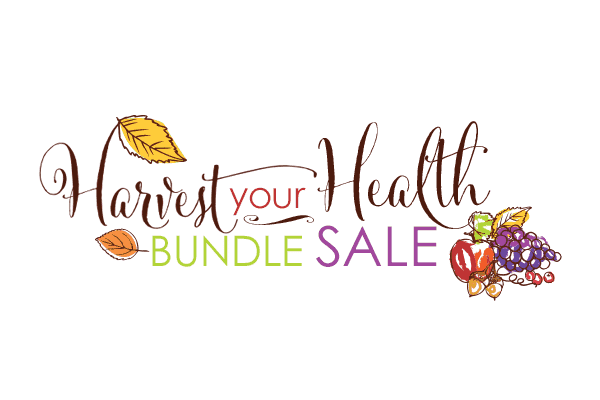 I often hear from my readers (and especially my 52 Weeks of No-Repeat Meal Plan subscribers), that you need more healthy meal ideas.  That's why when I heard about this Harvest Your Health Bundle Sale I KNEW I needed to promote it.  Who doesn't want to be more healthy?  Feel more alive?  Have boundless amounts of energy?  Feel like a kid again?  Now… I'm not saying that you're going to feel like you're a teenager again just by reading any of the eBooks in the Harvest Your Health Bundle Sale,  BUT I will tell you that IF you read the books AND make lifestyle choices to engage in healthier habits that over time you WILL feel years younger and have more energy.
Who doesn't want to look and feel younger, right?
Now… you know I'm big on meal-planning with my 52 Weeks of No-Repeat Meal Plans, and I have some GREAT meal plans.  BUT… I'll be the first to admit that sometimes convenience and time defeats health and wellness.  Which is WHY… I was so excited to specifically see 7 months of meal-plans and 2 months of Primal Pal Membership (a combined $59.76 value all on their own… not including the buckoos of other eBooks you will receive) included in the Harvest Your Health Bundle.  Because who can't use healthier meals to work into their meal plans?  I know I can!:

Meal Plans
If that isn't enough… there are loads of real food eBooks!  HELLO… real food!  We're talking $100 worth of eBooks focused on cooking/preparing food from scratch instead of ingesting tons of processed foods.  That is so much healthier, and just makes you feel better.  Check out the eBooks that are included:

Cooking/Preparing Real Food
Harvest Your Health is amazingly priced at $37 for a very short time.  It is so affordable, because we want everyone to have a chance to life a healthy lifestyle.  For one week only, this incredible collection is available for 95% off retail value! You pay just $37!
The following is the list of all the eBooks, meal plans, online magazine subscriptions and discount codes included in this once in a lifetime offer. Use the links to obtain more detailed information on each specific category or book, or order your Harvest Your Health bundle.
Cooking/Preparing Paleo Food
Personal/Home Care (Skin, Hair, Teeth, Cleaning)
Fertility, Pregnancy, Babies, Children, Motherhood
Inspiration
Fitness
Intentional/Simple Living
Informational
Detoxify
Online Magazine Subscriptions
Discounts
(Disclaimer: I am an affiliate for the Harvest Your Health Bundle Sale.  If you make a purchase through one of my links, I will receive a commission.)
The following two tabs change content below.
Latest posts by Jessica McCoy (see all)