I am a member of the Collective Bias® Social Fabric® Community. This shop has been compensated as part of a social shopper amplification for Collective Bias and its advertiser.
If you're looking for a healthy, easy recipe, you've come to the right place.  We've got you covered with a salad so good, packed with so many nutrients, that you'll probably wonder why you haven't thought of throwing these ingredients together before.  Using the health key™ system from Pick 'n Save has been such a time-saver.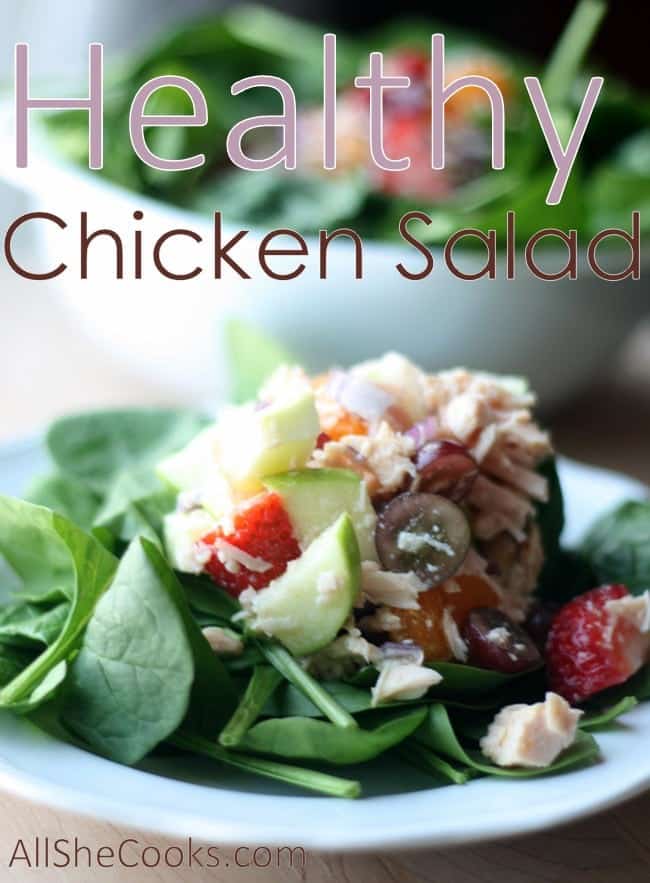 So… let me give you a little back story.  A little over a month ago, I was doing some reading on the internet about ADHD symptoms and diet for an article I was planning.  Low and behold, I stumbled on a blog post that was talking about the relation of ADHD and a gluten-free diet.  The author was giving gluten-free a try with her own son after hearing about it from her husband's co-worker.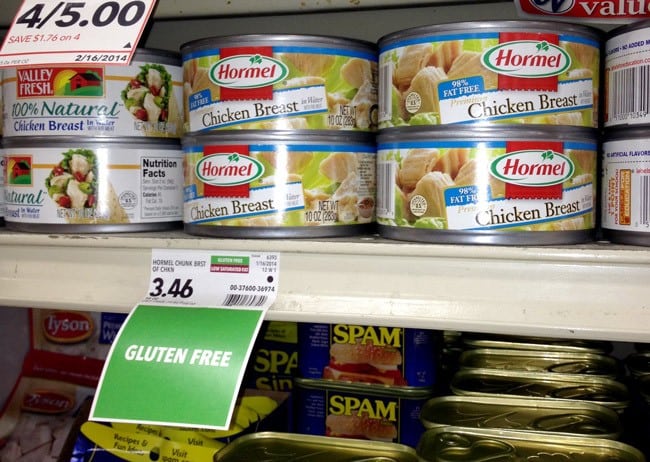 I love shopping Pick 'n Save's health key™ system.
Let me tell you, if I had started to try to figure out how to make a Gluten-Free meal plan without using Pick 'n Save's health key™ system as my crutch, planning gluten-free meals successfully would have been difficult and stressful.
The health key™ system allowed me to browse up and down aisles, zero in on tags like the one pictured above, and find items that fit my dietary needs accordingly.  There are tags for many restrictions and diets, such as Vegan and Heart Healthy, but the tag I was interested in finding was Gluten-Free, and I found many tags throughout the store with that label.  I've found some great ideas too on Facebook, Twitter and Pinterest.
I've been coming up with many recipes that are Gluten-Free, and am continuously surprised by how many recipes I already have on All She Cooks that are Gluten-Free purely by chance.
For my Healthy Chicken Salad recipe, I rounded up some healthy and delicious produce to make a superbly healthy chicken salad.  No need for a fattening dressing or gluten-rich bread.  This healthy chicken salad recipe is all about heart healthy ingredients with natural fruit sweetness.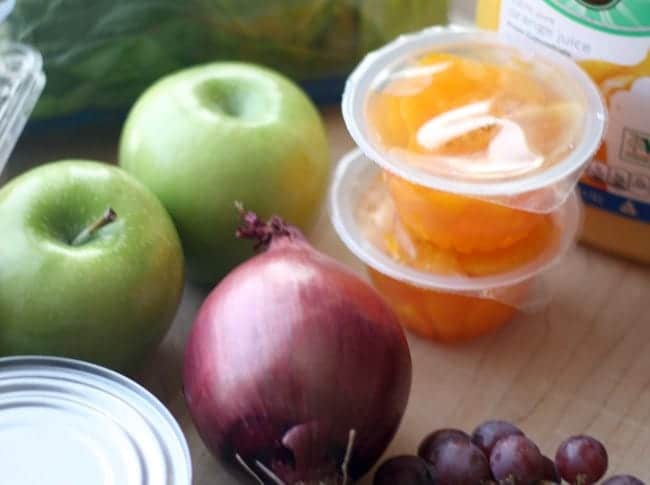 Meat, fruits and vegetables are naturally gluten-free, but I've learned to watch canned and packaged food because many times a preservative, thickener or other ingredient can be added in which does include gluten.
In this case, I wanted to make sure that the canned chicken and canned mandarin oranges I was using were gluten free.  Thanks to the tagging system, I was able to find this out without reading and re-reading labels.
Our healthy chicken salad recipe consists of nothing but the best: spinach, chicken breast, strawberries, grapes, mandarin oranges, and a little bit of red onion.  I used a touch of orange juice and a dash of salt and pepper to season.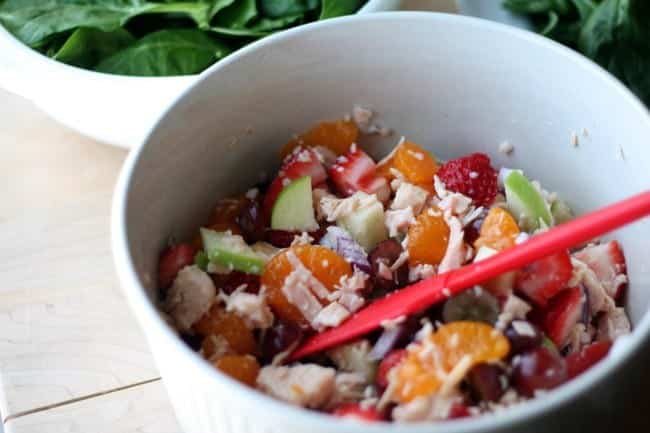 Once stirred up, there was nothing left to do other than to serve the chicken salad up over a bed of spinach.  Easy peasy chicken squeezey.
Oh yeah, and eat it up.  Because this is one salad that definitely needed to be enjoyed right away.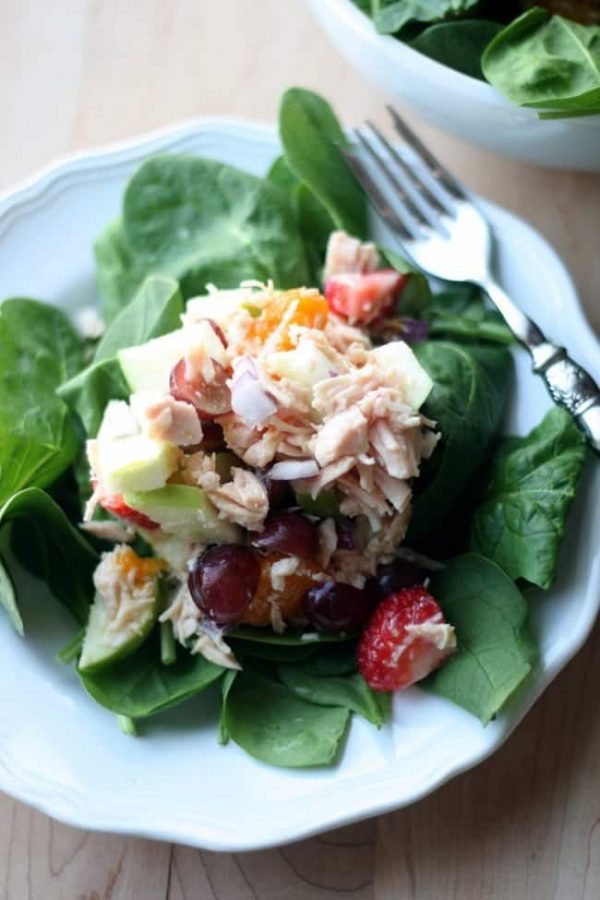 I love colorful food.  And, when it comes to salads, it kinda seems like the more color there is, the more nutritious the salad just has to be.  As in, with bright green, red, and orange… how could this salad be anything but delicious and healthy?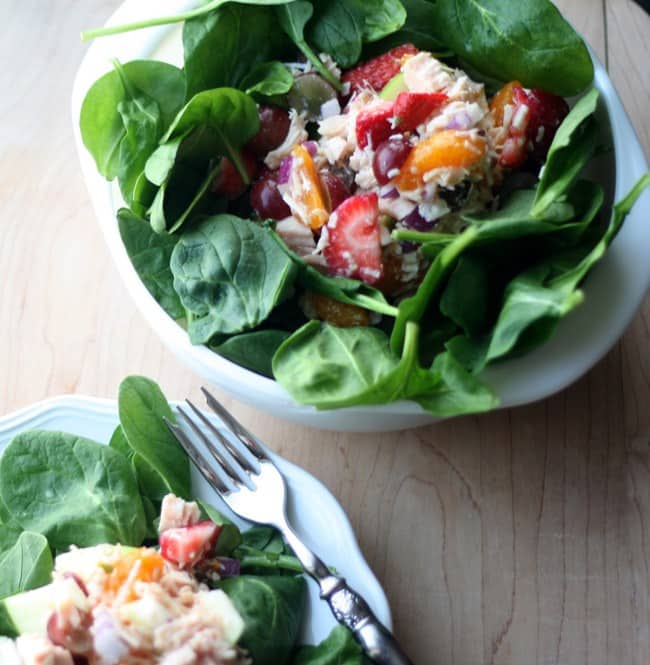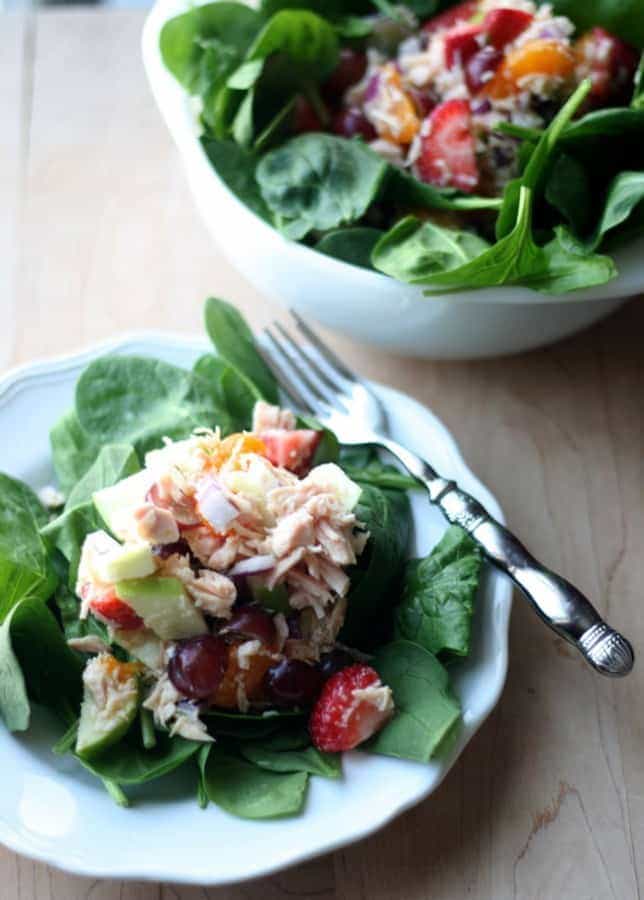 Print
Healthy Chicken Salad Recipe #MyPicknSave #CollectiveBias #shop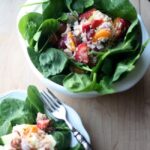 Author:

Jessica McCoy

Yield:

4

Category:

main dish, appetizer
Ingredients
4 cups spinach leaves, fresh
10 ounces canned chicken breast, drained
3/4 cup chopped Granny Smith apples
3/4 cup strawberries, coarsely chopped
1/2 cup red seedless grapes, halved
1/4 cup mandarin oranges
1/4 cup orange juice
2 tablespoons red onion, chopped
salt and pepper to taste
Instructions
Mix all ingredients except spinach together. Spoon over bed of spinach leaves and serve. Makes 4 servings.
You might also like our Scrumptious Summer Chicken Salad Sandwich: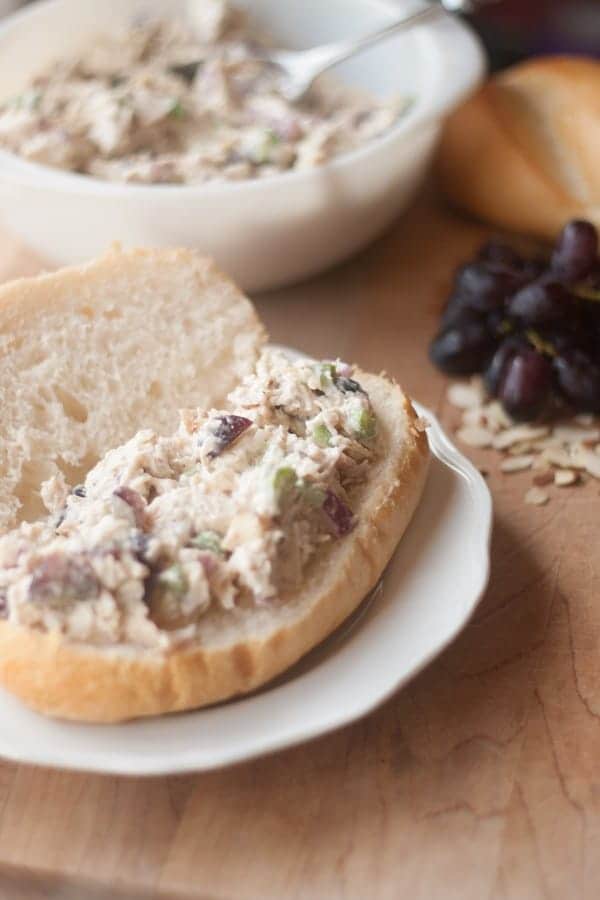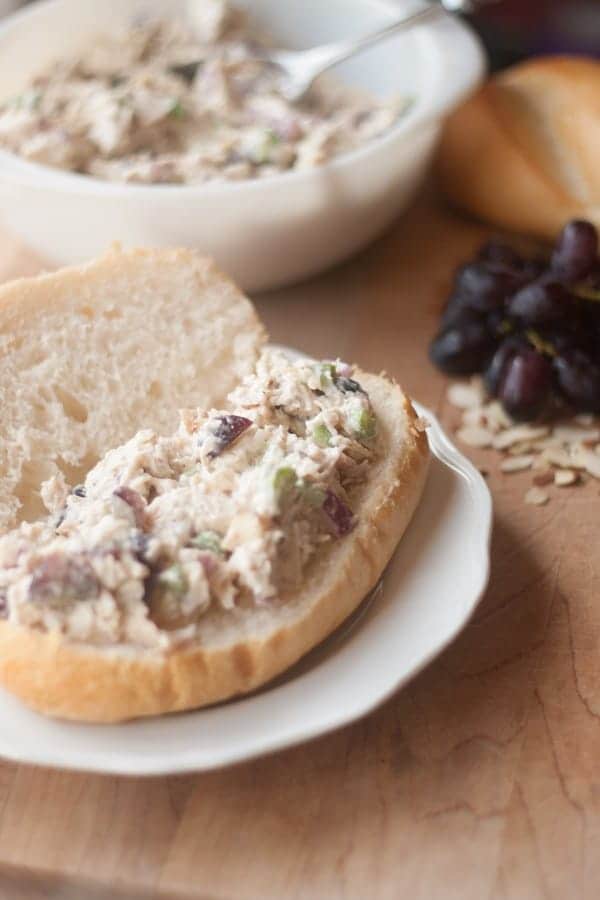 The following two tabs change content below.
Latest posts by Jessica McCoy (see all)