Sizzling hot summer days sometimes make me not want to cook.  I mean, it's hot enough as it is and the air conditioner is working over-time, so why make it work even harder?  So, to keep the cool inside I like to cook out chicken, and make quick and easy meals inside.  Quesadillas, Gourmet Grilled Cheese, burritos and wraps are my favorite ways to use up veggies from our CSA share while minimizing time on the stove top.
Healthy turkey wrap recipes sometimes call for flour tortillas, but I recently ran across Flat Out's Multi Grain with Flax bread, and decided to give it a try.  It seemed like multi-grain with flax would be an even healthier alternative for a healthy turkey wrap recipe, and that was totally what I was going for. I'm glad I gave it a try!  Flat Out's bread is basically flat bread but even flatter.    It was really good, and I'll buy it again to make wraps.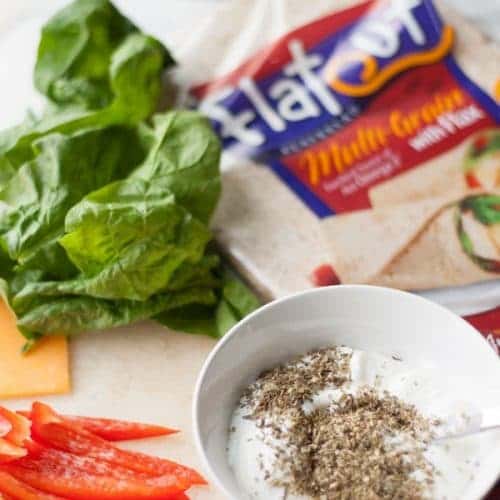 One of the things I like about making sandwich wraps is that you can be as flexible as you'd like to be.  If there is an ingredient that you just love, add it in.  If there is something that you absolutely hate, leave it out.
When making these Turkey Wraps, I decided to use some Chobani Nonfat Plain Greek yogurt instead of using ranch or mayo as the dressing.  I simply mixed in a little oregano to spice it up and it was so tasty.  You could use oregano or a mixture of your favorite spices depending on what flavor you're going for.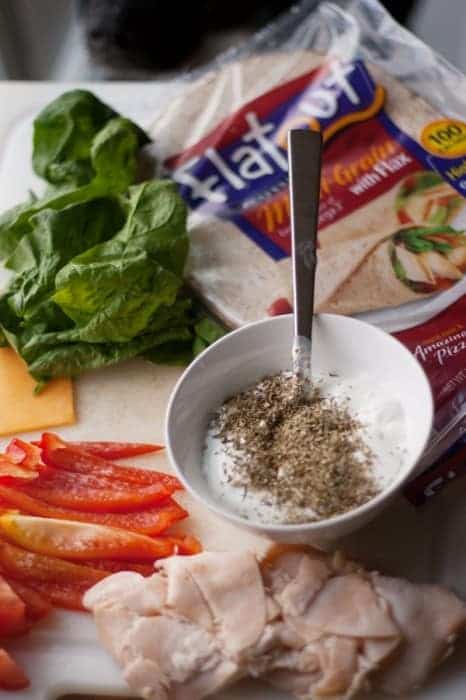 Simple ingredients were on my list for this Turkey Wrap: deli turkey (I used Cajun and it was perfect… a hint of spice but not a lot), cheddar cheese, red peppers, lettuce from our CSA share, and a bit of tomato.  All on our Flat Out bread spread with a thin layer of oregano yogurt sauce.  Yum.
Start with the flat bread and yogurt.  I divided the 3/4 cup of yogurt between 4 wraps.  It was just enough.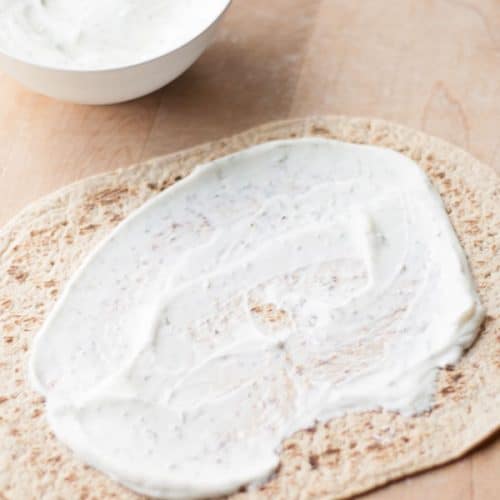 Add meat and cheese.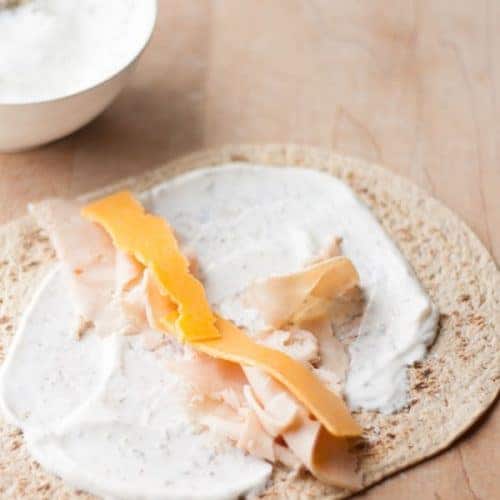 Veggies…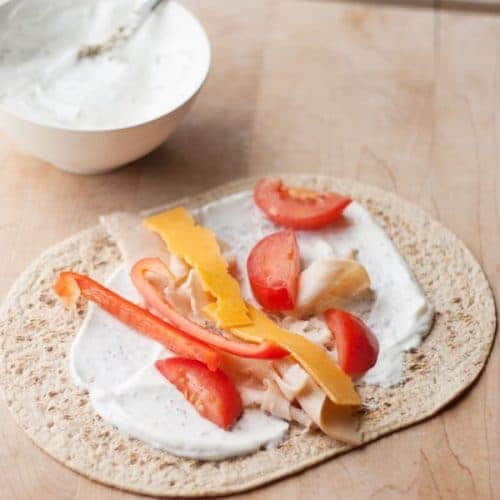 Don't forget the gorgeous greenery…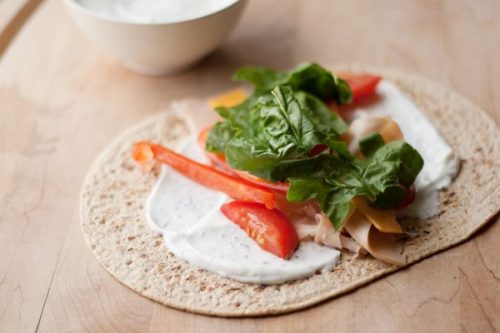 And wrap it all up… because it is after all called a wrap.  And it would be a bit of a contradiction if you didn't roll it up.
I like to slice mine in half so I can see the layers inside in all their glory.  Then take a big bite and ENJOY!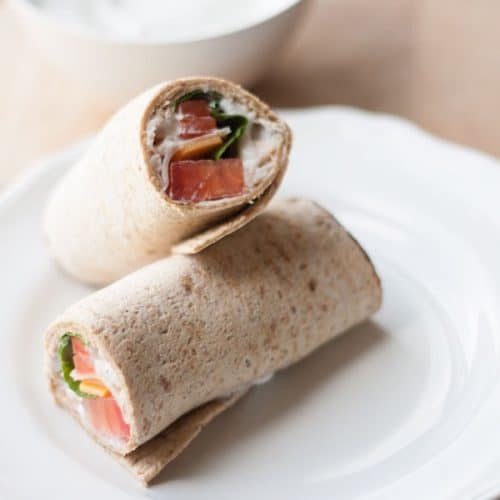 Print
Turkey Wraps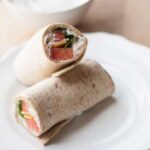 When the mood for a cold meal strikes, try a turkey wrap.
Author:

Jessica, AllSheCooks.com

Category:

Dinner, Lunch
Ingredients
3/4 cup Chobani Greeeky non-fat plain yogurt
1 teaspoon oregano
Flat Out Multigrain Flat Bread
Deli turkey
Cheddar cheese (slice or shredded)
Red pepper
Tomato
Lettuce
Instructions
Mix together the yogurt and oregano. Divide between 4 pieces of flat bread, or reserve extra for another use if making less than 4 wraps. Spread yogurt mix on flat bread.
Add delit turkey, cheese, red pepper, lettuce and tomato in desired quantities. There is no exact amount… just to your liking.
Roll up the wrap and slice in half for a nice presentation.
The following two tabs change content below.
Latest posts by Jessica McCoy (see all)