Pumpkin rocks!  Who's with me?
Nothing quite says fall like pumpkin.  Whether it is a decorated pumpkin sitting on a doorstep or mantle, the aroma of pumpkin pies baking, or driving past a pumpkin patch and seeing all of those gorgeous orange pumpkins scattered about a field–pumpkins scream fall.  For me, when it comes to baking in the fall, the flavor that rules the day is pumpkin.  Seriously–don't try to pick a fight with pumpkin, because I guarantee hands down–you will loose.
Now… I'm not entirely sure this intensely DELICIOUS pancake recipe doesn't somehow qualify as dessert, but we'll just go with it and go ahead and call it breakfast.
And pancakes… well, you know we love pancakes around these parts.  As in: Carrot Pancakes, and our Make-Ahead Pancake Mix is amazing, and well…not quite pancakes, but have you tried our Strawberry Crepes. Hello!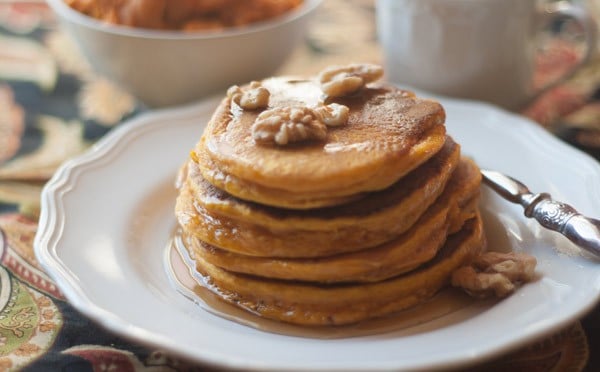 Hearty Pumpkin Pancakes are so simple to throw together in the morning, you'll seriously wonder why you don't make them more often.  They are ideal for a quick breakfast before school.  What's more- these pancakes win the billing of  KID-APPROVED! You really can't beat that.
Pumpkin also loves to pose for pictures.  Can't you tell?
Want more fab pumpkin recipes?  Follow me on Pinterest and check out my PUMPKIN! board.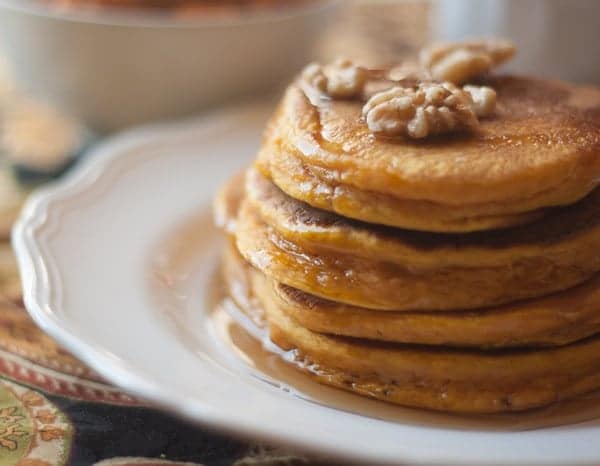 Want a big time saver? Mix together the dry ingredients of our Hearty Pumpkin Pancakes the night before, or make up enough for several recipes and store them in jars.  Ready to go breakfasts-just add wet ingredients, cook and serve.  Let me tell you, I hate having to measure out ingredients in the morning, and my husband is more likely to use a mix if there isn't something ready to go for him.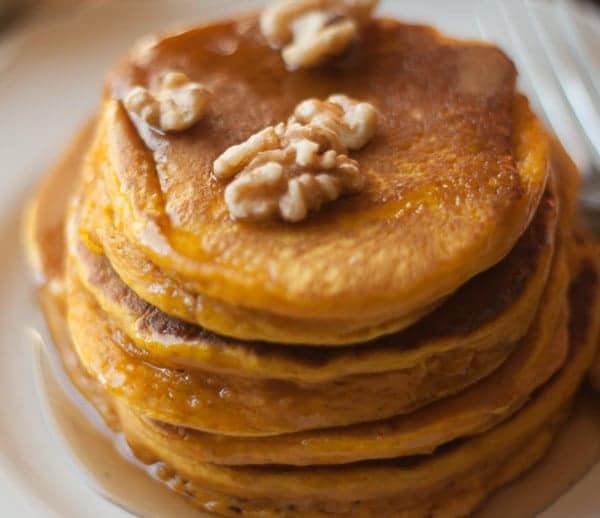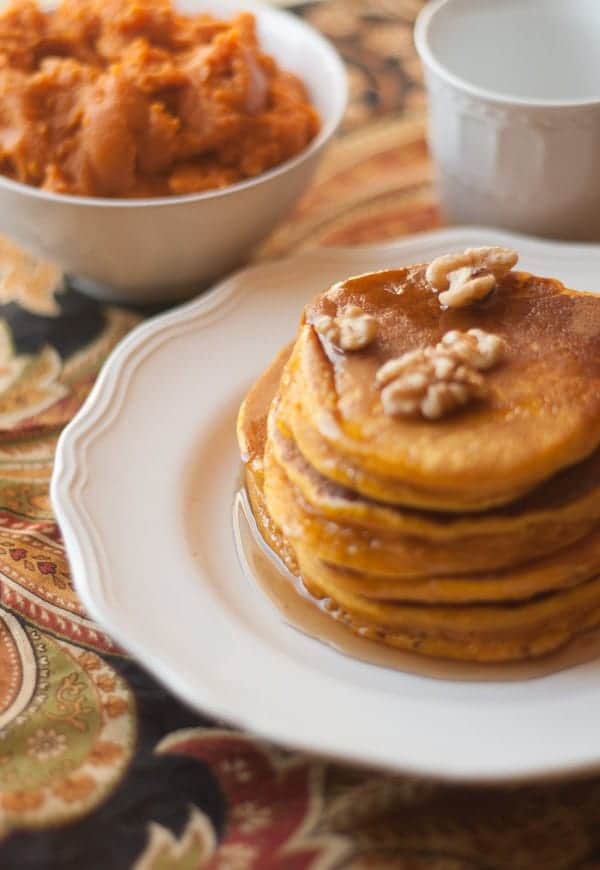 Serve it up right.  Pair this breakfast with some apple cider and you're good to go!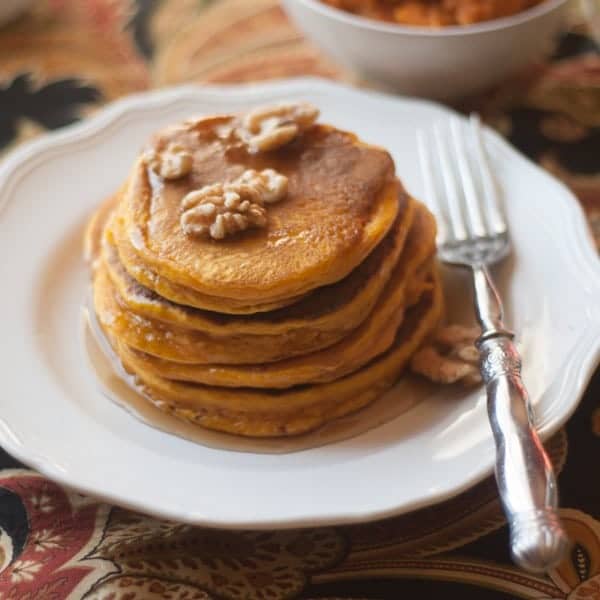 Print
Hearty Pumpkin Pancakes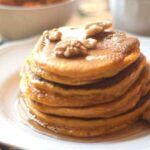 Ingredients
1 cup flour
2 tablespoons brown sugar
2 teaspoons baking powder
1/2 teaspoon salt
1 egg
3/4 cup milk
2 tablespoons vegetable oil
3/4 cup canned pumpkin (I used Libby's- if you want to use pumpkin you've frozen, you might need to adjust the amount of milk to 1/2 cup)
Instructions
Mix all ingredients together. Heat pan on medium-low and spray lightly with cooking spray. Cook on each side for 1-2 minutes or until lightly browned. Serve with chopped nuts (optional- we used walnuts), syrup, and/or honey.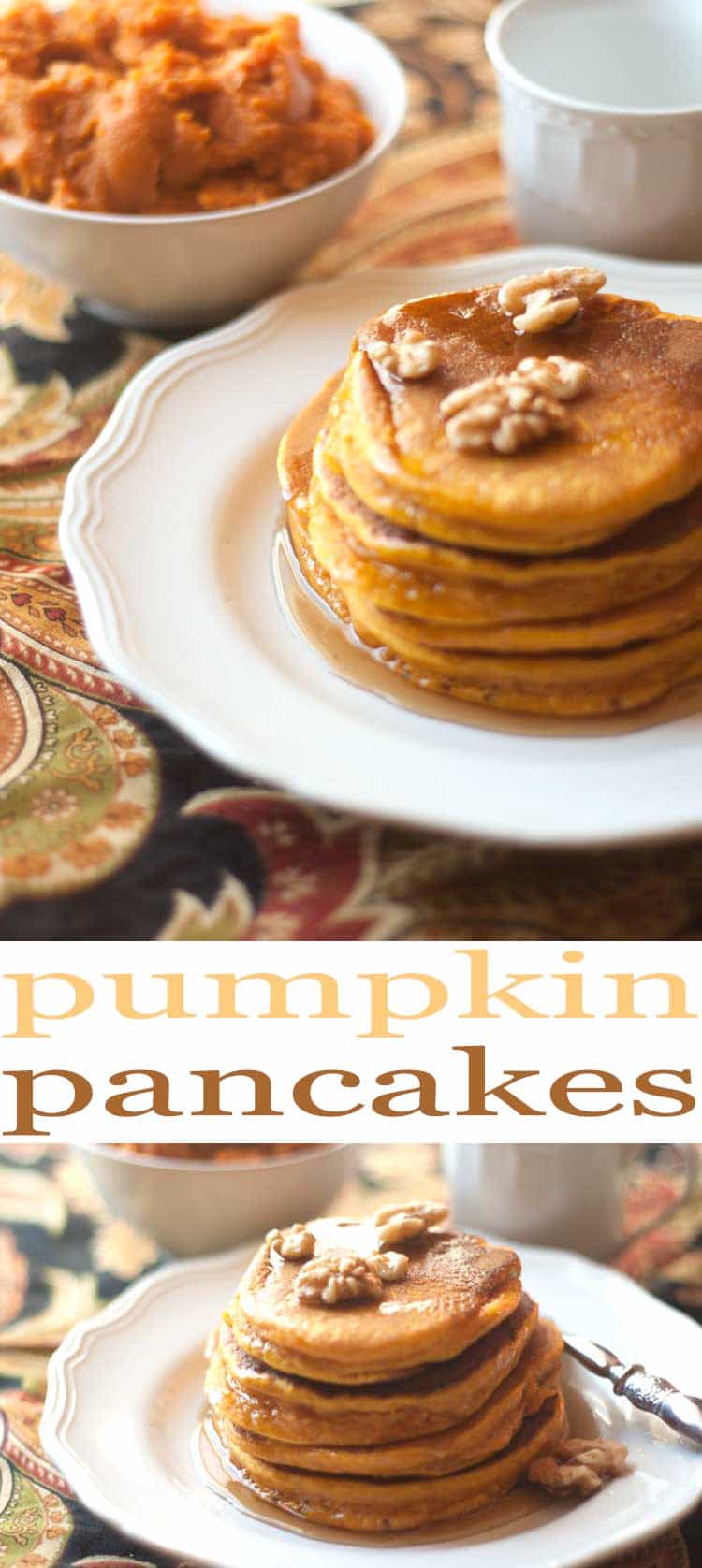 The following two tabs change content below.
Latest posts by Jessica McCoy (see all)