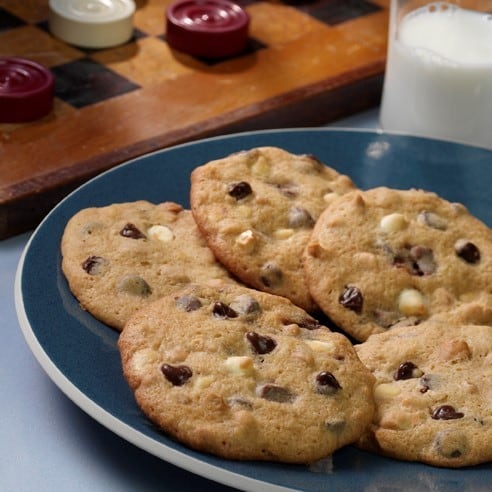 Homemade Caramel Chocolate Chip Cookies
When it comes to my favorite desserts, homemade chocolate chip cookies are hard to beat and are always the must-eat treat.  This caramel chocolate chip cookies recipe is made with chocolate-covered caramel, chocolate morsels and chopped cashews. With this easy peasy recipe, you will have soft and chewy homemade cookies to share with your friends and family. Now, here's how to make the most amazingly tasty chocolate chip cookies recipe you'll have ever had.
Print
Homemade Caramel Chocolate Chip Cookies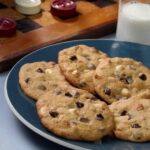 Ingredients
Baking Spray
1 cup baking sticks (1 cup = 2 sticks)
1 cup firmly packed brown sugar
1/2 cup granulated sugar
2 eggs
2 teaspoons vanilla extract
2-1/4 cups all-purpose flour
1 teaspoon baking powder
1/2 teaspoon baking soda
1/4 teaspoon salt
2 pkgs (1.7 oz each) chocolate-covered caramels, quartered
1 cup semisweet chocolate morsels
1 cup coarsely chopped cashews
1/2 cup premier white morsels
Instructions
Preheat oven to 350°F.
Spray baking sheets with cooking spray.
Mix the baking sticks and sugars in a large bowl until creamy.
Add eggs and vanilla; beat well until completely combined. Gradually add combined flour, baking powder, baking soda and salt; beat well until incorporated.
Stir in caramel candies, chocolate morsels, cashews and then white morsels until combined.
Drop dough by heaping tablespoonfuls onto previously prepared baking sheets, spacing them 2 inches apart.
Bake at 350°F for 12 minutes or until golden brown.
Allow to cool the cookies for 2 minutes on the baking sheets then transfer them to a wire racks to cool completely.
Baking Tips:
♥ Spray the baking sheets with cooking spray for easier clean up and your cookies get to easily come off the baking sheets.
♥ Do not put the cookies into storage before they completely cool; otherwise the cookies will become wet and soft.
Author Bio: This is a guest post by Lynn L. on behalf of PAM. Lynn has a passion for good food, cooking ideas and creativity.  View more cooking & baking tips at PAM's website.
The following two tabs change content below.
Latest posts by Jessica McCoy (see all)