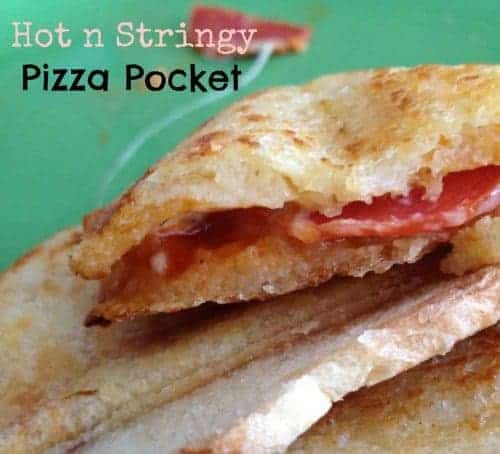 I love a recipe that is so easy the kids can make it on their own.  This one is SO easy and tastes a ton better than store bought Hot Pockets… heck, I'm no expert, but I'd wager that it is probably healthier too.
One of my favorite grilled cheese sandwiches is a pizza grilled cheese.  All that stringy Mozzarella and pepperoni- or whatever other favorite pizza toppings you decide to put in it.  The sky is the limit… don't feel you have to stick to the recipe exclusively.  I'm talking olives, mushrooms, peppers, onions.  Whatever you want.
Personally,  I could take this sandwich two ways… plain and simple or loaded.  What's your take?  I'd love to hear your thoughts! Have any other sandwich ideas for parties?
Did you know that April is National Grilled Cheese Month?  They actually have a month-long 'holiday' for grilled cheese?  Who would have thought!  Now… you might as well delve into grilled cheese since it is such a celebrated food.
Print
Hot n Stringy Pizza Pocket Sandwich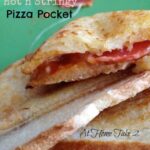 Author:

Jessica, AllSheCooks.com
Ingredients
2 pieces of bread
Spaghetti sauce or pizza sauce
Mozzarella slices (1 or 2)
Pepperoni slices (we used 6)
Butter or margarine
Pizza spice
Instructions
This pizza sandwich recipe practically makes itself. First, butter one side of each slice of bread. Place one slice of bread on a sandwich maker or griddle, butter side down. Then, add a spoonful of sauce onto the bread as liberally as you would like… if you like a lot of sauce, go for it!
Next you'll want to add some seasoning. Pizza seasoning works perfectly for this, but if you don't have that on hand, your favorite combination of Italian spices would work.
Add cheese and pepperoni. Add another slice of cheese on top of the pepperoni if desired.
Top with bread and cook it up!
Eat it up and Enjoy!  Stop back by and tell me how you liked it, what toppings you added and how you a great grilled pizza sandwich even better.
The following two tabs change content below.
Latest posts by Jessica McCoy (see all)