Hello, my cooking, cleaning and traveling friends. Welcome to our latest post in the series 52 Weeks to a Cleaner House! If you've been a regular reader here, then you know that I'm a huge fan of anything simple that makes life easier. I'm all about a good hack. (Heck, I even married one.)
Today, we're sharing 25 of the easiest house cleaning ideas we've discovered lately. You might already know some of them, while others will bring an "AHA" or two as you read through the list.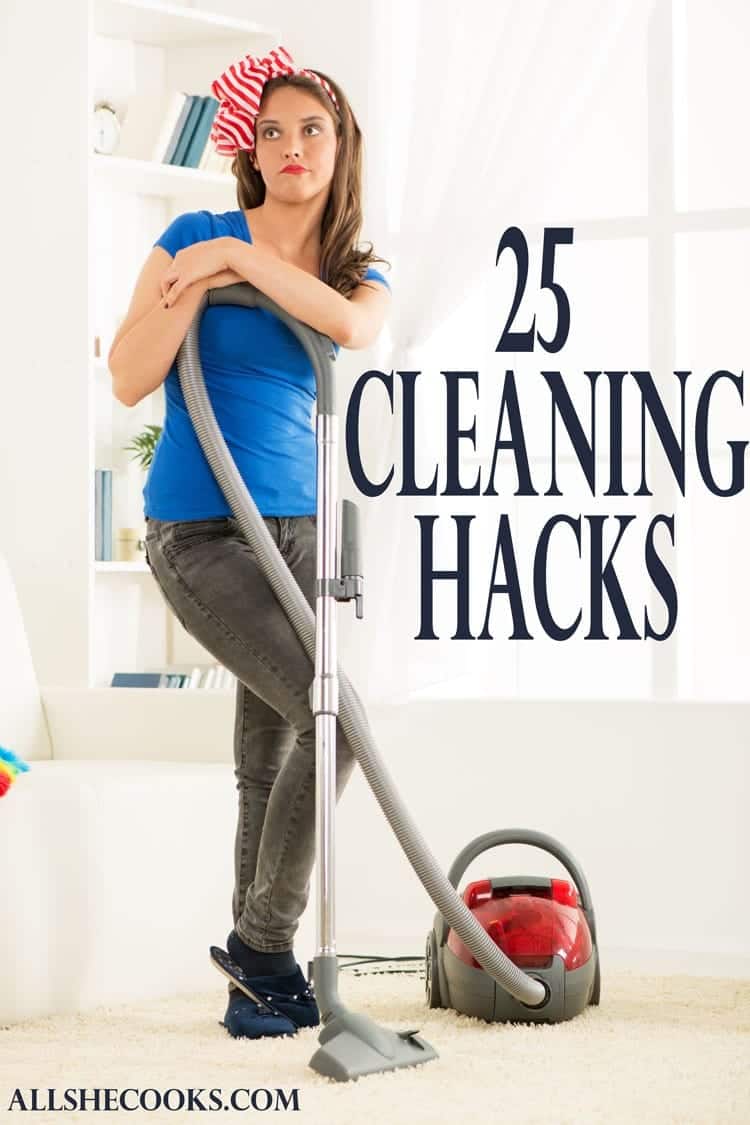 And, as always, we want to hear from you. Got a great cleaning hack you want to share with us? Please list it in the comments below.
Now, let's hack away!
House Cleaning Ideas
1) Use wadded up aluminum foil and dish soap to scrub baked on gunk off your casserole dishes.
2) Clean shower head with vinegar. Fill a baggie with vinegar and tie it around your shower head for half an hour to soak the stains off of it.
3) Clean your diamonds with toothpaste and a toothbrush. Yep. It makes them sparkle beautifully. And prevents cavities (lol)!
4) Cover up scratches in your leather furniture with the same color shoe polish. Just wipe a thin layer on there and blend it in with the leather.
5) Get rid of dust on your lampshades with a lint roller. Cleaning with lint rollers saves a lot of time and they pick up dust very nicely.
6) Remove ink stains with hairspray and a damp cloth.
7) Use a razor blade to remove dried paint from fabrics.
8) Steam clean the inside of your microwave with a glass measuring cup filled with water and cut lemon wedges. Just cook it for several minutes. When it starts to boil, remove it from the microwave and use a sponge to wipe up the now loosened stains.
9) Remove fur and hair from rugs by running your rubber glove covered hand across them repeatedly.
10) Use Alka Seltzer, vinegar and boiling water to unclog sink drains.
11) After cleaning your toilet, close the toilet brush up between the lid and the seat. It'll dry there and not drip all over your floor.
12) Crumple up old newspapers and place in the bottom of your kitchen garbage can. The papers will absorb any unpleasant odors.
13) Grate a chunk of raw potato to clean the cheesy excess gunk off your grater.
14) Tape dryer sheets to your air vents to make the room smell pretty.
15) Remove water rings on wood furniture by blowing them with a hairdryer for several minutes.
16) Use steel wool to clean dried on gunk off your iron and curling irons.
17) Spray your mattress with vodka to kill bacteria. (yes, you read that right.)
18) Paint clear nail polish onto the metal bottoms of cans that cause rust rings on your bathroom counters.
19) Sanitize your kitchen sponges by microwaving them on high for two minutes.
20) Use vinegar to remove hard water stains from your dishes.
21) Clean plastic toys in the top rack of the dishwasher.
22) Use Bar Keeper's Friend to remove scratches from counters and plates.
23) Use a broom with the head covered with a towel to remove cobwebs in high, remote corners.
24) Rub a bar of soap on your bathroom mirror to defog it.
25) Use chalk to remove grease stains.
Wondering where to buy Bar Keeper's Friend?
We've linked up several product examples below:
 Bar Keeper`s Friend Spray/foam Cleaner 25.4 Oz Hard Surface Multi Purpose Use
 Bar Keeper's Friend Cleanser & Polish for Stainless Steel 12 oz (340 g)
 Ser Vas Labs S06 11584 Bar Keepers Friend Cleanser – 12 Oz- Case of12
 Bar Keeper's Friend Multi Purpose Household Cleaner – 21 oz Can
 Bar Keepers Friend 11600 13 Oz Bar Keepers Friend® Liquid Cleanser
 Bar Keepers Friend Cooktop Cleaner 13-Ounce Bottle
 Bar Keepers Friend® Cleanser & Polish: 12 OZ
 Bar Keepers Friend Liquid Soft Cleaner – 26 oz
The following two tabs change content below.
Angela Weight is an award-winning journalist, blogger and somewhat motivational speaker, originally from Wrightsville, Georgia and currently living in Richmond, Virginia. Her laugh-out-loud accounts of life's ironies and irritations can be found on her blog angelaweight.com aka
Sanity Waiting to Happen
. You can also find Angela on
Instagram
and
Pinterest
.
Latest posts by Angela Weight (see all)