How Make Zucchini Noodles

Are you ready for a pasta alternative that will have you saying goodbye to high calorie pasta and hello to a low-fat pasta option? Not only that, but if you're on a gluten-free diet and have never been able to get used to eating gluten-free pasta noodles...you will be excited to try these zucchini noodles.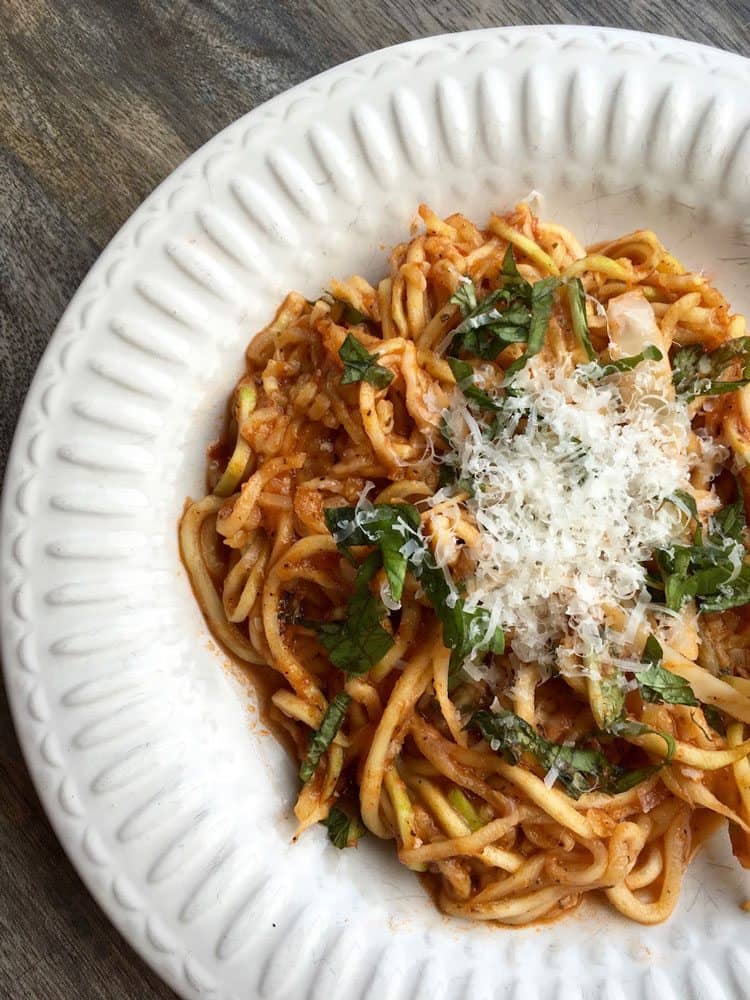 Gluten-free Foods
Finding gluten-free food can be a challenge when you first start looking for recipes and store-bought ingredients to use. The big challenge is finding processed food or baking mixes that allow you to make some of your favorite recipes gluten-free.
With a daughter on a gluten-free diet, we've been busy experimenting here. A few tasty gluten-free recipes we love: Gluten Free Chicken Fried Rice, Gluten Free Teriyaki Chicken, Gluten Free Almond Spice Cake.

Zucchini Noodles
Here is a really satisfying meal you can feel good about serving! This recipe replaces traditional pasta with healthy and delicious fresh zucchini noodles, so you can indulge in it often without any guilt.
All'arrabbiata is a spicy Italian red sauce made with red pepper flakes. It is traditionally served with rigatoni or penne noodles, but here it is paired with crisp-tender spaghetti-like zucchini noodles.
If you'd like to save a little time, you can use prepared arrabbiata sauce. However, you can make your own from scratch in less than half an hour or you can make large batches in advance, and freeze the rest for easy weeknight meals. If you decide to a lot of freezer cooking, having reusable freezer containers is an essential part of the process.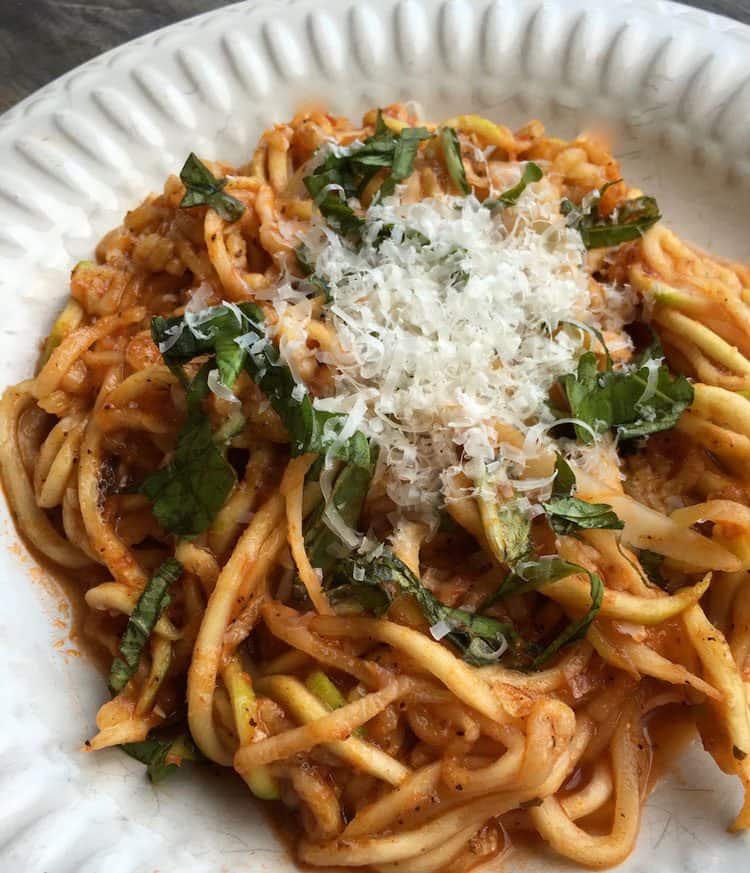 Ever wonder how people make the perfect zucchini noodles? You need to use a vegetable spiral slicer. Two of them that we highly recommend are the Paderno World Cuisine Tri-Blade Vegetable Spiral Slicer and the OXO Spiral Vegetable Slicer.
They both work nicely and will have you spiraling carrots, cucumber, daikon root, and zucchini in no time. That's all there is to it! When using a spiral slicer, its fast and easy to make vegetable noodles.
Recipe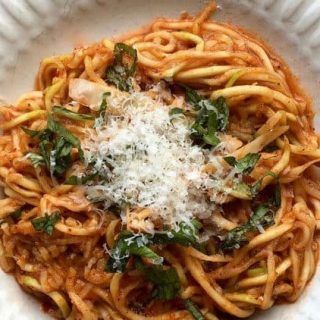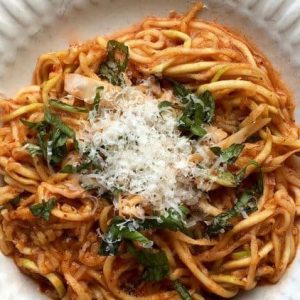 How to Make Zucchini Noodles with Arrabbiata Sauce
Cook up these Fresh Zucchini Noodles with Spiy Red Sauce. This healthy faux pasta recipe is low fat and great for a weight loss diet.
Ingredients
Garnish (optional):
fresh basil

washed, dried and cut into thin slices

Parmesan cheese

freshly grated
Instructions
Yield: 4 servings, Total Prep Time: 40 minutes
Prepare the sauce by heating olive oil in a large skillet over medium heat. Add the crushed red pepper flakes and heat until fragrant. Reduce heat to medium-low, then add tomato paste, tomatoes, oregano, and garlic powder. Season with salt and pepper, to taste.

Simmer until sauce is slightly reduced, approximately 20 minutes, stirring occasionally.

While the sauce is cooking, slice zucchini into thin, long noodles with a spiral slicer. (If using the Paderno Tri-Blade Vegetable Spiral Slicer, use the small "shredder" blade to create spaghetti-like strands).

Cut the noodles with kitchen scissors once they reach 10-12" long. Place cut noodles on paper or clean kitchen towels to absorb excess moisture and set aside.

Heat olive oil and garlic in a large skillet over medium-high heat until the garlic turns golden brown, about 4-5 minutes.

Reduce heat to medium and remove garlic from the pan with a slotted spoon or fork and discard. Add zucchini noodles to skillet and sauté for approximately 2 minutes. While cooking, use tongs to flip the noodles to ensure they are warmed on each side. Season with salt and pepper, to taste, and set aside.

Remove from heat and toss with warm arrabbiata sauce. Transfer to a serving dish and top with sliced basil and freshly grated Parmesan cheese, if desired. Serve immediately.
Nutrition
Calories:
269
kcal
Carbohydrates:
17
g
Protein:
5
g
Fat:
22
g
Saturated Fat:
3
g
Sodium:
296
mg
Potassium:
1058
mg
Fiber:
5
g
Sugar:
11
g
Vitamin A:
1809
IU
Vitamin C:
53
mg
Calcium:
66
mg
Iron:
2
mg