I am a member of the Collective Bias® Social Fabric® Community. This shop has been compensated as part of a social shopper amplification for Collective Bias and its advertiser.
The perfect chicken seasoning has never been easier than injecting it right into chickens or Cornish hens. Seriously, if you have not tried injecting meat with your favorite seasoned marinade, you're truly missing out on a tender end result that is pure perfection.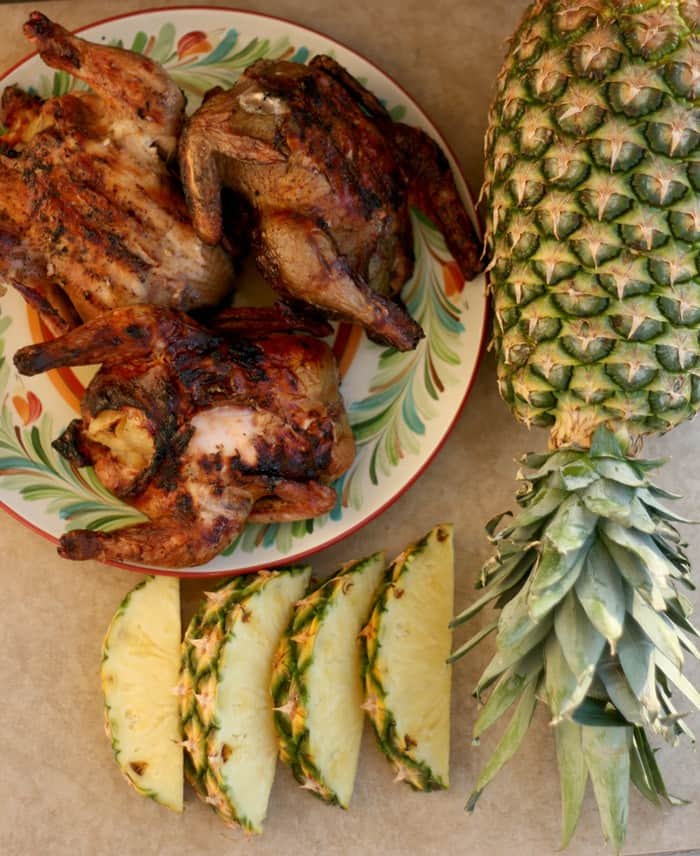 The first time I ever remember preparing Cornish hens was when I was at a Latin camp, I believe right after I had finished up 8th grade. (Scary thought- my son is now finishing up 8th grade.) As part of our end of camp celebration, we hosted a dinner and show for the parents, complete with juggling and a feast. It's been a while, so I honestly don't remember what else the show entailed, but I do remember that we'd all learned how to juggle and I was pretty good on the balance board, which was basically a wooden platform on a rolling cylinder.
Back in 8th grade I wasn't charged with the seasoning decisions for the Cornish hens, but now that I am, I like to be creative yet simple. Tropical flavors of pineapple mixed with Kikkoman Teriyaki Sauce flavoring seared with flame grilled goodness sealed the deal for me. It was a simply delicious, tender and flavorful dinner.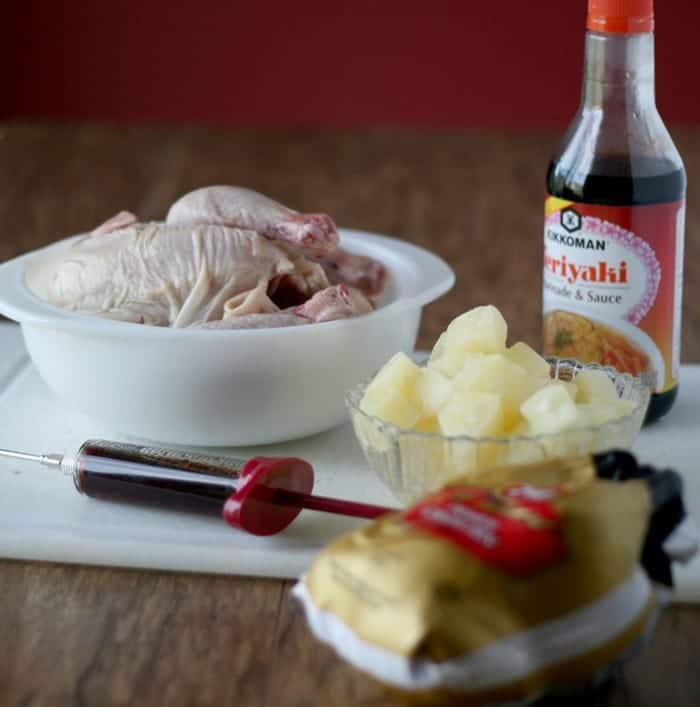 I stocked up on Kikkoman Teriyaki Sauce and Tyson Cornish hens at Walmart while I was doing my grocery shopping and getting ingredients for my #CollectiveBias campaigns. I really like going in to a store and knowing where I can go to find a product, which is one thing I like about Walmart. I always know where to go to get what I need.
If you're looking for savings, be sure to look for the hanging coupon for $2.00 off for anyone who purchases the Cornish Game Hen Twin Pack and a 10 oz bottle of Kikkoman sauce together. This offer should be available starting on June 1st while supplies last. Sounds like a great deal to me!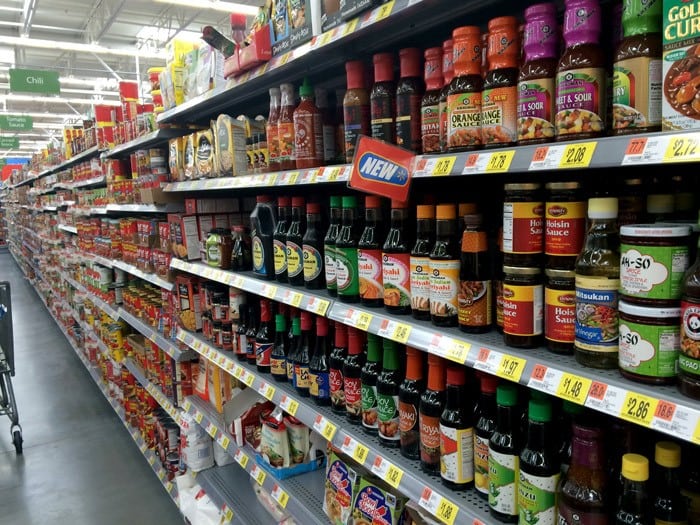 When preparing the Cornish hens, I first stuffed each hen with canned pineapple chunks. You could use fresh pineapples instead, which would surely be more juicy and even sweeter.
If you have not injected meat or poultry before, it is super easy. Do not be intimidated! This was my first time using an injector, and it was super easy. With the Kikkoman Teriyaki Sauce, you'll want to pour some of it into a glass so you can fill the injector. I used about 3/4 of an injector full per hen, simply inserting the injector into a few sections of meat per hen and plunging the injector down.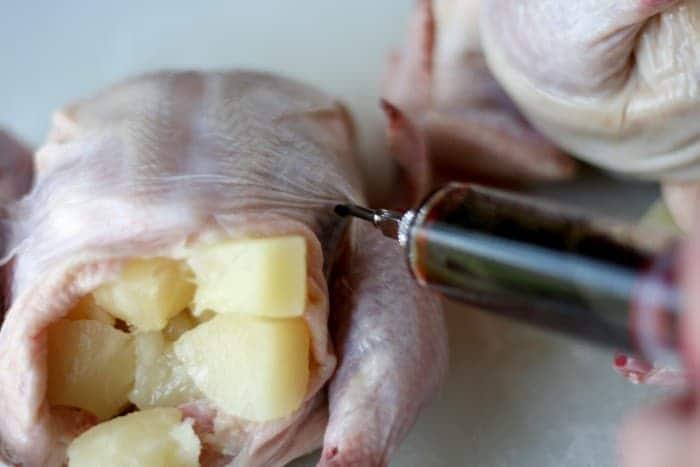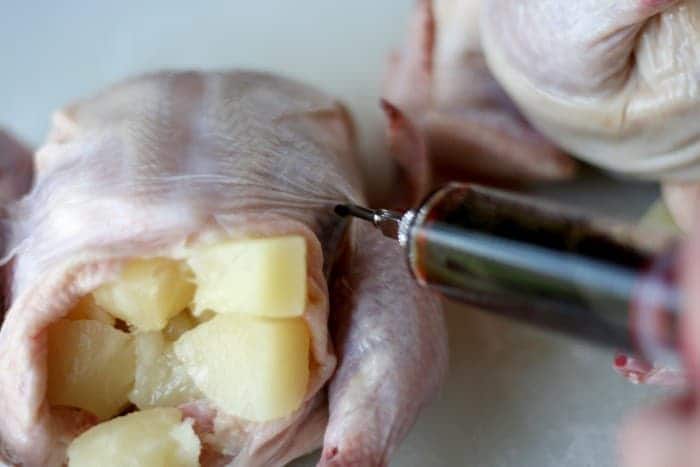 Once the insides of the hens are full of flavor, it's time to add some flavor to the outsides as well. I sprinkled the hens with garlic salt and pepper and left it at that. Simple seasonings add just the right amount of extra flavor.
Grilling time! #Grill4Flavor I'm big on using a charcoal grill for flavor, but I know some people swear by their gas grill. Whatever your fave way of grilling is, make it hot. I seared one side of these hens with flames that really intensified the grilling flavor when we served these birds up. After cooking for about 20 minutes on one side, the hens were flipped to finish cooking. The thing about cooking meat on a grill (especially poultry and pork) is that it is not an exact science. You really have to keep an eye on it, and use a meat thermometer if you have one to make sure the internal temperature is safe.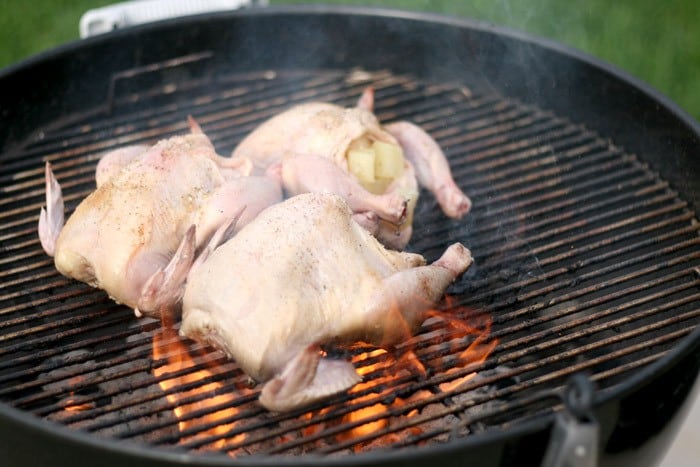 And when the hens are golden brown (and cooked to perfection inside), take those bad boys off the grill and serve them up.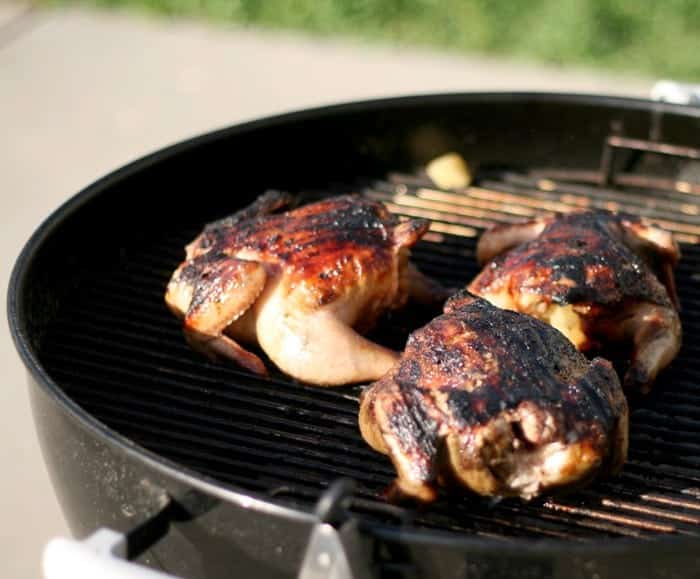 I served our Cornish hens with sliced fresh pineapple, which was the perfect compliment to go with a lite dinner.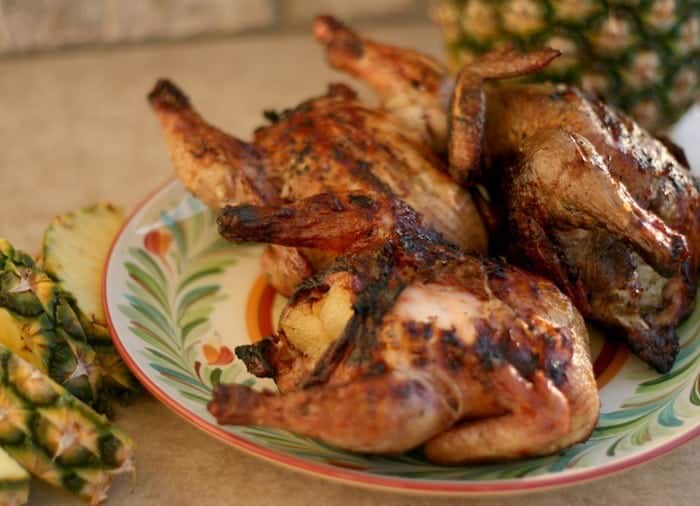 For more great recipe ideas, follow Tyson on Facebook and Pinterest, and Kikkoman on Pinterest.
Injected Cornish Hens with Pineapples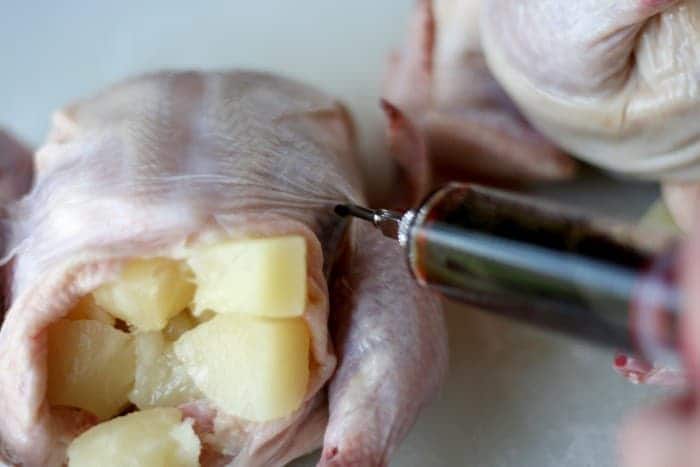 Ingredients
3-4 Cornish hens
Kikkoman Teriyaki Sauce
Canned pineapple chunks
Garlic salt
Pepper
Instructions
Using a meat injector, inject Kikkoman Teriyaki Sauce into meat of hens in several areas per bird. Use about 3/4 of an injector full per bird, or more or less depending on taste.
Fill birds with canned (or fresh if you have it) pineapple chunks.
Season with garlic salt and pepper.
Sear one side of birds on grill and then grill for additional 20 minutes or so on first side before flipping to grill until done. Test internal temperature for doneness prior to serving.
Looking for more grilling inspiration?
Try our Perfectly Grilled Pork Ribs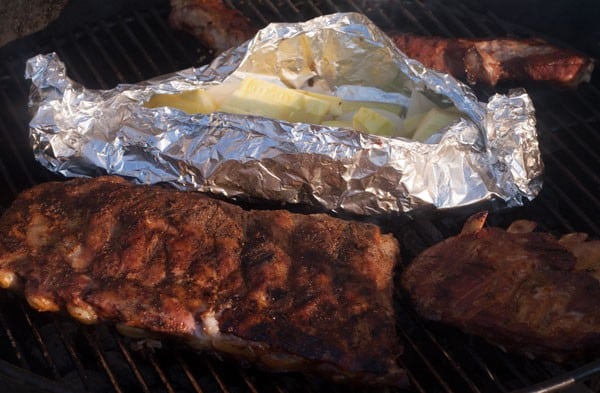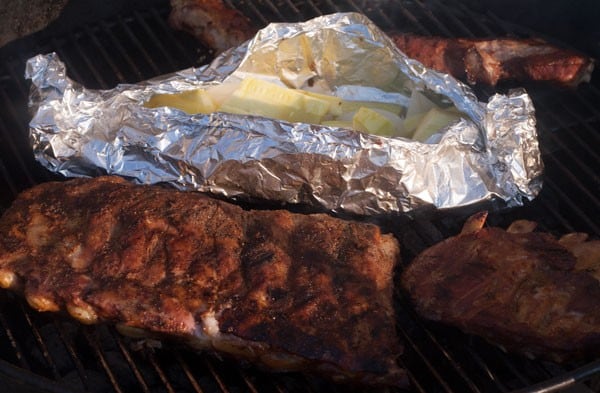 Or, our Perfectly Grilled Chicken Halves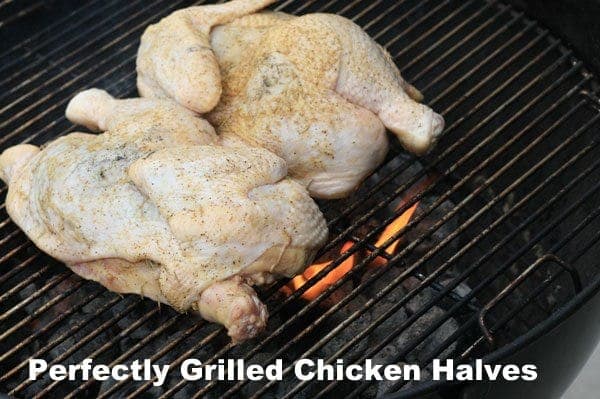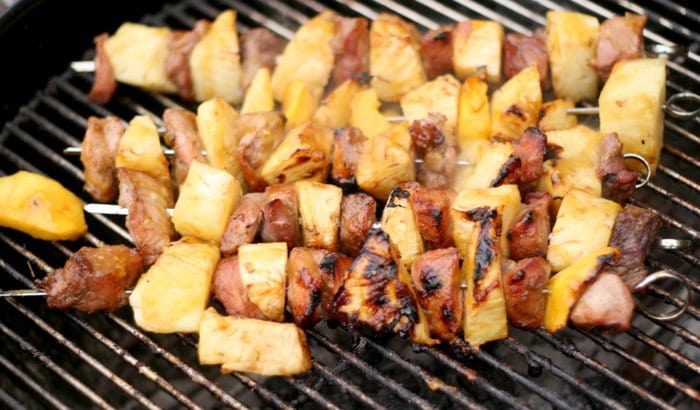 The following two tabs change content below.
Latest posts by Jessica McCoy (see all)