Looking for tender and flavorful cube steak recipes? Instant Pot Cube Steak and Mashed Potatoes is just what you need! This cube steak recipe is comfort food at its finest and is ready in just over an hour.
Are meat and potatoes your mantra? Do you dream of piles of fluffy mashed potatoes and mouthwatering cube steak recipes?
You're not alone. There are SO many people who would literally survive on eating nothing more than meat and potatoes…if they were allowed to do so. I have two kids that are included in that scenario, so I really get it.
Even if you're not a want-to-survive-on-meat-and-potatoes kind of person, many of us love a good meat and potatoes meal sometimes. It's the ultimate comfort food! And comfort food is even better when it's easy, right?
You're in luck. This Instant Pot Steak and Mashed Potatoes recipe is most definitely comfort food and it is most definitely easy, thanks to the Instant Pot.
One of the Best Cube Steak Recipes?
Instant Pot Steak and Mashed Potatoes uses cube steak, and I have to say it's one of the best cube steak recipes around. It's also an affordable recipe — cube steak is a relatively inexpensive cut of meat, and the other ingredients (such as carrots, potatoes, and milk) are also affordable.
Hearty Meal Ideas for a Great Weeknight Instant Pot Meal
Cooking in an Instant Pot is a good idea if you'd like to save time in the kitchen, want to make more nutrient-rich meals, or would like to start cooking with more whole-food ingredients.
If you're going to use your Instant Pot to cook on a regular basis, and especially if you might be using it to cook multiple recipes for one meal, you'll want to invest in a few essential Instant Pot accessories.
At least one extra stainless steel inner cooking pot for the Instant Pot is a great idea to have on hand. You'll also want to have a couple glass lids for the stainless steel inner cooking pots to keep cooked food warm or a silicone lid for using in the refrigerator.
Always make sure you double check the size of lids and inner pots you order and make sure it is the right size for the Instant Pot that you have.
Cube Steak Recipes for the Instant Pot
Cube steak is always delicious, but this recipe for making cube steak in the Instant Pot makes for a tender and flavorful cube steak that is beyond what we've experienced before. (Thank you, Instant Pot!)
We're talking about bite after bite of amazing flavor.
If you're a fan of meat and potatoes, you are going to really want to make sure you watch your portion size on this meal. If you're anything like my family is, it is SO easy to eat more than your fill when you're dining on a delicious plate full of meat and mashed potatoes.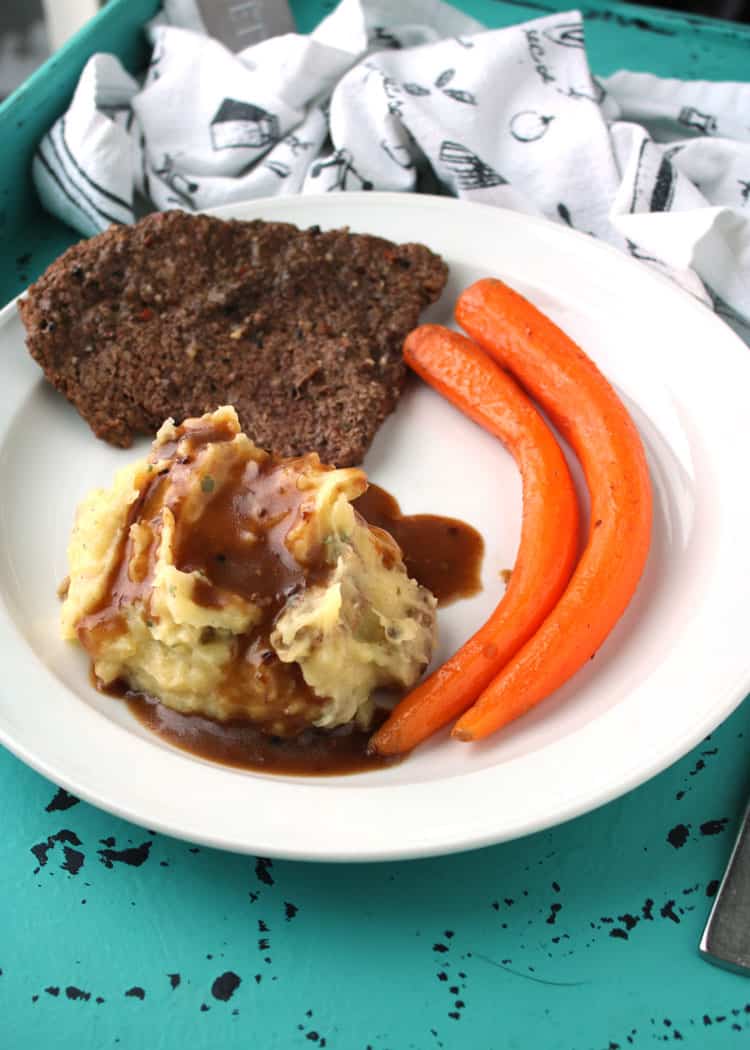 How to Make Instant Pot Steak and Mashed Potatoes
Ready for one of the best cube steak recipes? Let's get started!
Step #1: Start by adding McCormick Peppercorn & Garlic Marinade to the cube steak for the marinade.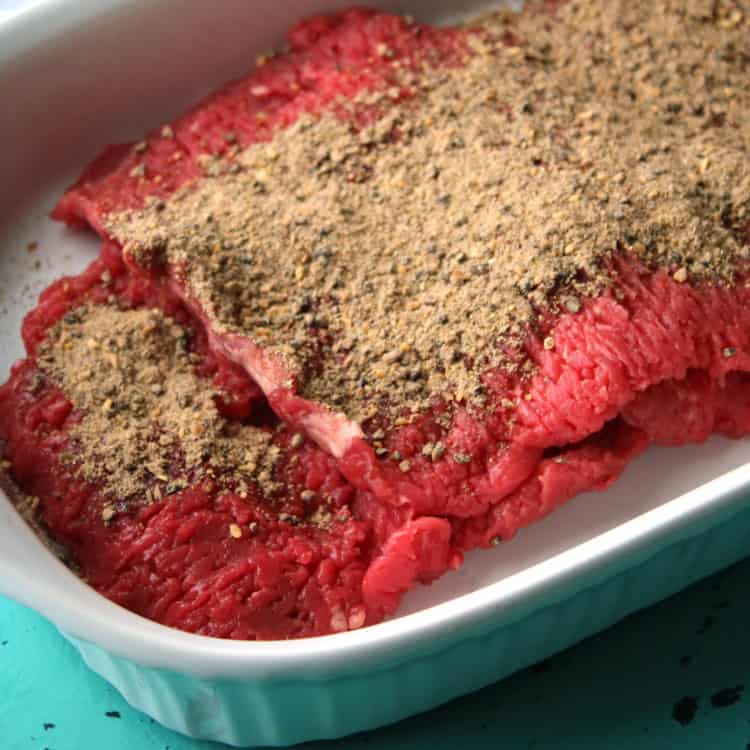 Step #2: Top with red wine vinegar and turn the cube steaks over a couple times to incorporate spices and vinegar.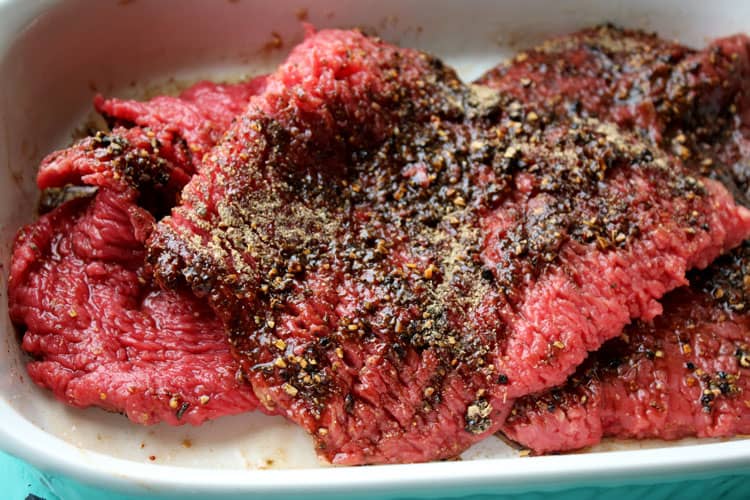 Step #3: Heat oil on sauté function and then brown meat on both sides before removing it from the Instant Pot.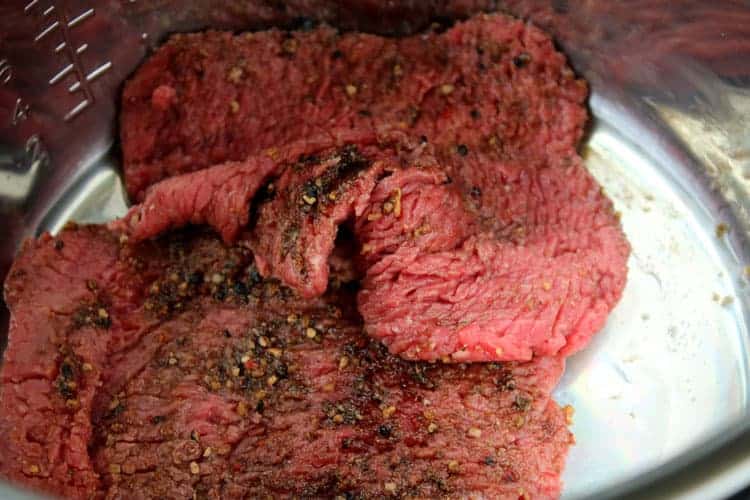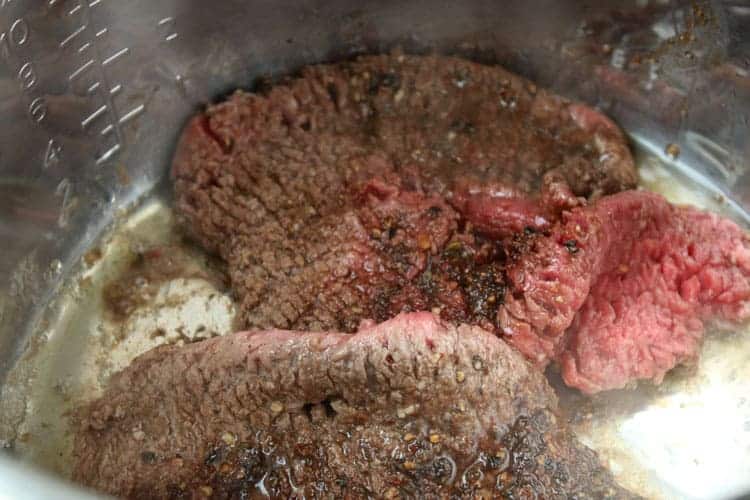 Step #4: Deglaze the Instant Pot inner pot by adding water to the pot and scraping the bottom and sides of the pan clean to get all the browned bits into the liquid. Add cube steak back to the pan.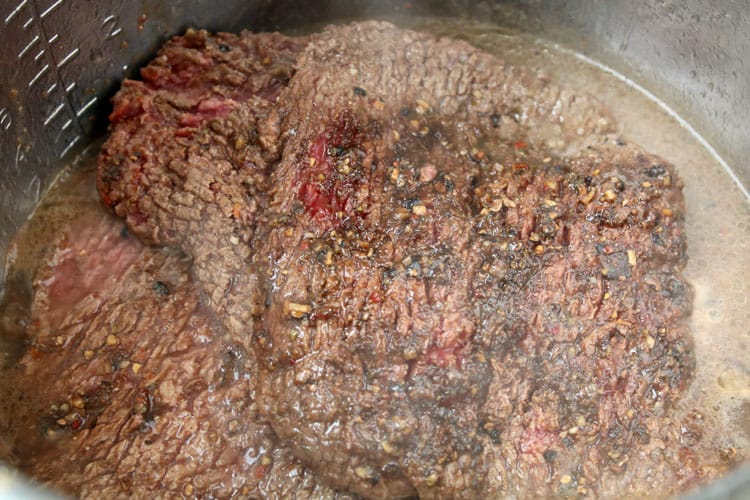 Step #5: Top with a steamer rack, adding potatoes and carrots on top of that.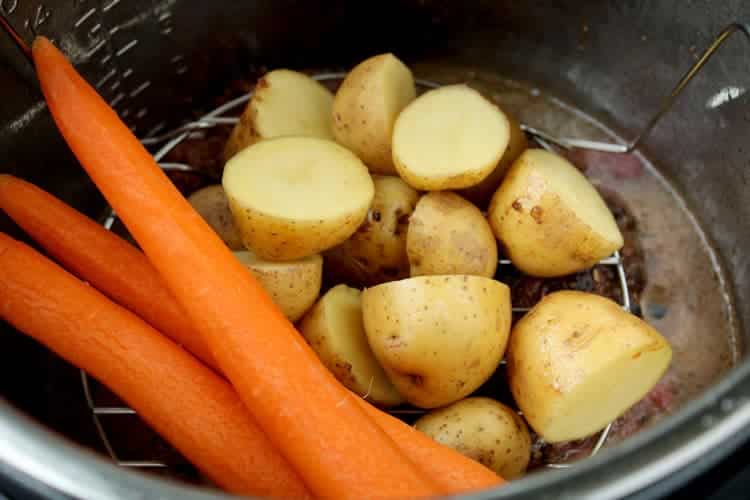 Step #6: Set Instant Pot to high pressure for 12 minutes. After 12 minutes under pressure, use a Quick Pressure Release. Remove vegetables and meat and set Instant Pot back to sauté mode, adding in the gravy packet.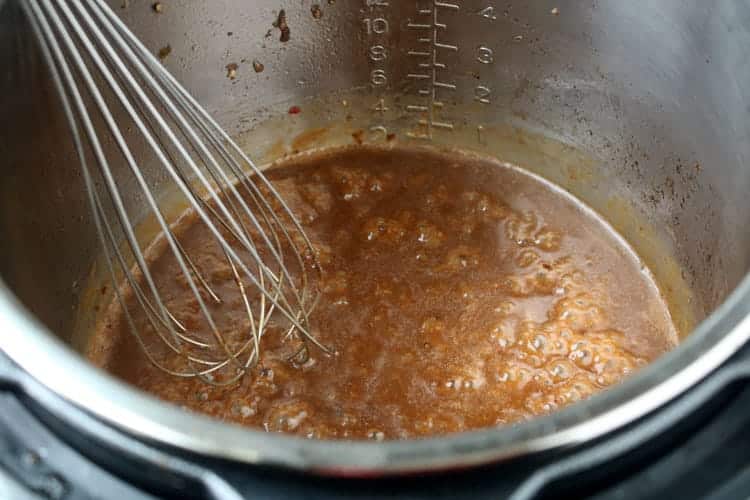 Step #7: While the gravy cooks, mash potatoes. After the gravy is ready and the potatoes are mashed, plate, serve, and enjoy!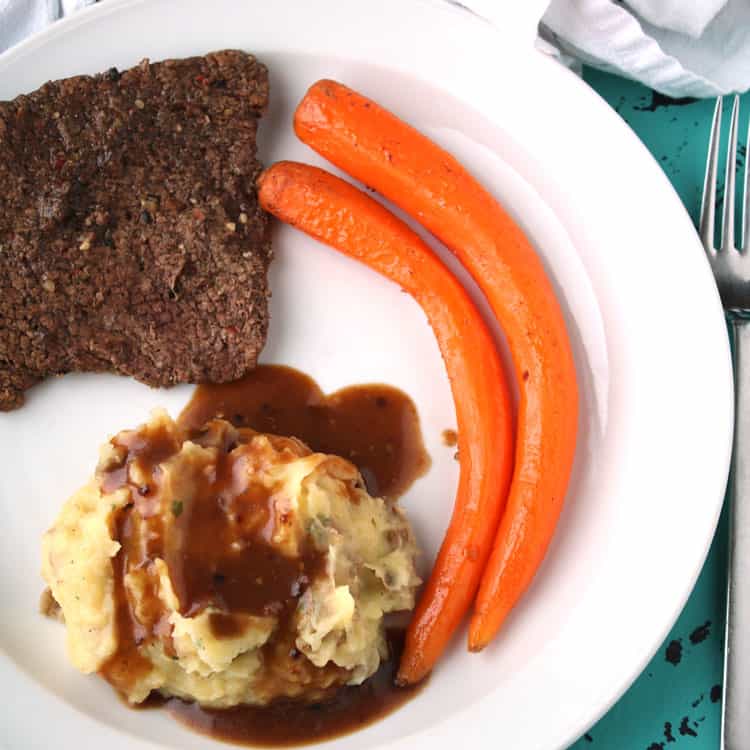 Tools Needed for this Instant Pot Steak Recipe
Ready for Dessert?
You've got dinner taken care of. Now what about dessert?
Let us suggest something on the lighter side after a meal this filling. Our Broiled Angel Food Cake is light and tasty, or a small slice of this Pineapple Upside Down Cake offers just the right amount of sweetness to round out your meal.
More Instant Pot Recipes
Don't forget to try our Instant Pot Steel Cut Oats, Instant Pot Jambalaya Recipe (Creole Jambalaya), and Instant Pot Philly Cheesesteak Recipe. Or you can check out all of our Instant Pot recipes here!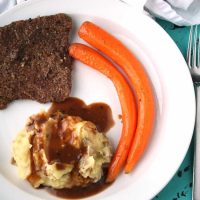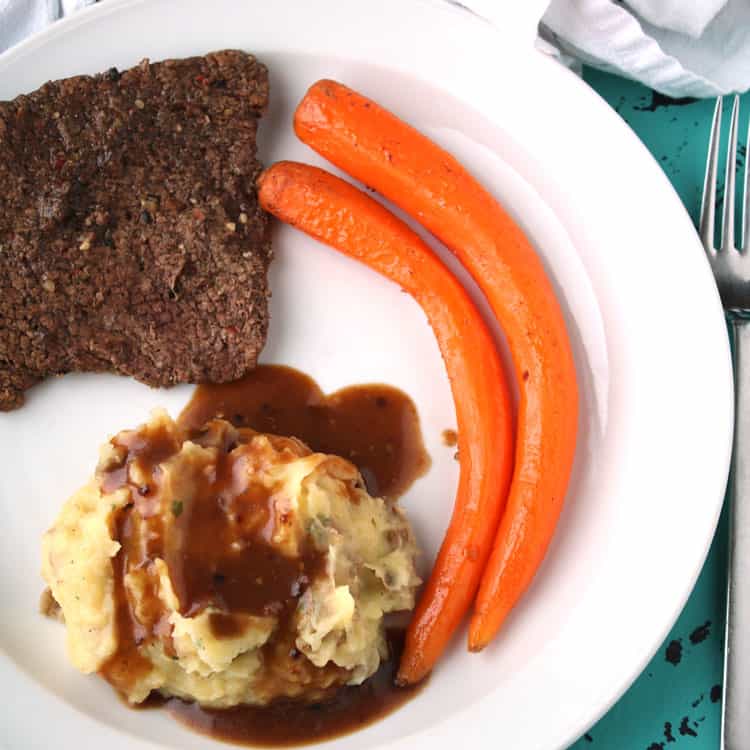 Instant Pot Cube Steak and Mashed Potatoes
Total Time:
1 hour
5 minutes
Must-try Instant Pot Cubed Steak and Mashed Potatoes recipe. This is comfort food at its finest.
Instructions
Season steak with marinade and red wine vinegar at least 30 minutes.
Heat oil in sauté mode.
Brown steak on both sides, without cooking through. Remove. Set aside.
Add water, scraping up browned bits. Return meat to pot.
Place cut potatoes into inner pot on top of meat.
Cover pot, set to cook for 12 minutes on high pressure.
Once cooking process is finished, quick release, cancel keep warm mode. Remove potatoes and meat.
There will be liquid in the pot. We will use this to make the gravy. Set pot to sauté mode. Add gravy mix to liquid, stirring to dissolve. Let liquid mixture come to a boil and thicken.
While gravy is thickening, add ranch seasoning and milk to potatoes and mash well. Add more milk if you prefer softer mashed potatoes.
Once gravy comes to a boil, pour into a gravy boat.
Serve steak with mashed potatoes and gravy over top.
Save
Save
The following two tabs change content below.
Latest posts by Jessica McCoy (see all)