Instant Pot Jambalaya is rich, flavorful, and filling. This Instant Pot version is a breeze to make!
In my household, we call the Instant Pot a "game changer."
When we first bought one, we were excited to try it out, but admittedly a little skeptical that it would live up to the hype.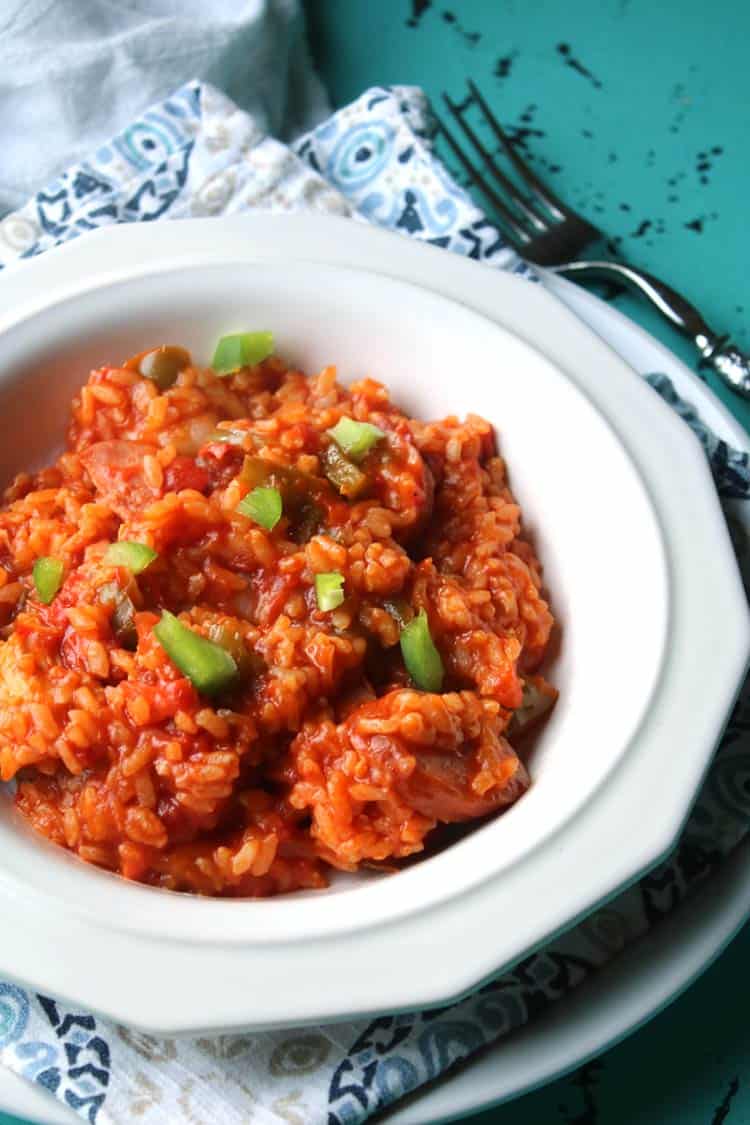 If you own an Instant Pot, you probably know what I'm going to say next: it has been AMAZING. Everything we cook in it, like this Instant Pot Jambalaya, comes out perfectly and is so easy to make. When time is short and the to-do list is a mile long (which seems like every day), the Instant Pot makes meal prep a breeze.
Why You Should Make Instant Pot Jambalaya
Jambalaya is southern comfort food at its finest. It's rich, flavorful, filling, and very healthy. Originating in Louisiana, Jambalaya has both French and Spanish influence, and it consists of meat, vegetables, and rice. It's a rather simple mixture, which is why I think of jambalaya as just good, wholesome food.
The great thing about Jambalaya, especially this Instant Pot Jambalaya, is it's easy to make. There are only a few quick steps, and the process is made even easier by using an Instant Pot. (I'm convinced that pretty much everything is easier in the Instant Pot!)
Creole vs. Cajun Jambalaya
There are two main types of jambalaya: Creole and Cajun. Although the cooking methods differ, one main difference is that Cajun jambalaya does not include tomatoes, but Creole jambalaya does. This Instant Pot Jambalaya recipe contains 1 can of crushed tomatoes, plus Creole seasoning, so it is definitely a Creole jambalaya recipe.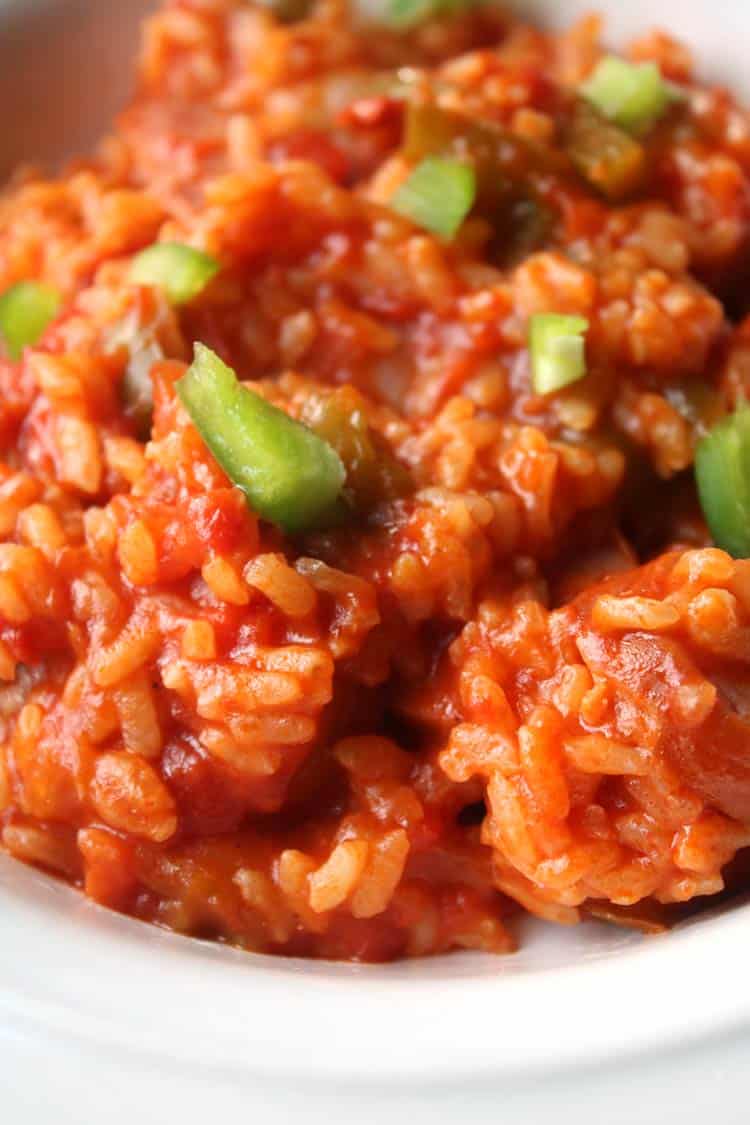 This is a Sausage, Shrimp and Chicken Jambalaya Recipe
As I mentioned, there are three main components to jambalaya: meat, vegetables, and rice. Both the meat and vegetable component vary depending on the recipe. For the meat addition, this particular recipe is a sausage, shrimp and chicken Jambalaya, but some people use bacon, pork, duck, beef… the list goes on. And for a vegetarian version of Jambalaya, tofu can be used.
An Awesome Instant Pot Tip
Before I give you the recipe for Instant Pot Jambalaya, I have to share with you an awesome Instant Pot tip. If the Instant Pot is a game changer, this tip is a game changer to the game changer!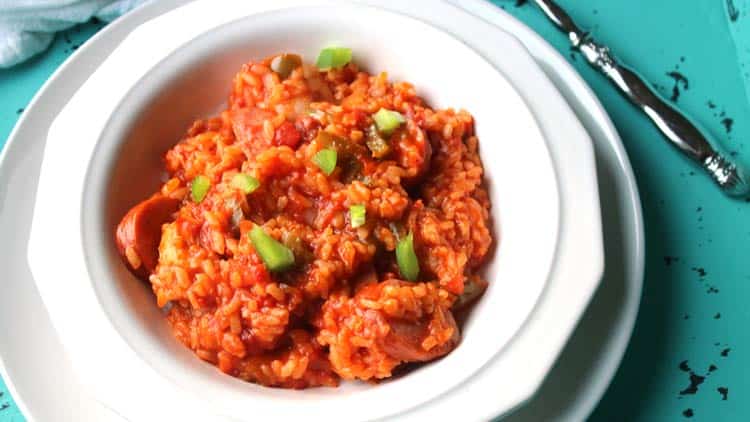 Here's my tip: buy a second inner cooking pot.
I used to use a standard pressure cooker that was just the pot and the lid. If I needed to pressure cook multiple recipes, I had to transfer whatever I had just cooked to another pot or bowl before using the pressure cooker again. As you know, pressure cooker contents are scalding hot, so this was a bit of a dangerous process.
With the Instant Pot, I quickly realized this process was a thing of the past. The inner pot can be removed (carefully, while wearing an oven mitt), put aside, and replaced with another inner pot. New inner pot, new recipe!
Buying a second inner pot has made the Instant Pot an even more efficient kitchen appliance.
Easy Instant Pot dinner recipe with step by step instructions
Step One:
The first step to making this delicious Creole Jambalaya in the Instant Pot is to brown chicken on the saute setting.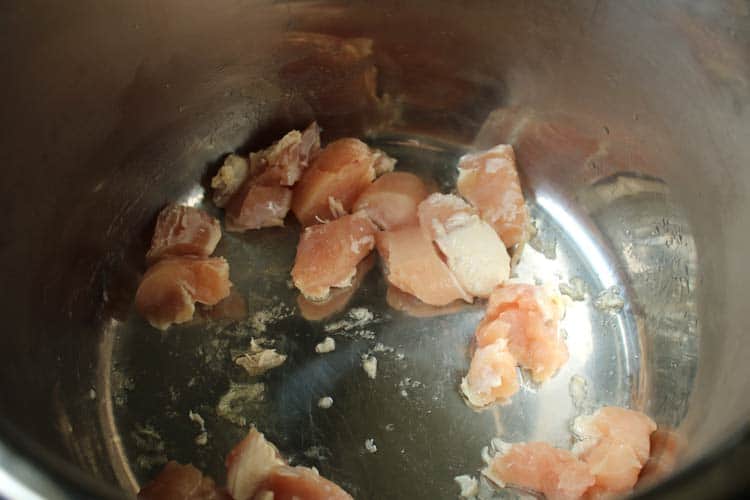 Step Two:
Next, remove the chicken and saute onions and peppers until just opaque.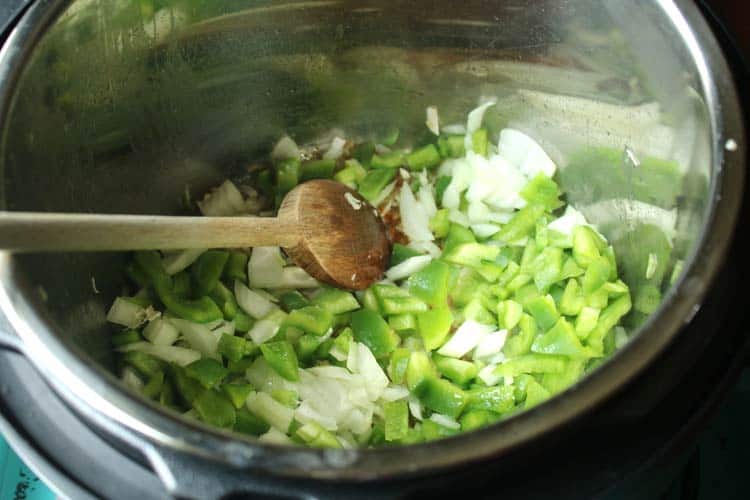 Step Three:
Add the chicken back in with the onions, and add in creole seasoning and salt (you can alternatively add the seasoning in with the chicken while you are cooking it). Then, it's time to add in rice, chicken broth and crushed tomatoes.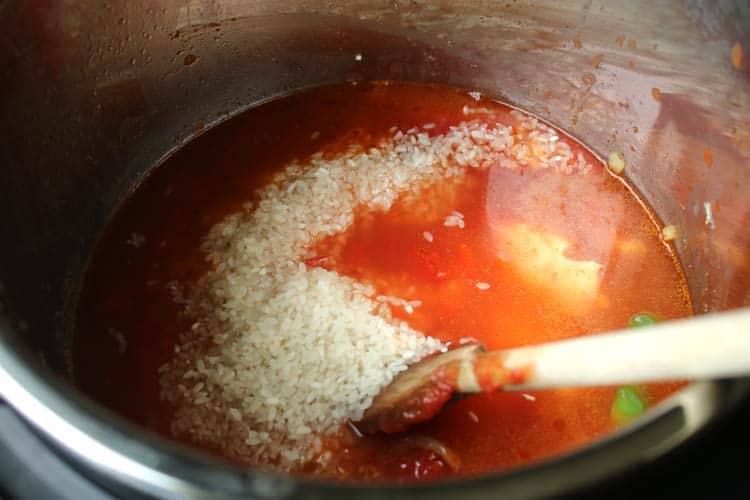 Step Four:
Cook using the rice setting on your instant pot. Use a quick release and open up your Instant Pot. It should look something like this: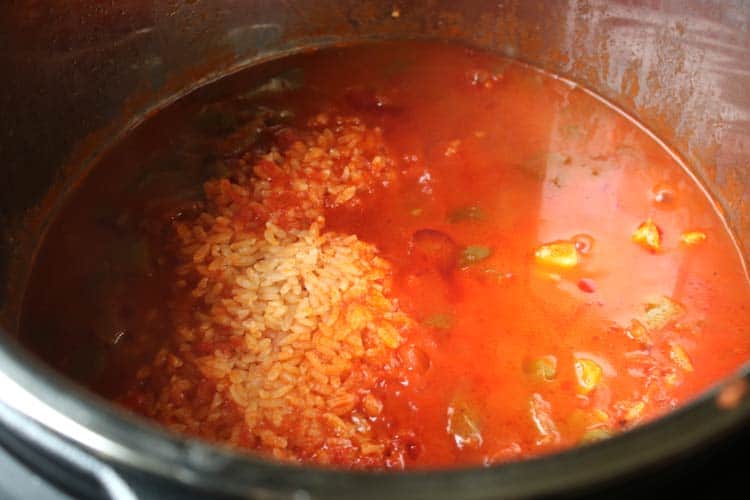 Step Five:
Add in your sausage (we use kielbasa) and deveined, shelled raw shrimp. Cook on high pressure for 2 minutes and then use either the slow or quick release.
Open up your Instant Pot and it's time for dinner.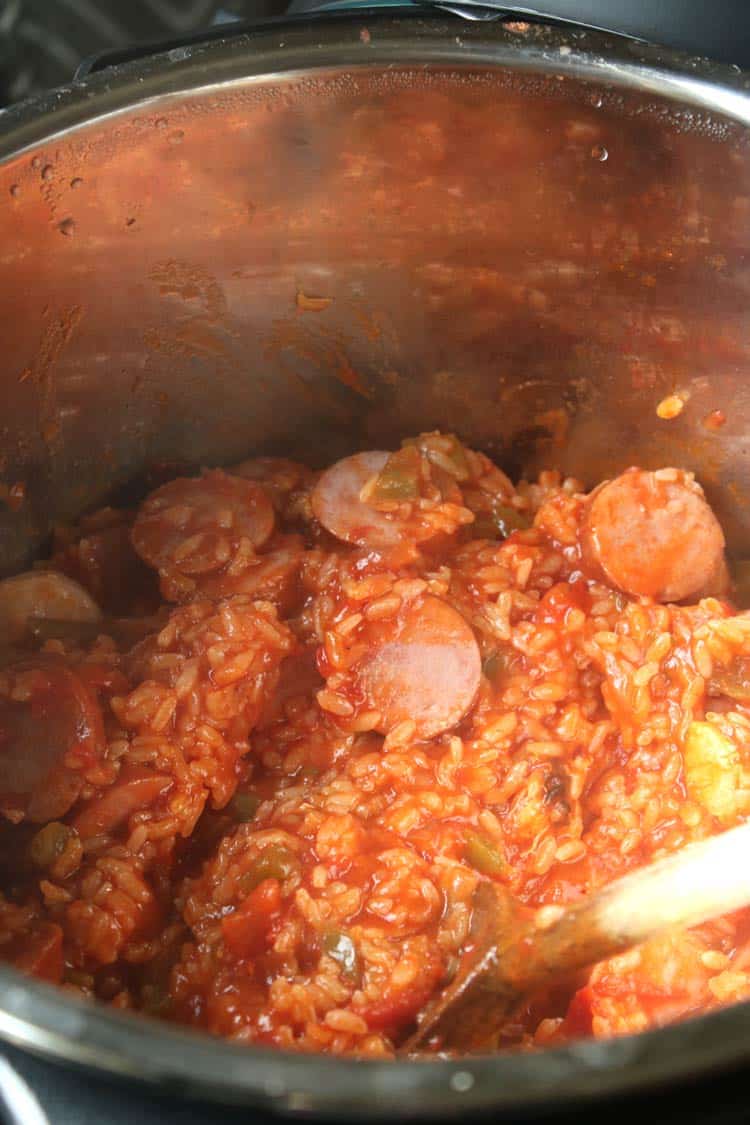 Step Six:
Plate your food and serve it up! It's time to dive into dinner.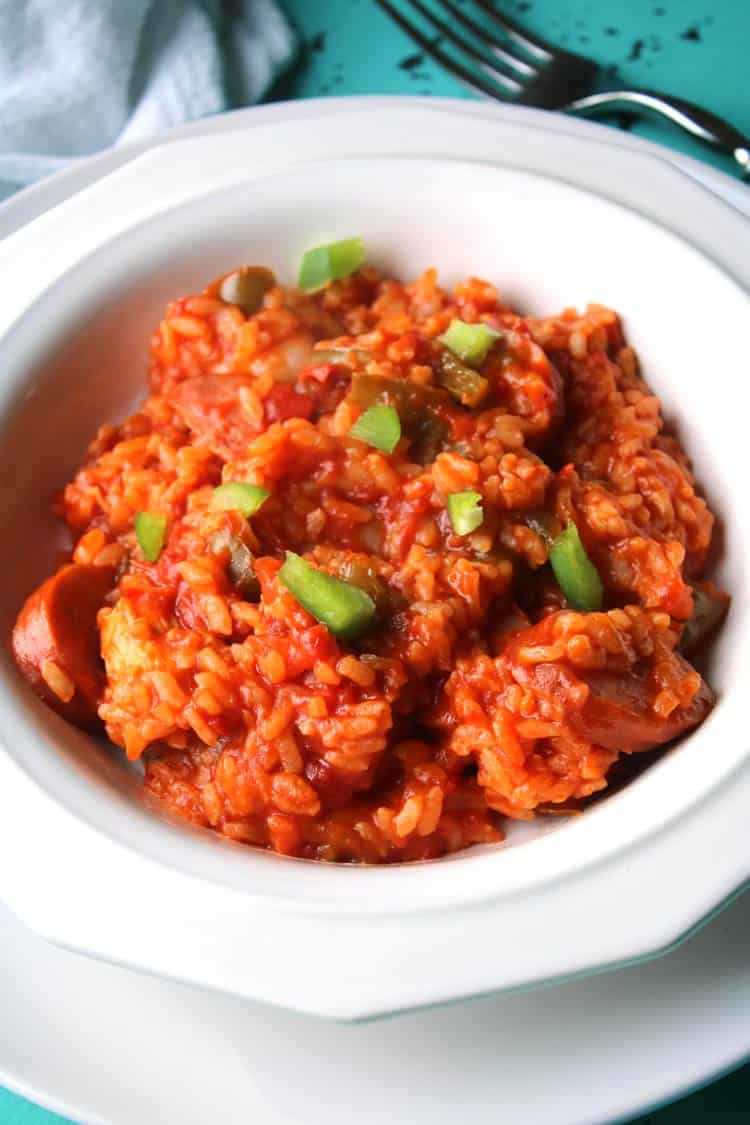 More Instant Pot Recipes
If you have an Instant Pot, you've probably collected a huge number of Instant Pot recipes. It's kind of hard not to — every Instant Pot recipe is so easy that it becomes almost addicting to use your Instant Pot! Recipes that may have seemed a little intimidating or time-consuming are now simple and quick.
Because we're such big fans of the Instant Pot in my household, I've posted quite a few Instant Pot recipes. Here are a few for you to try:
Enjoy!

Instant Pot Jambalaya (Creole Jambalaya)
Instant Pot Jambalaya is healthy, flavorful, and filling Southern comfort food.
Ingredients
1 pound kielbasa sausage
½ pound raw large shrimp
1 pound chicken cut into bite-sized chunks
1 medium onion finely diced
3 medium bell peppers, finely diced
1 tablespoon creole seasoning
½ teaspoon salt
1 can crushed tomatoes
2 ½ cups chicken broth
1 ½ cup rice
1 tablespoon oil
Instructions
Heat oil using the Instant Pot sauté mode.
To the heated oil, add chicken, creole seasoning, and salt.
Sauté the chicken until it's brown. Remove and set it aside.
Add bell peppers and onions to the Instant Pot, and cook them until they're translucent.
Put the chicken back in the Instant Pot, adding rice, crushed tomatoes, and chicken broth. Mix well.
Put the lid on the Instant Pot and set it to rice mode (12 minutes at high pressure).
After the 12-minute cycle completes, do a quick release.
Add the sausage to the rice in a layer, and then do the same with the shrimp on top of the sausage.
Set the Instant Pot to manual mode for 2 minutes.
After the 2-minute cycle completes, do a quick release or a natural release.
Fluff rice and mix the shrimp and sausage well. Let mixture cool for a few minutes and serve.
The following two tabs change content below.
Latest posts by Jessica McCoy (see all)