Instant Pot Meatballs – Easy Italian Meatball Sliders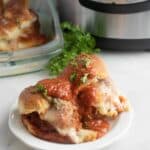 Author:
Prep Time:

15 minutes

Cook Time:

20 minutes

Total Time:

35 minutes

Yield:

serves 6
Ingredients
1 pound ground beef
1 pound Italian sausage
2 eggs
1/3 cup Italian bread crumbs
1/3 + 1/8 cup grated Parmesan cheese, divided
1 teaspoon dried parsley
1 teaspoon dried oregano
1 teaspoon salt
½ teaspoon pepper
28 ounce can tomato puree
1 package of slider buns or Hawaiian rolls
6 slices Mozzarella cheese
5 tablespoons butter, melted
½ teaspoon garlic powder
½ teaspoon dried parsley
Instructions
Mix ground beef, Italian sausage, eggs, bread crumbs, 1/3 cup grated Parmesan cheese and next four ingredients together using a hand held mixer.
Using a large scoop, form meatballs that are about 1 ½ inches.
Pour half of the tomato sauce into the inner pot of the Instant Pot and place meatballs on top of the sauce. Then pour the remaining sauce over the meatballs.
Close lid on the pressure cooker and turn pressure valve to sealing. Set for a high pressure cooking time of 5 minutes, allowing for a quick pressure release when the cooking time has finished.
Preheat oven to 350 degrees, and spray a 9×13 casserole dish with non-stick cooking spray.
Place the bottom of the slider buns in the casserole dish. When meatballs have finished cooking, place on buns along with some of the sauce. Add cheeses and then put on the tops of the buns.
Melt butter and mix in garlic powder and dried parsley. Then brush over the top of the slider buns.
 Bake for 10-15 minutes, or until the cheese has melted and the tops of the buns are lightly golden.