If you are looking for a perfect pasta dish that is healthy, than look no further than my Israeli Couscous with Grilled Vegetables. You can even make the vegetables in advance and just heat them up when you are ready to add them to the couscous. For those of you who never had couscous before, you are in luck as it's a very quick cooking pasta. You just add it to boiling water and then in about 8 to 10 minutes, the water is absorbed and you have your couscous. It couldn't be more easy than that! So this is perfect for a weeknight dinner, if you grill your vegetables in advance.
Print
Israeli Couscous with Grilled Vegetables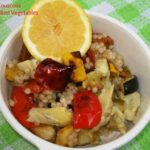 Author:

Jessica, AllSheCooks.com
Ingredients
1 cup Israeli Couscous (cooked according to package directions)
1 small red pepper, cut into 1 inch pieces
1 small yellow pepper, cut into 1 inch pieces
1 small green summer squash (zucchini), cut into small chunks
1 small yellow summer squash, cut into small chunks
1 small jar of marinated artichoke hearts, roughly chopped
5-6 tbsp. extra virgin olive oil, divided
Juice of 1 lemon
1/2 tsp. dried oregano
1/2 tsp. dried thyme
salt and pepper, to taste
Instructions
In a large glass bowl add all of the fresh vegetables and 3-4 tbsps. of the oil and mix well. Grill over medium heat mixing occasionally until the veggies are soft and browned, but not burnt. Remove from grill and cool completely. (This step can be done in advance, if you want).
To a large glass measuring cup or bowl add 2 tbsp. of the olive oil, lemon juice, the herbs, artichoke hearts, salt and pepper and mix well. Set aside. When the couscous is done, add the dressing and mix well to combine. Cover with plastic wrap and put into the refrigerator. Once cooled, mix the vegetables with the couscous. Serve!
The following two tabs change content below.
Latest posts by Jessica McCoy (see all)