Kids pick up on the darnedest things.  They are captivated listeners and observers of all you as a parent do, whether you want them to be or not.  Thankfully this carries over into cooking in the kitchen.  If you didn't catch it last week, here are  5 Reasons to Cook with your Toddler, and I can tell you from experience that involving kids in the kitchen at a young age encourages a love of cooking and creating.
Lunch sandwich ideas
My forays into fun sandwich making garnered the attention of my little creative cook-in-training.  Yes, my 10 year old daughter is often bouncing ideas off me… offering me suggestions for what I should try next for a new recipe on All She Cooks.  I think I need to invest in a kitchen notebook whose sole purpose is for my gorgeous girl to jot her recipe ideas down in.  Yes… another few years and you might see a new foodie blog on the horizon: Ciera Cooks.  And plays basketball.  And becomes a teenager.  Heaven, help me please!
But for now my fine friends, you get to be her audience.  Hang tight, because I'm pretty sure your kids will love this twist on a peanut butter sandwich.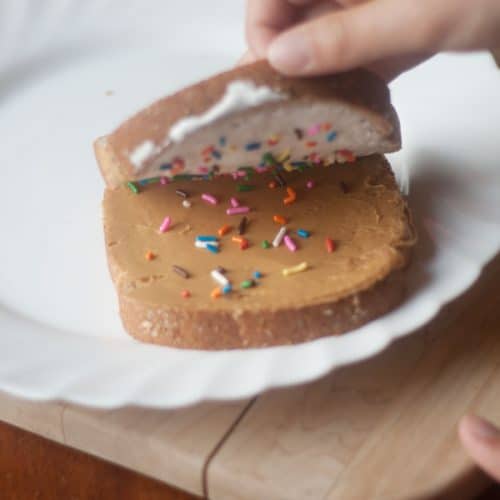 It took her a little while to figure out what to make, but after standing by the pantry holding the door open for a little bit, she ended up pulling out these ingredients: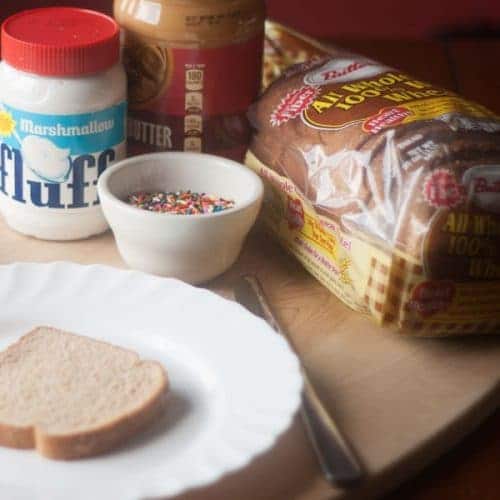 Need some lunch sandwich ideas?  Try creating this Peanut Butter and Marshmallow Puff Sandwich.  I have to say… Ciera was beyond disappointed when I looked at the jar of Marshmallow Fluff and discovered a sandwich recipe that was almost identical to her own.  I mean after all, my daughter created this recipe entirely in her own head and then just like that she discovers that someone else created it first!  Well… maybe not with sprinkles.
As foodies we love to create, and it goes without saying that we all make things that others have made before us.  Whether its because we were inspired by something we saw and stored it  somewhere in the recesses of our brain for later (and then it came to us as a bright original idea that turned out to not be original at all) or just happen-chance.  There are only so many purely original ideas, but the joy of creating is something that contagious.
So… while it might not have been a completely original creation, Ciera's Peanut Butter, Marshmallow Fluff and Sprinkles Sandwich is sure to hit the spot for your favorite kid… as long as they aren't allergic to peanut butter.  I think this might be a new favorite lunchbox treat!  And, obviously a 10 year old kid can make it.
Spread on the peanut butter (or your favorite substitute), marshmallow fluff, and add sprinkles.  Walla!  You've got a bright and shiny sandwich.  At least on the inside. 😉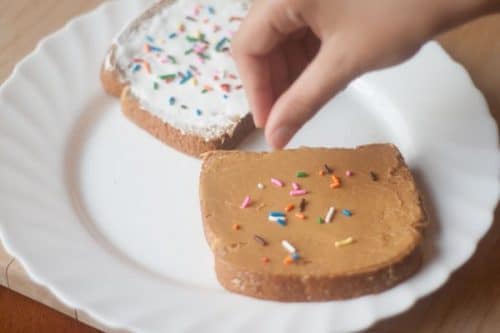 Oh yeah… don't forget to cut off the crust!  Because, according to my little cook… that's how most kids like their sandwiches.  She must have done that after we took these pictures.
Variations… I'm thinking maybe add some chocolate syrup.  Because you know I add that to everything, especially Hot n Gooey Cinnamon Toast Sandwiches.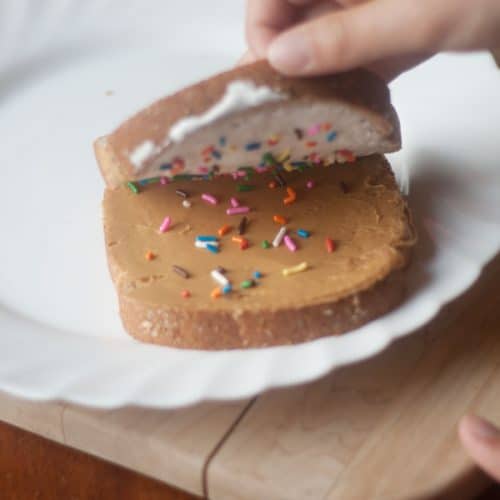 Enjoy!
Print
Kids in the Kitchen- Peanut Butter and Marshmallow Fluff Sandwich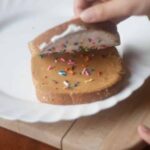 Author:

Ciera, AllSheCooks.com

Prep Time:

5 minutes

Total Time:

5 minutes
Ingredients
Bread
Peanut Butter, creamy
Marshmallow fluff
Sprinkles
Instructions
Spread peanut butter on one slice of bread, marshmallow fluff on second piece of bread and add sprinkles. Put the slices together and then cut off the crust. Cut in half or quarters for fun-inspired kid-created and kid-friendly sandwiches.
The following two tabs change content below.
Latest posts by Jessica McCoy (see all)