Low-Carb Slow Cooker Recipes For Easy Holiday Cooking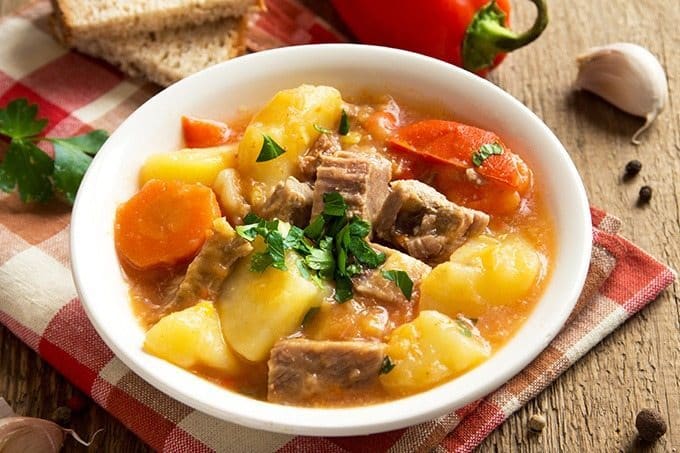 Who says you can't have a great time while cooking dinner?
That's right. You can make time for yourself by cooking your meals without watching over it. What is your crock pot for, anyway?
While cooking low carb crock pot recipes, you can stay out of the kitchen. You can have time for an errand or spend your precious time with your family. And when you get back, the hot dinner is ready to serve.
It's time to rediscover how convenient it is to use your slow cooker. If you're good at it, you'll be cooking like a pro. Your slow cooker can make your meat really tender and juicy.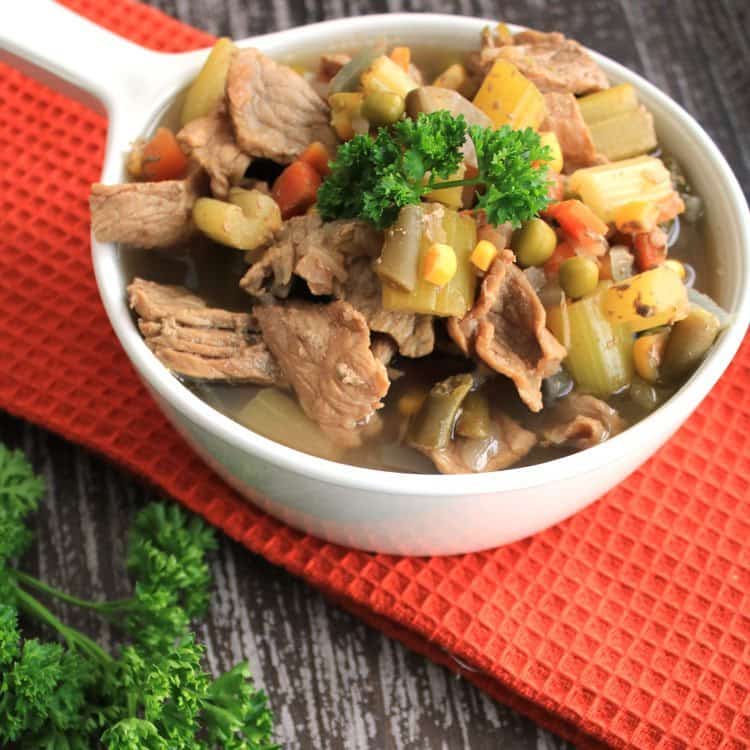 Become a bit resourceful in looking for treasures in your cooking area. Are your crock pots somewhere in the pantry closet and you haven't used them for years? Pull them out. They can be your best buddy for cooking healthy and delish low-carb crock pot recipes.
The holidays are nearing and you'll be doing a lot of cooking! But fret not, your slow cooker will make these days splendid for you. Your slow cooker is perfect for cooking party food and keeping your victuals warm.
Benefits of The Slow Cooker (a.k.a. Crock Pot)
Slow cookers are definitely must-haves in your kitchen. What are the culinary benefits of the slow cooker?
It saves you money. For one thing, slow cookers are typically inexpensive. In the same way, you can buy cheaper meat cuts such as lamb or pork shoulder and beef brisket. These cuts require more cooking time.
It saves you time. You don't have to spend a lot of time in the kitchen to do your cooking. All you have to do is toss your cooking ingredients in the crock pot and adjust the timer.
It's a cooking healthy option, especially when you use the lowest setting. More nutrients of vitamins and minerals are retained in food if you cook them at low temperature.
It uses less energy. It doesn't require much energy to use the crock pot, and in most cases, you don't need to add water.
It's easy to use for cooking delicious foods. It's not just for slow cooking meats, but vegetables, too. In the last 2 to 3 hours of cooking meat, you can add the veggies, and 30 minutes before finishing your cooking, add the cream.
Luckily, I just put together an infographic about Advantages and Health Benefits of the Crock Pot.
Let's take a look and feel free to share and leave your comments at the end of this page! I would love to hear from you.

Now that makes a lot of sense. Cooking is easier and tastier when you're using the crock pot. Get a load of these fantastic low-carb crock pot recipes:
Low Carb Crock Pot Ham And Cauliflower "Potato" Stew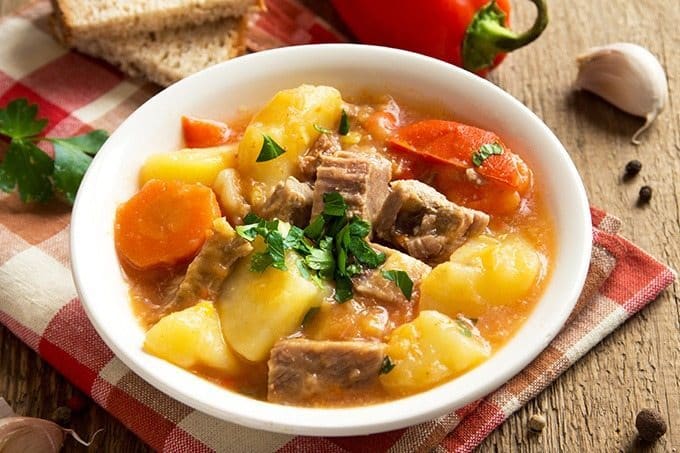 The holidays are coming, and you can imagine that it's going to be hams galore in your dining table. As early as now, you can think of ways to recycle and cook the leftover ham.
Here is one of them, the ham cauliflower "potato" crock pot stew. It's a darn thick and creamy stew lavished with a lot of "potatoes".
In this stew, you'll be using low carb cauliflower as the substitute for potatoes. It's completely scrumptious!
Ingredients
3 cups of diced (leftover) ham.
1 bag (16 oz) of frozen cauliflower florets (fresh cauliflower head sliced into florets is also an option).
14.5 oz of chicken broth.
¼ cup of heavy cream.
¼ teaspoon of salt.
8 oz freshly grated cheddar cheese.
4 cloves of garlic.
½ teaspoon of onion powder.
½ teaspoon of garlic powder.
a dash of pepper.
Direction
Prepare all the ingredients and mix them in a medium-sized crock pot. Cover the mixture in the cooker and adjust to High setting. Cook the stew for 4 hours. Preparation time for the ingredients takes 5 minutes and cooking it takes 4 hours. Thus, you can enjoy your Low Carb Crock Pot Ham And Cauliflower "Potato" Stew in a period of 4 hours and 5 minutes.
---
Pulled Pork With BBQ Sauce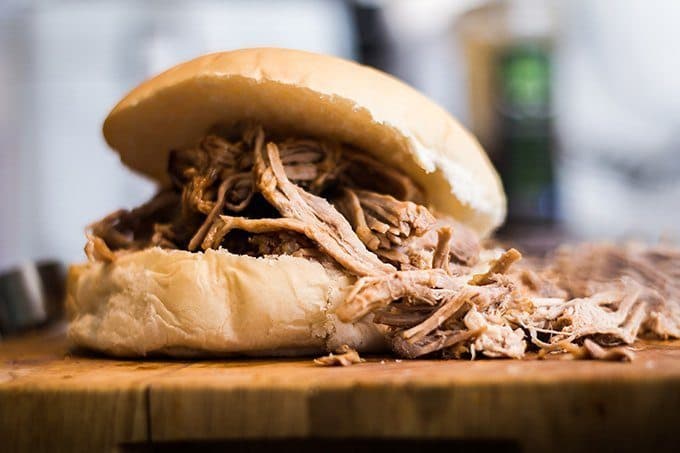 Who doesn't like BBQ sauce as the condiment? It's absolutely yummy, especially when prepared as a dip for fried chicken bits. However, you simply cannot resist BBQ sauce to enhance pork and smoked meats. Then again, there are several options of pulled pork BBQ sauce that are perfect to go with traditional barbecue.
Ingredients:
1.6 kg or 3.5 lbs of boneless pork shoulder.
1 (150 g) white onion (large).
3 pieces of bay leave.
1/3 cup or 80 g of spicy chocolate BBQ sauce.
Spices for glazing
1 tablespoon of paprika.
1 tablespoon of onion.
1 teaspoon of smoked paprika.
1 tablespoon garlic powder.
1 teaspoon white or black pepper.
2 teaspoon of salt (such as pink Himalayan).
TIP: If you can, get these ingredients in their most organic or natural form.
Direction
Preheat the crockpot and adjust the setting to High. Get all the spices and combine them in a bowl. Slice the pork into square cuts by scoring the skin and cutting it by about 1-inch distance from one or both ways.
Glaze the pork with the spices. Peel and slice the onion and place in the preheated slow cooker. Put in the bay leaves.
While cooking, add the pork above the onion. The pork has its own water, so no need to add more (water). Cook the pork for 6 hours, or if you're using low temperature, set the cooker to 12 hours.
When you're done with the cooking, open the cover of the crock pot to exhaust the hot steam. Preheat the oven setting to 200 degrees C or 400 degrees F. Get a tong or 2 pieces of the fork. Use them to lift the pork over a baking sheet covered with parchment paper. Get the BBQ sauce and overlay it on the cooked pork. Set the pork in the oven and cook for half an hour to 40 minutes.
While cooking the pork in the oven, you can mix the sauce. Take out the broth of onions with bay leaves and pour it in a blender. Pulse the mixture until it becomes smooth, then set it aside.
Remove the pork from the oven when it's already well-roasted and crispy. Place it in a bowl. Get two forks to shred the pork into strips. Toss the sauce down from the blender over the pork and blend thoroughly.
Time to serve your pork bits with BBQ sauce. Dish it up with roasted veggies or Keto buns on the side.
It's totally easy to cook your best-tasting recipes in your crock pot. You can let your hair down and take your time outside the kitchen while cooking your lip-smacking low carb crock pot recipes.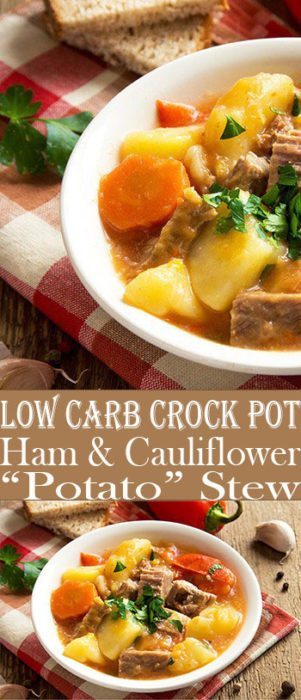 The following two tabs change content below.
My name is Nicole Lucas, I am the main editor of
NoMealNoHealth
and moreover I am a mother to an 7 year old angel, and me and my husband regularly have cook-offs in our kitchen for fun. I would love blog about healthy food/drink, tips & tricks that will help you bring happiness to your family.
Latest posts by Nicole Lucas (see all)