I'm sharing #Luvsome in my life as part of a Luvsome sponsored series for Socialstars™
I love my dog.
No beating around the bush, telling you that dogs are loyal or anything like that. They are, but that's not what I'm sharing today. People—the right people—are loyal to their fur babies. And yes, if you're a dog person, you know what I mean. I love my dog…and in the same way, so many of you love your dogs.
Being a dog mom is awesome.
Being a dog mom to Marley is even better. Marley is a huge part of our family. Coming home to our sweet pup is like coming home to an excited welcome committee, each and every day. Because she loves us just as much as we love her, us coming home is SO exciting to her.
You know, if she could go out and get balloons, make a welcome home poster and rent a marching band for our return each day—I think she'd go all out, celebrating in the most extravagant way.
Instead, she settles for rushing downstairs when I come home as if she absolutely can't contain herself a moment longer–jumping up on me to give me a kiss. I, of course, welcome her affection. I return her greeting with belly and ear rubs, combined with endearing words to tell her how much I love her.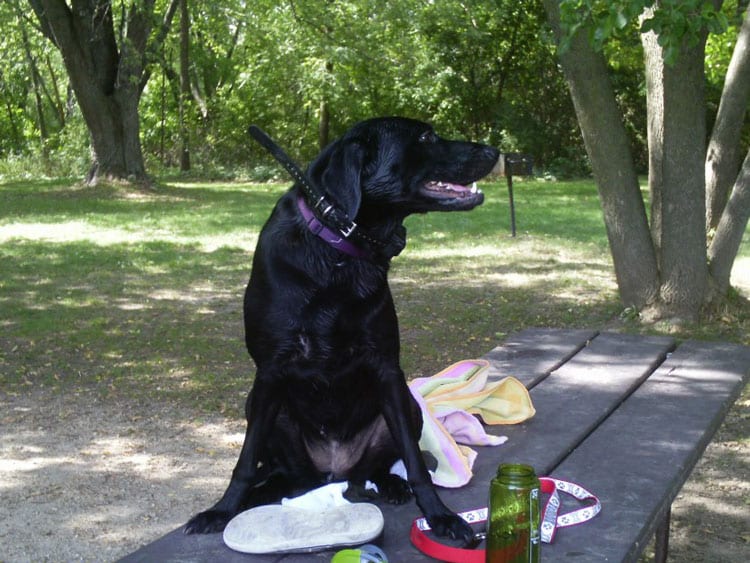 Dogs may age, but they still show their love in the same ways.
Our dog is such a big part of our family. On a typical day, you can find Marley basking in the southern sun by the patio door, lying on my daughter's loft bed gazing outdoors, or moving from room to room to see where mom is working at so she can keep me company. And that is all during the workday.
When everyone else gets home for the day, and I'm back from picking up my daughter from school, Marley will go out for a walk, play some ball, and bask in the presence of her people—meaning, most of the time Marley doesn't stray too far from her humans. Even when we're road-tripping.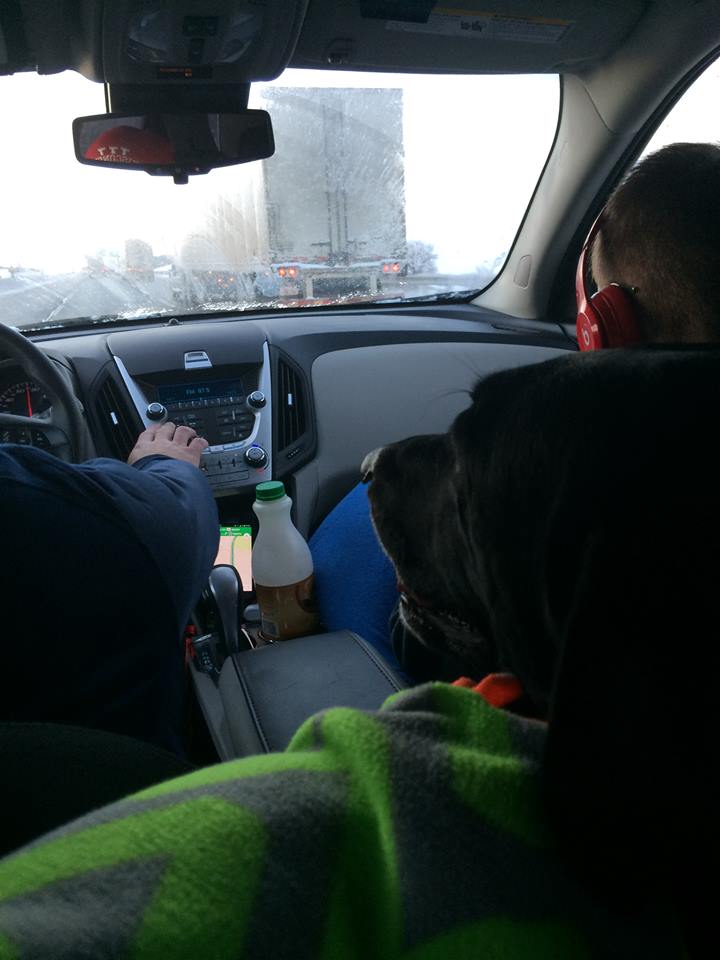 My dog and I cook together. That's normal, right?
And, she loves to watch me cook and take in all the smells of food in the kitchen. It really doesn't matter what I'm cooking. It could be Chili Mac or Chicken Salad for that matter and she'd still want to be in the kitchen. Of course, if you've seen A Dog's Purpose (and maybe even if you haven't), you can imagine what Marley must be thinking.
She doesn't beg, but she makes sure that she is there just in case I accidentally drop something. However, I prefer to feed her a bit of Luvsome that I pick up at our Kroger store down the road when I'm doing the weekly shopping. Not only is Luvsome affordable, but I know I can count on it to provide the nutrition that Marley needs.
When we're not cooking together in the kitchen, you might find Marley and me (ha!) sitting on the couch together. I'll be petting her on the head and then take a break to check something on my phone real quick—but then Marley will swoop her head right under my arm and tell me that she isn't finished being pet.
Yes, that is my girl, Marley. And because I like to give her a hard time and it makes me smile and laugh, we do that about a half dozen times: pet, stop, and then Marley scoops up my hand and makes me start all over again. It's a game she LOVES to play.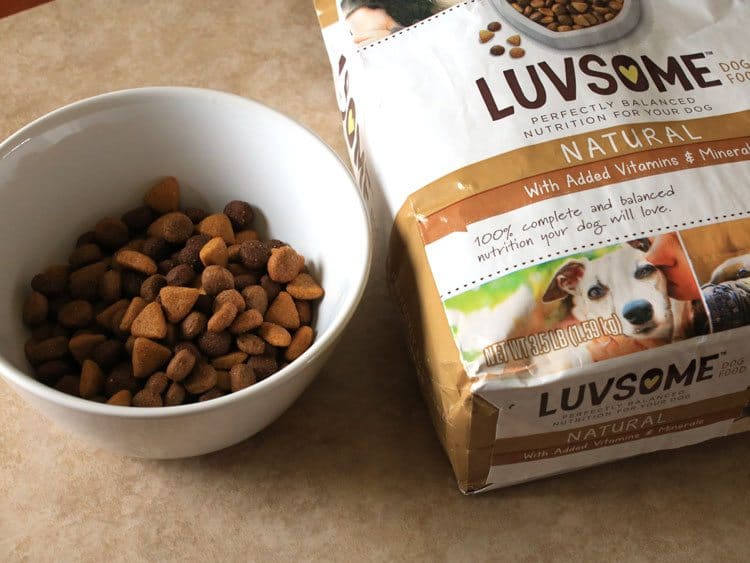 Loves snowball fights, walks on the beach, and smells of food…
Marley LOVES to have snowball fights. Okay, she loves to play in the snow.
Give her a lake to dive into—or a mountain of snow for that matter—and this girl is all smiles and barks. She'll play fetch with a stick in the lake and not bring it back—pretty much ever—she'll even play fetch with an imaginary stick in the lake. No lie.
And since we live in the Midwest and there is absolutely no shortage of snow…we've come up with fun ways to play in our winter wonderland. A couple of her favorite things are to dive into the snow and play catch with snowballs. Snowballs!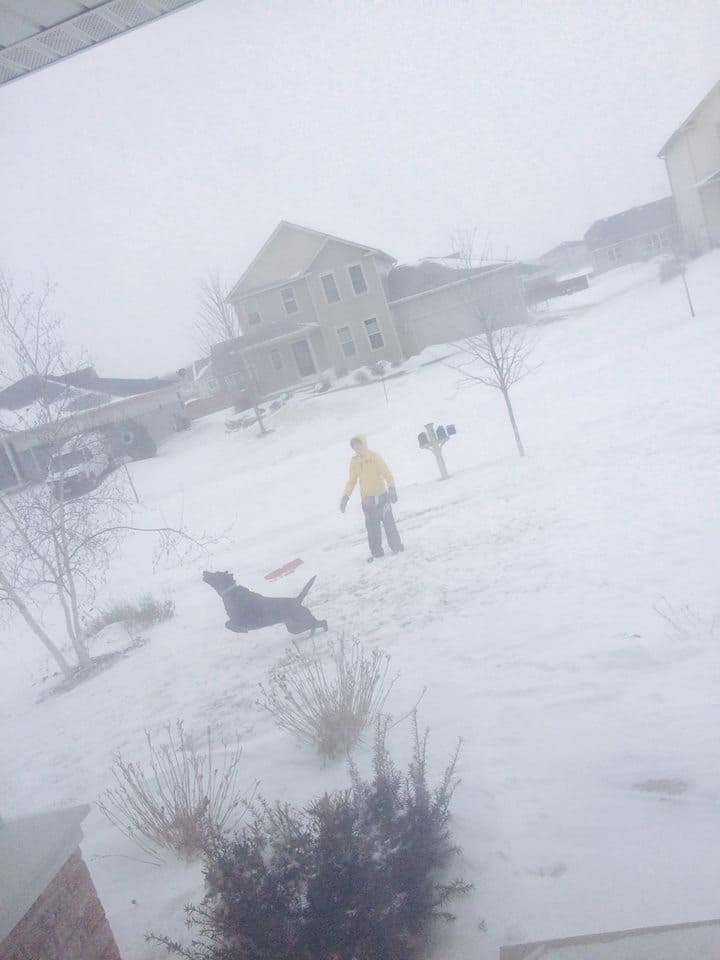 The following two tabs change content below.
Latest posts by Jessica McCoy (see all)