We've been putting together weekly meal plans for the last 31 weeks now, consolidating some of the best recipe ideas we've found across the web.  Each week we bring a different meal plan, with fresh recipes to keep your family having fun and trying new foods in the kitchen.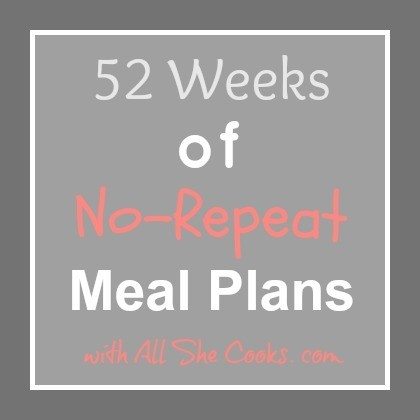 Ready to get started?  Here are 7 awesome dinner ideas, 5 breakfast choices, 3 lunches and 3 snack/dessert ideas to get your week off to a great start.  We've put these ideas together so you don't have to!
Dinner ideas:
Mexican Meat Loaf
Easy Tuna Mac n Cheese
Gluten Free Chili Meatballs
5-Ingredient Cheesy Ham and Potato Soup
Slow-Cooker BBQ Chicken Sandwiches
Burst Tomato Pasta
Crock Pot Beef Stroganoff
Lunch Ideas:
Quick Low-Cal Shrimp Scampi
Malaysian Noodle Soup
Creamy Beef Bites
Breakfast Ideas:
Southwestern Fritatta
Gingered Monkey Bread
Creme Brulee French Toast
Mango and Banana Smoothie
Cheddar Bacon Quiche
Dessert/Snack Ideas:
Spiced Chocolate Pecans
Pumpkin Pecan Bread
Easy Peasy Milk Pie
The following two tabs change content below.
Latest posts by Jessica McCoy (see all)