So… I mentioned that I've been trying out a handy little plugin called MaxBlogPress Ninja Affiliate.  I thought I would go ahead and do a product review of it so you can get an honest opinion.  And I'll be perfectly honest with you.
Here's what I love about it:
Insert all your affiliate links in one place and blog away.  Write good content and never have to worry about copying and pasting affiliate links.
Reports.  I love that I can see if people are clicking on the affiliate links I post.  Who wants to be supporting an affiliate that their readers are not even interested in?
After just a few days, I was able to see click-through results: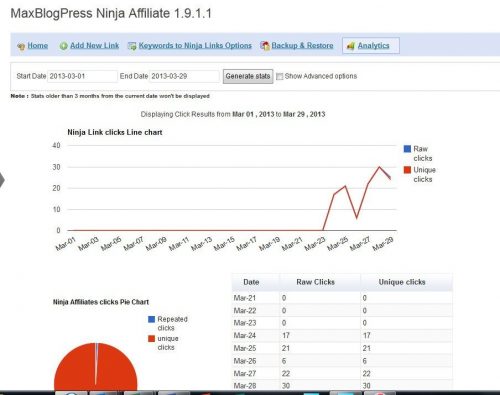 If you're looking for a hands-off approach to earning some extra cash through affiliates, the MaxBlogPress Ninja Affiliate plugin is an excellent solution.  It takes the work out of your hands so you can concentrate on what you do best: developing good quality content that your readers count on you for.
The tool is easily customizable so you can enter in the details of your affiliate links as well as the keywords you want those links to be associated with.
Keywords are area you need to be a tad careful with, because you want to make sure the keywords you select are rather specific.  For instance, if you want to link to Bluehost, specify Bluehost and not 'host' because if you use the word host in a non-relevant (to the affiliate link) sentence… it could still populate with the affiliate link.  So… choose your keywords carefully.
Saves you a ton of time, effort and energy.  What that means is… instead of editing links and posts, you actually have a lot more time to write content and promote your blog – which is what will eventually drive visitors to your money-making links.
MaxBlogPress Ninja Affiliate is a top rated WordPress plugin.  It is not a free plugin, but if used as it is meant to be used, it is one plugin that can help you make money utilizing the affiliate links and relationships you probably already have.
(Disclaimer… results will inevitably differ from person to person and neither MaxBlogPress nor myself make any claims as to the amount of money you can or will earn utilizing this plugin).
Again, I recommend MaxBlogPress Ninja Affiliate WordPress plugin because of it's ease of use, (although as with anything there is a slight learning curve), ability to insert affiliate links into content automatically, and because I can see which affiliates my readers are interested in.
The following two tabs change content below.
Latest posts by Jessica McCoy (see all)