Hi Meal Planners!
We are SO excited to announce that we have completely REVAMPED 52 Weeks of No-Repeat Meal Plans! In the next few weeks we will be rolling out our new meal plan offerings, and we couldn't be more thrilled to share them with you.
Need some recipes to tide you over?
Because we need you to wait just a few more weeks,
And to show how much we appreciate you…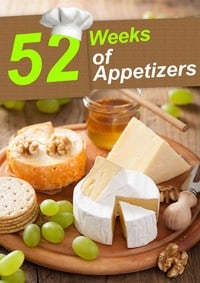 We're offering 52 Weeks of Appetizers for 99 cents.  That's 52 super yummy starters for less than 2 cents a piece!
And… we're cutting the price of 52 Weeks of Slow Cooking down to just 99 cents as well.  We've put together 52 Delicious Slow Cooker Recipes, to help ease the pain of having to wait a few more weeks for our new and improved meal plans to start back up. 
They will make easy weeknight dinners super simple.  Call us crazy, but we like to share.
We got a little bit ambitious when we started out this year full of great intentions to provide free meal plans to everyone, each and every week. We stumbled, but we picked ourselves back up–New Year's resolution intact—and solid plans to go the extra mile to provide you all with the original meal plans you want each and every week.
That little dip in the road allowed us to reevaluate, redesign, and come up with a meal plan system that many of were asking us for. No more clicking links on our website to get recipes. No more having to be online to access your meal plan. Now, we're offering you something bigger and brighter: printable meal plans that include the recipe and nutritional information.
Designing these new plans has come with a reality check: Meal Planning is A LOT of work. As such, we are cutting back on our free meal plan offerings.  Most all of the feedback we have received on this has been exceptional.  You all understand the value of hard work and the service we are offering.  No, we are not just changing things up to make a buck.  We are redesigning our meal plans to offer you a better service, to provide a high quality product, and to keep our customers happy.  We listened to what many of you were asking for and realized that while we would love to offer our meal planning service for free, that simply isn't a feasible option.  Mortgage, mouths to feed, bills to pay… you get the picture.
The free version of our meal plans will still be available, but will be scaled back to include fewer meals for each week. Free meal plans will include 4 dinners, including printable recipes. The free version will no longer include a grocery list. The dinner options included on the free meal plans will be different than those offered in our other plans.
Now for the exciting announcement you've all been waiting on pins and needles for:
We will be offering paid meal plans at an amazing price! By offering our meal plans on a paid subscription basis, we will be able to offer you an outstanding service. Putting our best effort into meal planning for your and your family is something we value and strive to excel at.
We realize you have options when it comes to Meal Plan subscriptions. We like eMeals too, but our prices are WAY better.
52 Weeks of No Repeat Meal Plans—Packages:
Dinner Menus-
Monthly-$6
3 Months- $15
6 Months- $25
1 Year- $45
Add Breakfast, Lunch, and/or Dessert (price is per add-on)-
Monthly- $3
3 Months- $7
6 Months- $12
1 Year- $22
The following two tabs change content below.
Latest posts by Jessica McCoy (see all)