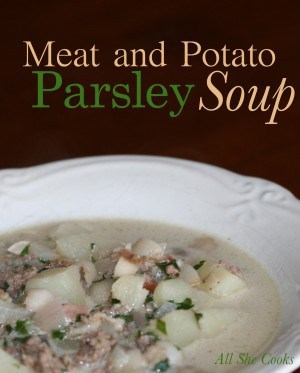 Sometimes recipes aren't planned. At all. That happens from time to time in my house. I used to do this all the time, many times unsuccessfully I might add. Now that I'm learning to cook better and getting a feel for what ingredients go with what, I'm having a ton more success in the kitchen.
This recipe was a HUGE success. And I do mean huge. Even my picky eater said that it was the best soup I had ever made. She rated it better than my copycat Zuppa Toscana, which she absolutely loves and my Bountiful Beef Stew which is another favorite. What's more… hubby agreed that it was just that good! In fact, we didn't even have leftovers, and we always have leftovers when I make soup.
Print
Meat & Potato Parsley Soup
Prep Time:

10 minutes

Cook Time:

40 minutes

Total Time:

50 minutes
Ingredients
1/2 pound bacon
1 pound ground beef
1 cup chopped onion
1 cup chopped mushrooms
4 cups cubed Russet potatoes
4 cups chicken broth
1 cup water
3/4 cup heavy cream
1 teaspoon salt
1 teaspoon pepper
1/2 cup chopped parsley
Instructions
In a stockpot brown bacon and ground beef over medium high heat until cooked through. Drain grease.
Add onions and mushrooms and cook for two minutes over medium, stirring to combine ingredients.
Add cubed potatoes, liquids and salt and pepper. Bring to a light boil and then reduce to simmer, cooking for 20 minutes.
Add chopped parsley and simmer for additional 10 minutes. Serve and enjoy!
The following two tabs change content below.
Latest posts by Jessica McCoy (see all)