Welcome to Week #35 of 52 Weeks of No-Repeat Meal Plans!  This week we're bringing you a week filled up with Mexican Inspired recipes. As the schedule gets busier, it's nice to really savor your week as a family. Take time to make delicious food together and go with a Mexican theme to add a little spice in your life.
Ready for this Mexican food inspired meal plan?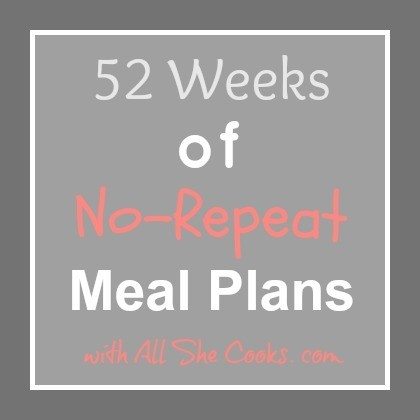 All of our weekly meal plans are available on All She Cooks, where you can even sign up for our email list and receive meal plans emailed directly to you.
We're so thrilled to let you experience these Mexican inspired recipes we've selected for you!
Below we give you 7 delightful dinners, 5 astonishing breakfast, 3 simple lunches, and 3 stunning desserts! You can pick and choose the meals that will work for you family or use all of the recipes we've selected just for you!
Plan your Dinner with these 7 delightful recipes:
Break your fast with these 5 astonishing recipes:
Chorizo Potato and Egg Breakfast
Make mini Mexican potatoes
Take your lunchbox from familiar to fiesta with these simple and delicious recipes:
Mexican Rotisserie Chicken Salad
Sweeten your taste buds with these stunning dessert recipes:
Mexican Bride Cookies
Capidotada (Mexican Bread Pudding)
The following two tabs change content below.
Latest posts by Jessica McCoy (see all)