You are going to love these Mini Pumpkin Cheesecakes with Salted-Caramel Crunch Topping. What's not to love, right?

We're talking about dessert perfection in a bite size little finger food that is ripe for the picking. As in, serve up a platter of these cute little cheesecakes at a party, and they will go like hotcakes. No lie!
Serving up bite size food, or anything served on a skewer, is an exceptional way to make party food simple and fun. Add in a fun cocktail like our Cranberry Moscow Mule and you're well on your way to a complete party menu.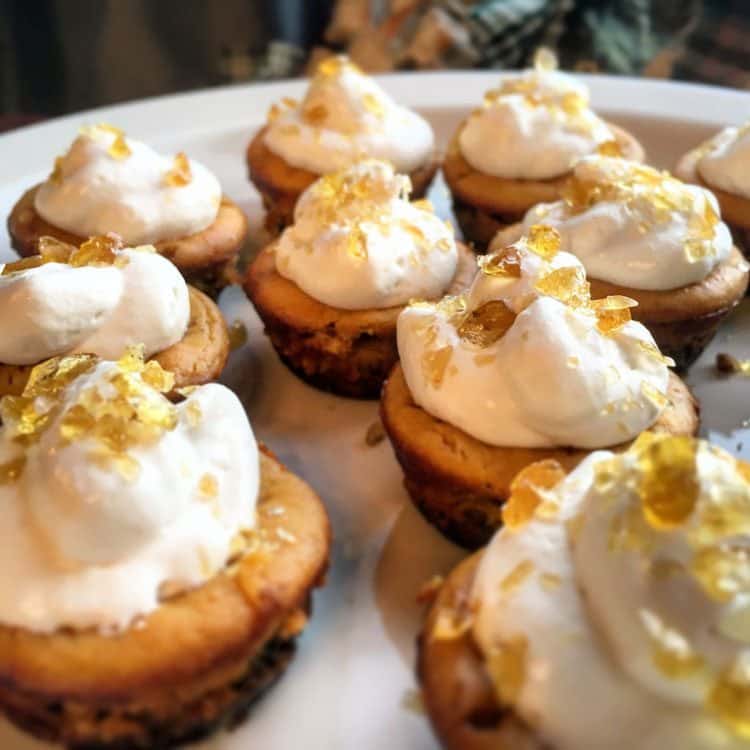 These little mini pumpkin cheesecakes are a crowd favorite because they look almost as good as they taste! For a little extra "sparkle," top each cheesecake with some pre-made salted-caramel crunch.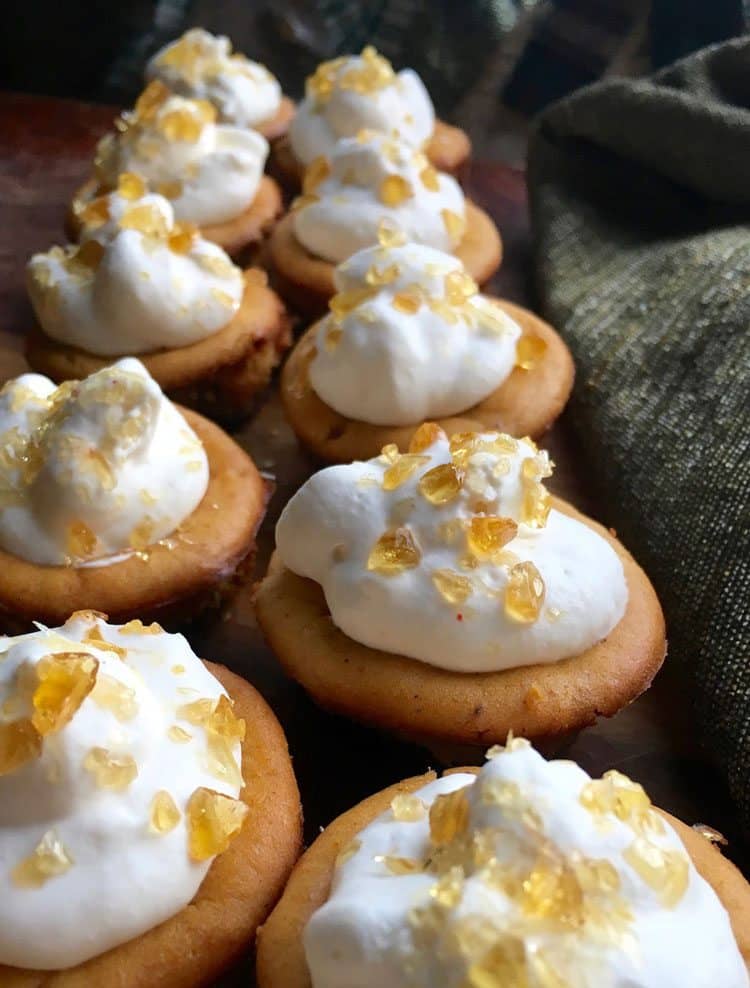 You can also top with your favorite caramel sauce or some chopped nuts before serving. For a more minimalist approach, simply sprinkle a bit of pumpkin pie spice or cinnamon on top of the whipped cream.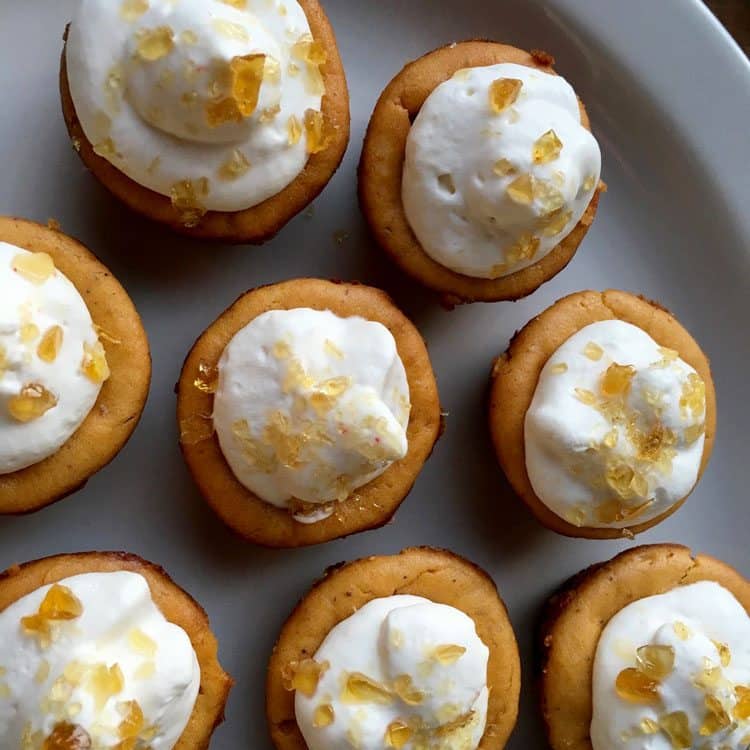 This recipe is really easy to make. You'll need to have a mini-muffin pan if you don't already have one. Mini muffin pans are such a versatile tool to have on hand in your kitchen. There are so many things you can make with a mini muffin pan.
Some of our favorite things to make using our mini muffin pan involve appetizers. Quiche, Mini Pizza Muffins, and our favorite muffin recipes–of course!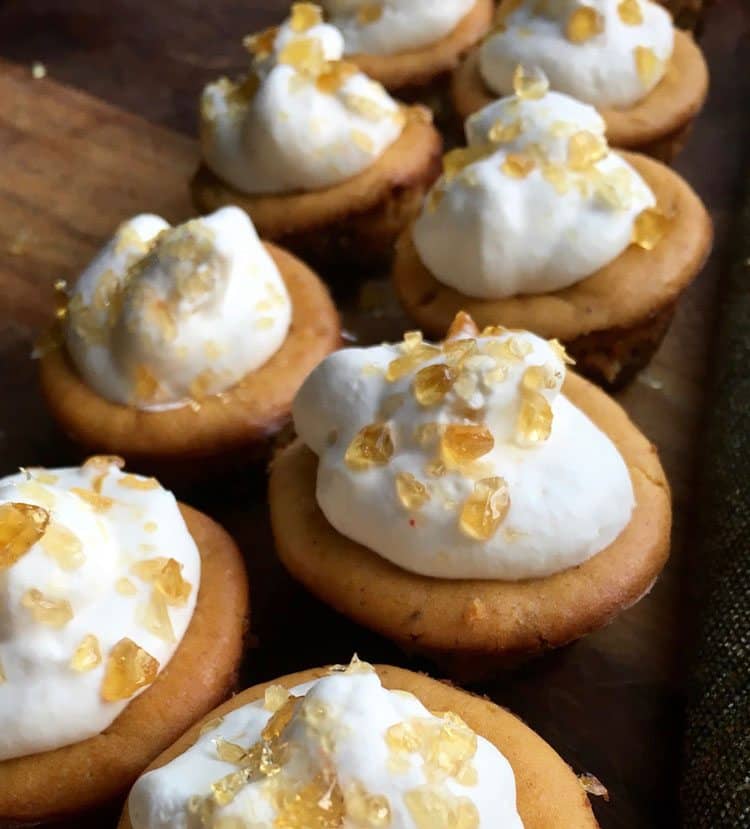 Mini desserts are always a winner. You can serve them on a platter and they are easy to grab one at a time. There is no need for extra dishes, pie plates and serving utensils. Finger food–especially grab and go desserts–are where it is at.
Yes, there is no other dessert food I'd rather serve at a party than bite size Pumpkin Cheesecake with Salted-Caramel Crunch Topping. So delish!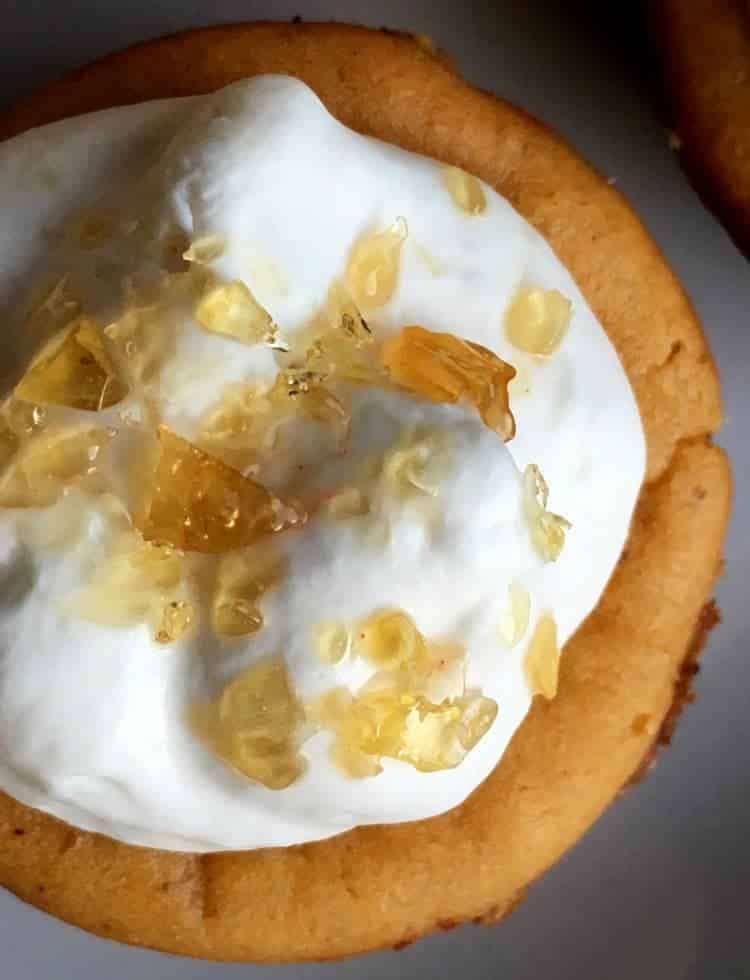 Mini-Pumpkin Cheesecakes with Salted-Caramel Crunch Topping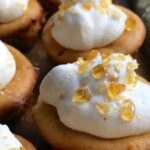 Ingredients
Whipped Cream:
1 pint heavy whipping cream
2 teaspoons vanilla extract
2 tablespoons real maple syrup
Crust:
1 ½ cup crushed gingersnap cookies (approximately 25-30 cookies)
2 tablespoons unsalted butter, melted
Pumpkin Cheesecake:
8 ounce package cream cheese, room temperature
1 cup light brown sugar, firmly packed
1 teaspoon salt
3/4 cup canned pumpkin (not pumpkin pie mix)
1 tablespoon Greek yogurt
1 egg
1 teaspoon pure vanilla extract
2 teaspoon ground cinnamon
1 teaspoon ground nutmeg
1 teaspoon ground ginger
½ teaspoon ground cloves
Optional garnish:
[easyazon_link identifier="B00VUTIE80" locale="US" tag="ashec-20"]Salted Caramel Crunch[/easyazon_link](pictured)
Caramel sauce
Chopped nuts
Instructions
In a large glass bowl, blend 1 pint of heavy whipping cream and vanilla extract with a hand or immersion blender until it doubles in size and changes texture. Then, drizzle maple syrup into the bowl and continue blending until the mixture is light and fluffy. Set aside or place in refrigerator until ready to use.
Preheat oven to 350 degrees. Spray 24-cup [easyazon_link identifier="B000SABX12" locale="US" tag="ashec-20"]mini muffin pan[/easyazon_link] with non-stick cooking spray and set aside.
Put cookies in a large heavy-duty freezer bag and cover with a towel. Pound bag with a meat mallet or rolling pin until cookies are uniformly crushed into very small pieces. (This can also be done in a food processor).
Transferred crushed cookies to a glass bowl and add melted butter. Stir with a fork until thoroughly combined.
Note: Add a little more melted butter to hold cookie crumb mixture together, if necessary. However, do not add too much or the butter will compete with the flavor of the gingersnap crust.
Divide cookie crumb mixture into 24 equal parts and press into the bottom of each muffin cup firmly with your fingers to form a crust. Bake in preheated oven for 8 – 10 minutes. Remove from oven and set aside.
In a large mixing bowl, combine cream cheese, brown sugar, and salt with a hand-held mixer. Add pumpkin puree and Greek yogurt to cream cheese mixture and continue beating until combined.
Open egg in a separate bowl before adding to the cream cheese mixture. Then blend in vanilla, cinnamon, nutmeg, ginger, and cloves. Continue blending until all ingredients are thoroughly incorporated into the batter.
Evenly divide pumpkin cream cheese mixture between the 24 muffin-tin cups, placing on top of the pre-baked cookie crust. Fill each cup slightly higher than the edge of the pan.
Place muffin tin on center rack of oven and bake for 15 – 20 minutes, or until the tops are lightly browned and the pumpkin mixture has set. Remove from oven and cool completely before removing mini-cheesecakes from tin. Refrigerate for several hours or overnight before serving.
To serve, top with whipped cream and [easyazon_link identifier="B00VUTIE80" locale="US" tag="ashec-20"]salted-caramel crunch[/easyazon_link] or your favorite caramel sauce. If using homemade whipped cream, spoon it into a plastic sandwich bag and cut a small corner off one bottom side. Pipe onto individual mini-cheesecakes for greater control.

The following two tabs change content below.
Latest posts by Jessica McCoy (see all)