Now that Easter is over, the most logical thing to do would be to quickly rush to the grocery store and buy all the Reese's Eggs that are on sale! Reese's are by far my favorite candy bar. And there is just something special about the holiday Reese's – Eggs, Trees, Hearts… they're all so tasty! I think the peanut butter to chocolate ratio is better somehow in the specialty ones. Don't you agree?
Ok, so now that you've got your Reese's Eggs, we're going to use them to make some scrumptious and adorable mini cupcakes!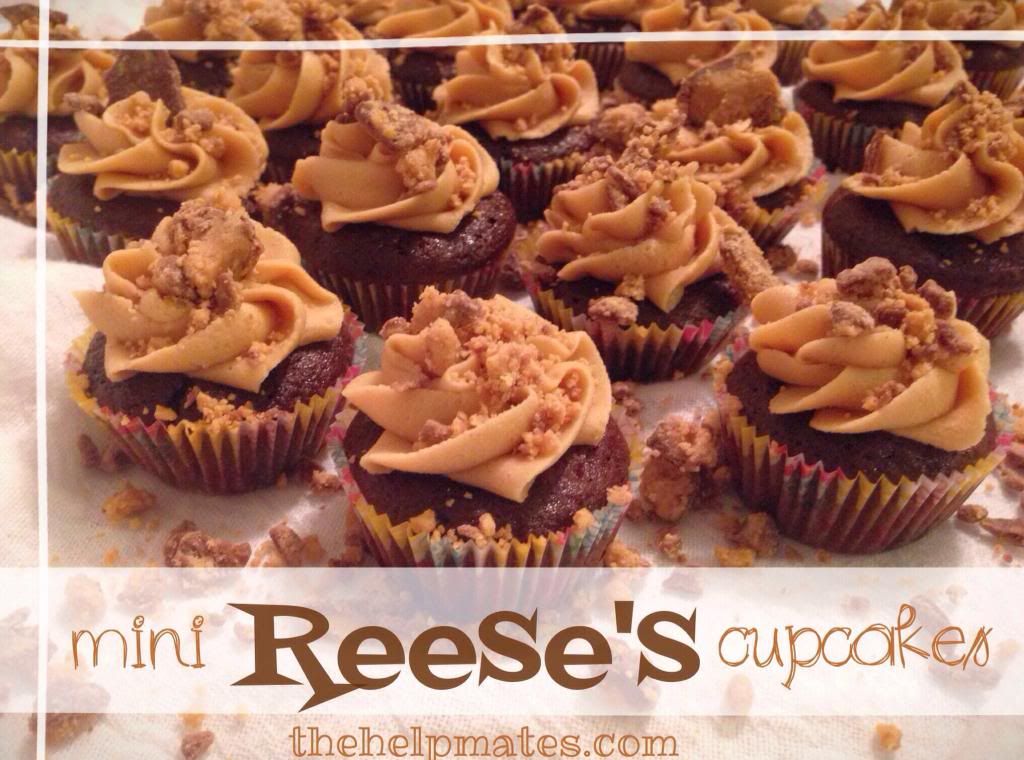 Here's what you'll need:
1 box chocolate cake mix (plus the ingredients to make it)
2 tablespoons mayonnaise
2 teaspoons vanilla
1 bag of Reese's, chilled
1 lb powdered sugar
1 stick butter, softened
1 cup peanut butter
half and half/milk (as needed, probably a few tablespoons only)

Here's how to make them:
Start by preheating your oven to about 315 degrees and lining a mini cupcake pan. (Or just make these as regular cupcakes if you prefer!)
In a large bowl, mix your chocolate cake mix (plus the ingredients on the back of the box) with the mayonnaise and vanilla until there are no lumps.

Pour batter into mini cupcake liners about 3/4 full. Bake until done. I don't time them, I use the touch method. When they are 'springy not sticky' then they are done.
While your cupcakes are cooking, go ahead and make the peanut butter icing!
In a large bowl, mix together your powdered sugar, butter, and peanut butter. Add a tablespoon of either milk or half and half (I used half and half) at a time until you get a nice creamy consistency. Try not to eat all the icing before it gets on the cupcakes! It's so incredibly tasty… like the inside of a Reese's or a buckeye.
For the Reese's topping, I chopped my chilled Reese's Eggs in my Ninja Blender for just a few seconds and they were a nice 'crumbly' size.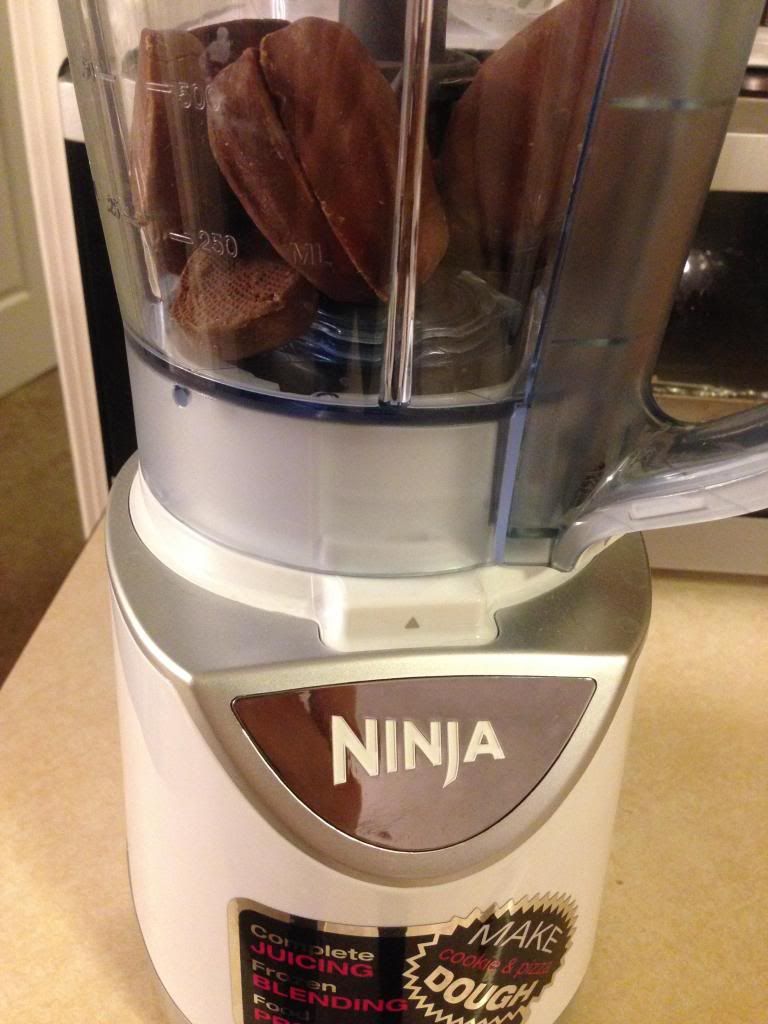 You could also just put them in a Ziploc baggy and crumble them with your hands. Whatever it takes to get the job done, just crumble those Reese's!
Continue rotating batches of cupcakes in and out of the oven this whole time, too. I know a box of cake mix says it only makes 48 minis, but I always end up with 75-100 somehow. I must be doing something very, very right to have discovered multiplicative cupcakes! This time around I even froze some of my batter (we'll see how that turns out), and I still ended up with about 60 cupcakes!
Ok, once your (mass quantity of) cupcakes have cooled, you'll want to poke a hole in the top of them. Remember to use a glove (or stick your finger in a Ziploc baggy – like me!) if you're making them for guests! Which, let's assume you are since you have sooo many!
Fill a piping bag with your peanut butter icing and the desired tip. Here's the one I chose: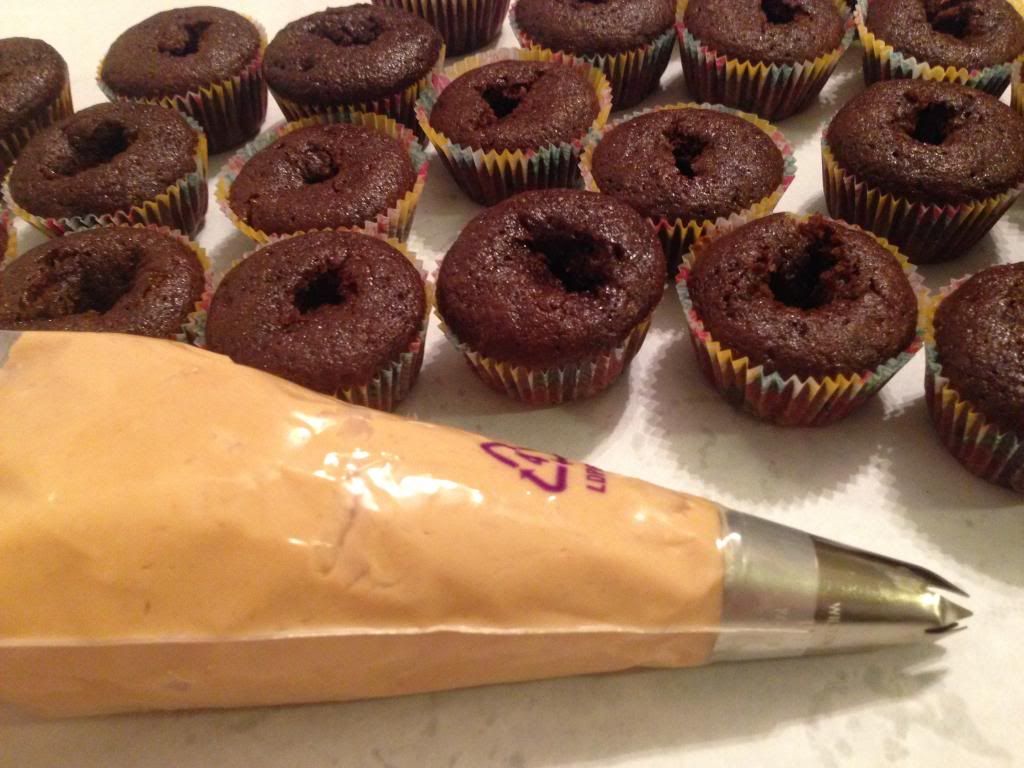 First fill all the holes with peanut butter icing, then make a cute little swirl on top! Sprinkle them with your crushed up Reese's and voila!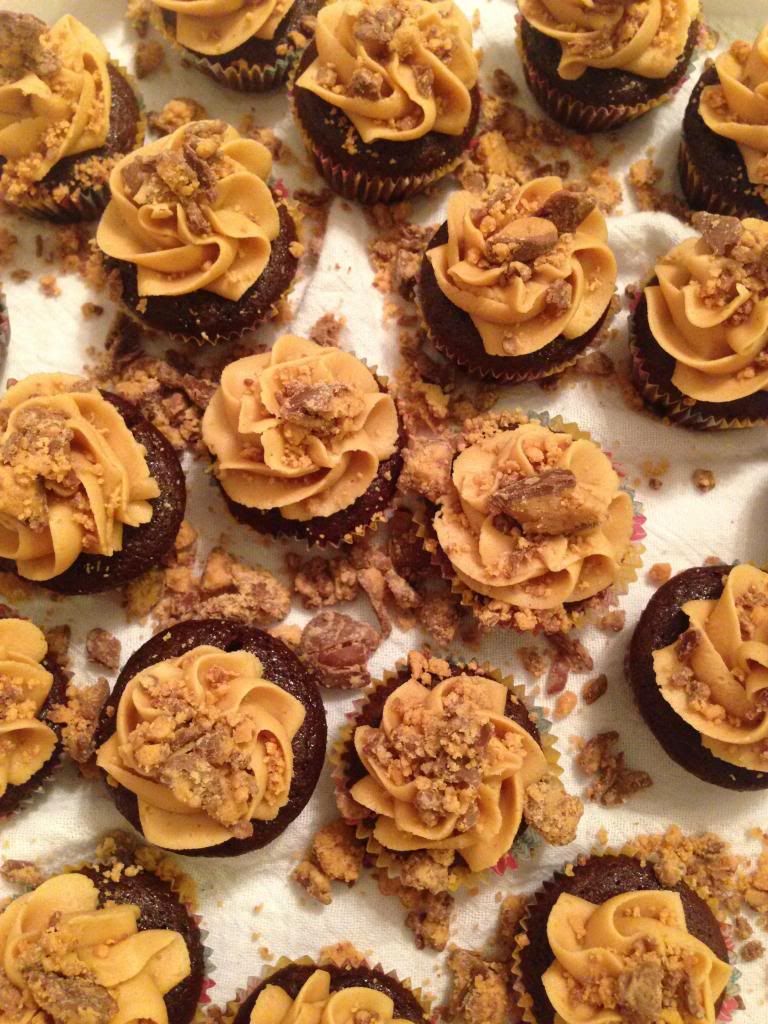 You'll want to keep these at room temperature in an airtight container. They keep really well that way! They actually seemed to be even more moist on Day 2 to me. And then on Day 3… oh wait… they never made it to Day 3.
You just wait and see.
Print
Mini Reese's Cupcakes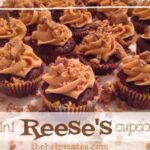 Author:

Cara, thehelpmates.com

Category:

Dessert
Ingredients
1 box chocolate cake mix (plus ingredients on back of box)
2 tbs mayo
2 tsp vanilla
1 lb powdered sugar
1 stick butter
1 cup peanut butter
half and half as needed (probably a few tablespoons)
1 bag Reese's
Instructions
Preheat oven to 315, line mini cupcake pan.
In a large bowl, mix cake mix (plus recommended ingredients), mayo, and vanilla.
Fill liners 3/4 full with batter, bake until 'springy not sticky'.
In a separate bowl, mix peanut butter, butter, powdered sugar.
Add 1 TBS of half and half (or milk) at a time until mixture is creamy.
Crumble your Reese's.
Using a glove, poke a hole in the top of cupcakes when they are cool.
Fill a piping bag with peanut butter icing.
Fill in holes in cupcakes with icing, then ice the cupcakes.
Top them with Reese's crumbles and serve.
The following two tabs change content below.
Latest posts by Jessica McCoy (see all)