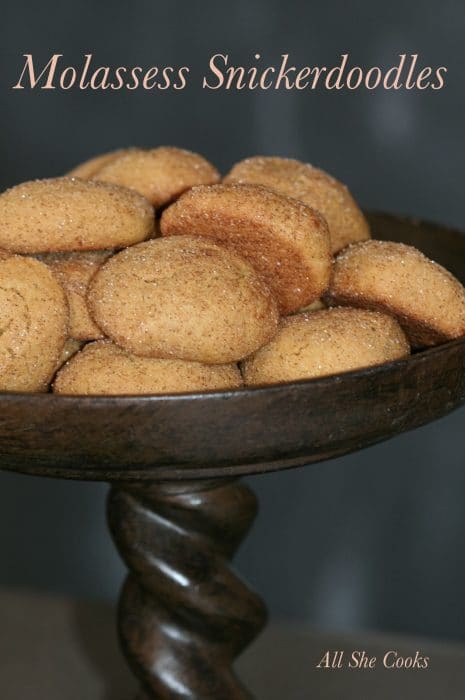 Molasses Snickerdoodles.  Yes, I know… it's something new.  At least, I think it is.
I'm fascinated by the Snickerdoodle.  And, what makes a Snickerdoodle a Snickerdoodle anyway?
Well, I've never met a Snickerdoodle that didn't have baking soda and cream of tartar, but it's the tell-tale cinnamon and sugar that its rolled in that dignifies a cookie as a Snickerdoodle.
This week, I decided to branch out from Mama's Snickerdoodles and Confetti Snickerdoodles and try something a little different.  I love starting a recipe with a little intuition and a loose idea of what I want to develop.  I wanted a light and chewy molasses cookie that didn't have a super strong molasses flavor.
The result was something spectacular.  During my taste testing, I had to sample a second cookie just to be sure.  My daughter decided to make fun of me and was determined that she had to try at least three cookies to see if they were good enough to post on All She Cooks.  The end game: 24 cookies are now just a handful.  I hope you enjoy them as well.
Print
Molasses Snickerdoodles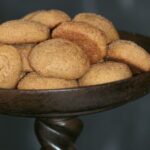 Author:

Jessica, AllSheCooks.com

Category:

Cookies
Ingredients
1/2 cup butter or margarine, softened
1/2 cup sugar
1 egg
1/4 cup molasses
1 teaspoon vanilla
2 1/2 cups flour
1 teaspoon salt
1 teaspoon baking soda
1/2 teaspoon cream of tartar
1/4 cup sugar
1 teaspoon cinnamon
Instructions
Cream butter and sugar until smooth. Add egg, molasses and vanilla and mix until smooth.
In separate bowl, mix together flour, salt, baking soda and cream of tartar. Add to wet ingredients and mix until combined nicely.
Form 24 (1-inch) balls from the dough.
Mix 1/4 cup sugar and 1 teaspoon cinnamon in a shallow bowl. Roll cookie dough balls in the mixture before placing on baking sheet.
Bake on 350 for 10 minutes.
The following two tabs change content below.
Latest posts by Jessica McCoy (see all)