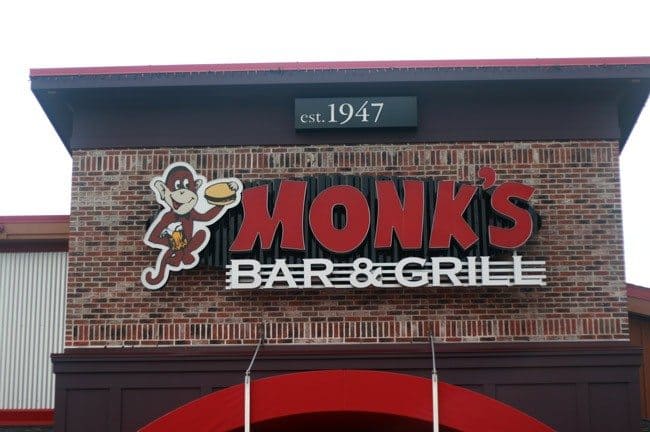 Monk's Bar and Grill at the Wilderness in Wisconsin Dells is a perfect place to go out to eat with the family (or without the family!) while you're in the area.  We had a chance to work with Monk's Bar and Grill for a restaurant review while we were staying at the Wilderness Resort in the Dells.  Monk's was every bit as good as we hoped it would be.  Our party of five was seated right away and enjoyed chocolate milkshakes and sodas while we looked over the our menus to decide what to have for lunch.
Our kids won't turn down the chance for a milkshake whenever possible… in fact, we make milkshakes at home often, sometimes even high-calorie chocolate shakes when we're  trying to pack the calories on our son.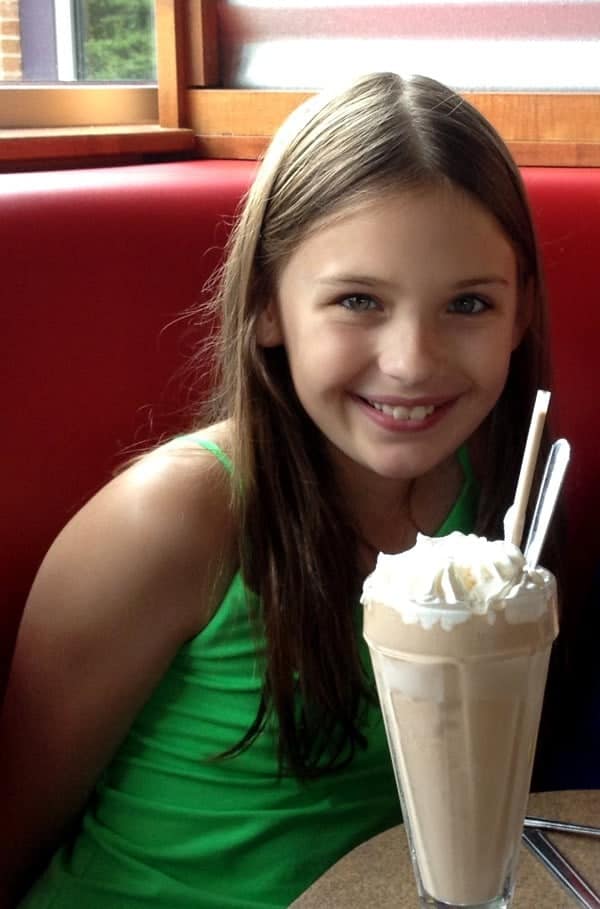 But seriously, who could resist that milkshake?  That's why our my son ordered a second one for dessert!  And if you caught my mention that he's scrawny, you'll know why I allowed it. 🙂
We all ordered something different because we wanted to try out several menu items to test out the variety of food that Monk's Bar and Grill offers.  I ordered the Chicken Taco Salad.  Now… let me tell you, I am a big fan of taco salad, and this was the perfect meal to hit the spot for a hungry girl like me who had been spending the day going down all sorts of water slides.  It was perfectly tasty.  The chicken was tender and the salsa was the perfect addition of spice.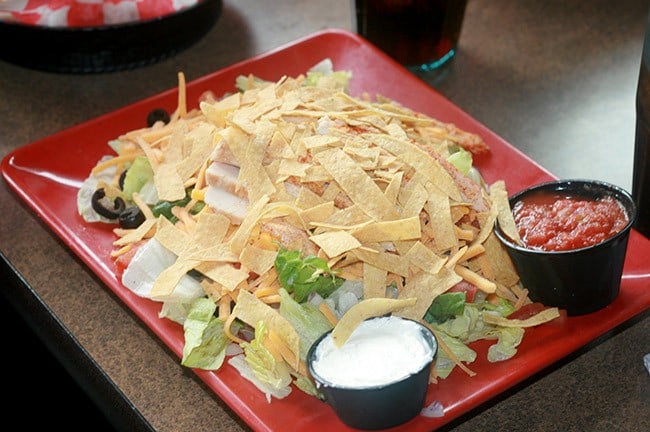 The kids had a great time hanging out with their friends at the restaurant and with each other… which is a huge plus!  You never know from day to day exactly how they will get along… they can be best friends one minute (most of the time, really) and then the next minute be completely irritated at each other.  This was definitely a wonderful day for them to be together.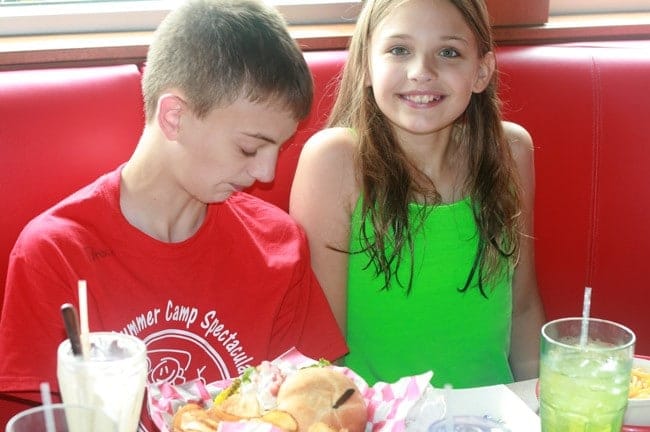 My dear daughter likes nothing better than to order Mac n' Cheese when we go out to eat.  It's her standby comfort food, and you know what… there is nothing at all wrong with that.  What we really like about the Mac n' Cheese at Monk's Bar and Grill, and really all the items on the children's menu, was that it was served up on a Frisbee.  Hello!  A Frisbee for a plate! Now… seriously, WHY didn't I think of that?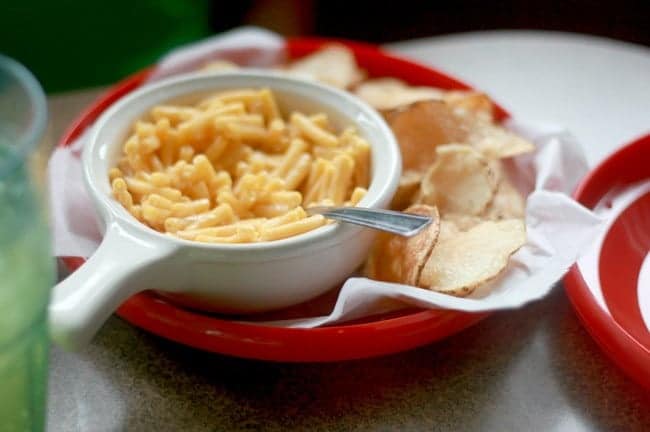 Our son got this HUGE burger and ate it up.  EVERY. Single. Bite.  And, did I mention he had two milkshakes?  I bet you also saw how skinny he is.  I wish he could put food away like this all the time, but alas… it is truly a testament to how good the burgers and milkshakes are at Monk's that he would eat his whole meal and have room for an entire second milkshake.  You know… I had a great photo of him taking a huge bite of that burger, but I thought he might not be too happy if I posted that one.  But it really showed how he devoured that burger.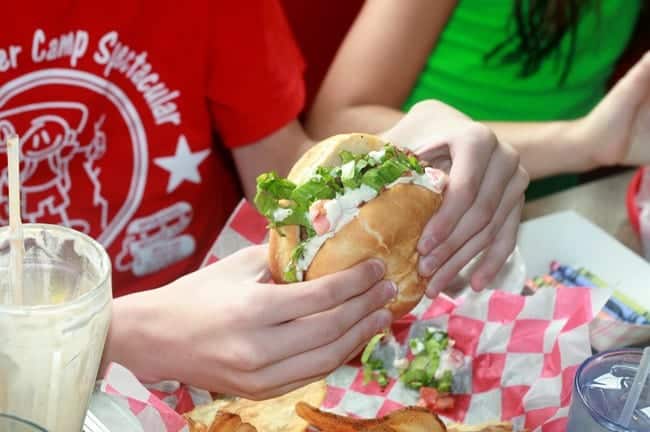 Based on our experience at Monk's Bar and Grill I would really recommend this restaurant to anyone looking for a sport bar sort of dining establishment when visiting Wisconsin Dells.  The location was perfect for us because we were staying at the Wilderness Resort, and the Wilderness actually provides shuttle service to Monk's.  How perfect is that?  Especially if you're out with friends and don't want to worry about driving after you've had a few beers.  I'm all about having fun and being safe while on vacation, even if it is just a quick weekend getaway.
If you're passing through or staying at another hotel, Monk's Bar and Grill is conveniently located near several resorts and hotels and is just a short drive from Tanger Outlet Mall.  I will definitely be adding this to my list of restaurants to go to when I'm taking a day-trip to the mall.
The following two tabs change content below.
Latest posts by Jessica McCoy (see all)