Chocolate, chocolate and more chocolate bits of Oreo delight this delicious treat perfect for any occasion. This Oreo Bark recipe is exceptional.
Looking for that consummate confection for your next gathering? Or perhaps want to make a homemade treat for someone special, wrap it up in a gourmet gift box, and be a hero–our Oreo Bark recipe is seriously a quick solution that will satisfy your sweet tooth.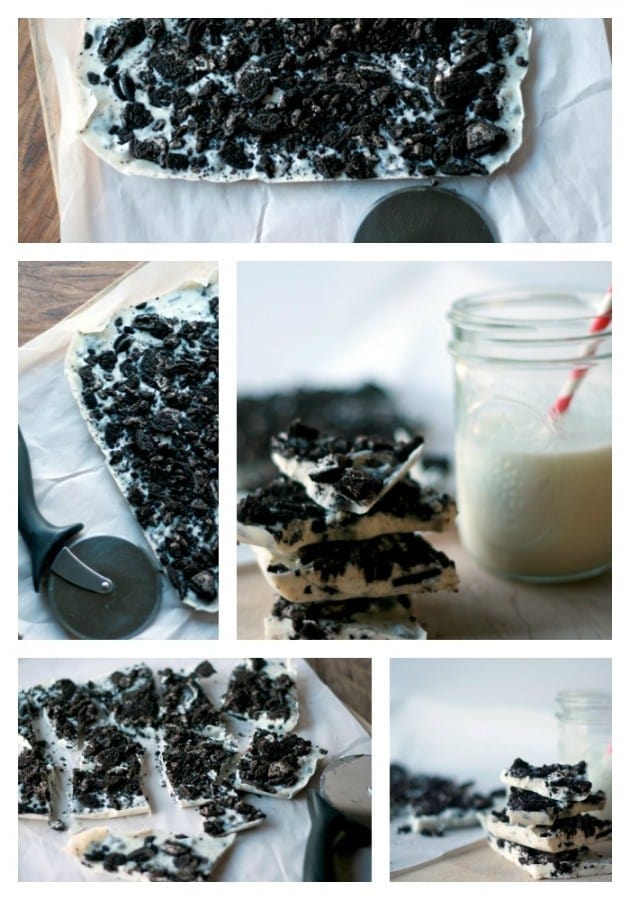 Two ingredients. Count them: two. Of course, the ingredients we're using have countless ingredients in them, but hey… this is a time saving recipe, and you simply cannot beat that.
So… what delightful ingredients are we using? I'm sure you can wager a guess or two.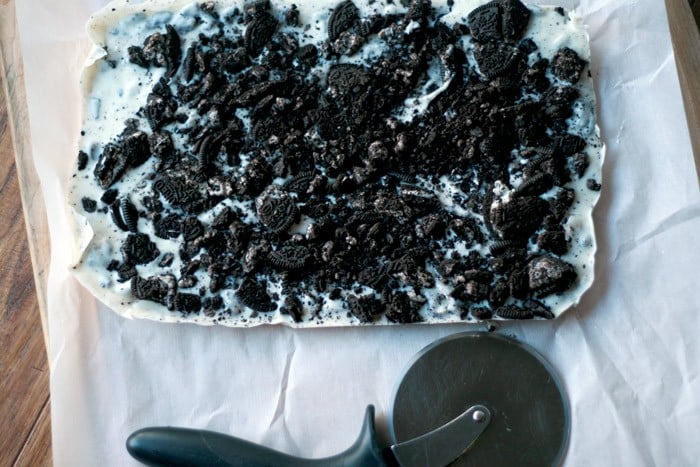 You guessed it! Oreos and almond bark. See? We're keeping it super simple, because you know that is a big part of what we do here at All She Cooks. We love to cook it up and create sweets that you just want to eat off the pages of our blog, but we constantly find that our readers want easy recipes that don't take a lot of time and effort. When we can come up with something that can be packaged so perfectly and made in just about five minutes… and it tastes SPLENDID? Well, you know we're going to share that with you all.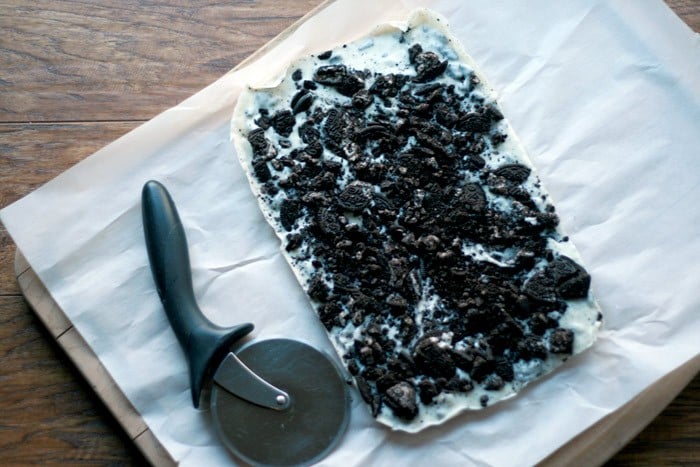 I always know that a recipe is a mega-success when my kids start grabbing at it before I've even taken pictures. They know that is a big no-no with a mom that is a food blogger, because hey, I've got to take pictures! So, hands slapped away, and children momentarily swayed, I was able to get a few swanky shots of this delish concoction.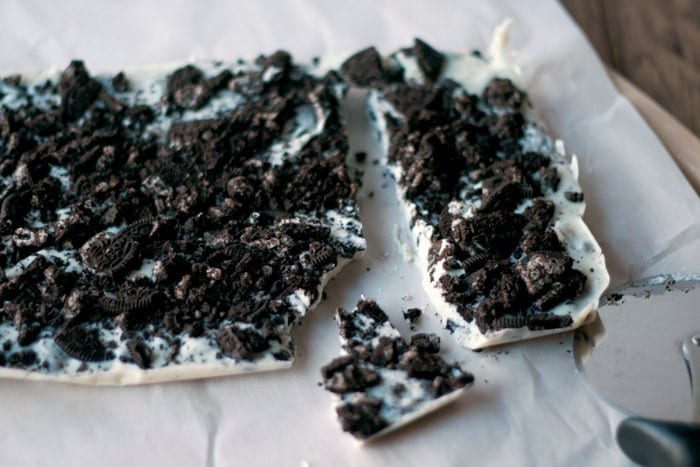 Capturing food bliss on an empty stomach is never easy, and I confess that I snagged a few pieces of broken off Oreo bites. Who wouldn't, and hey… I never said I was perfect.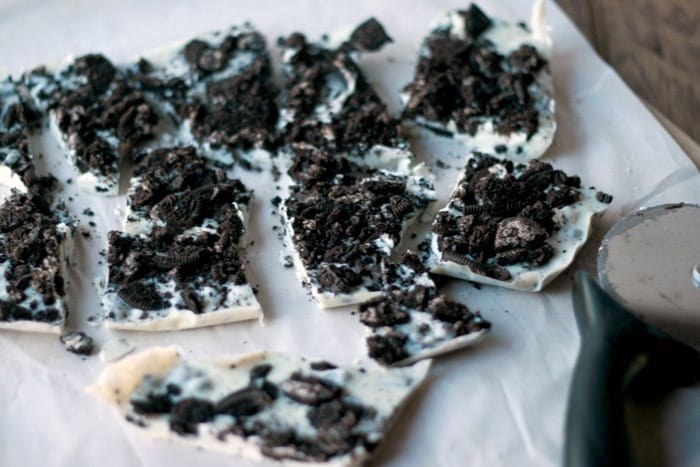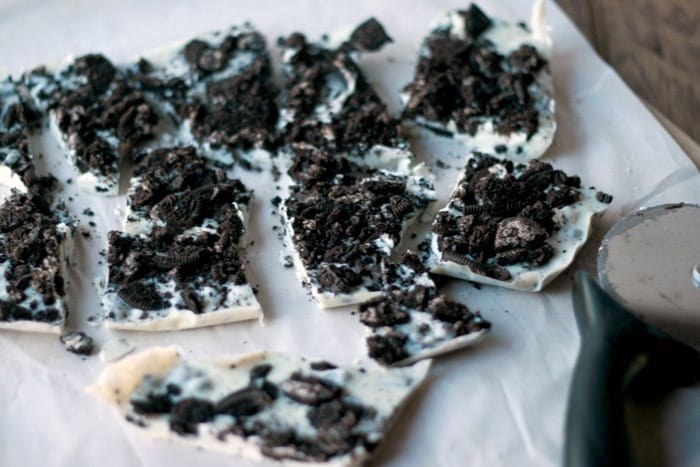 Did I mention how utterly yummy Oreo Bark is? Or that its hard to stop at just one piece?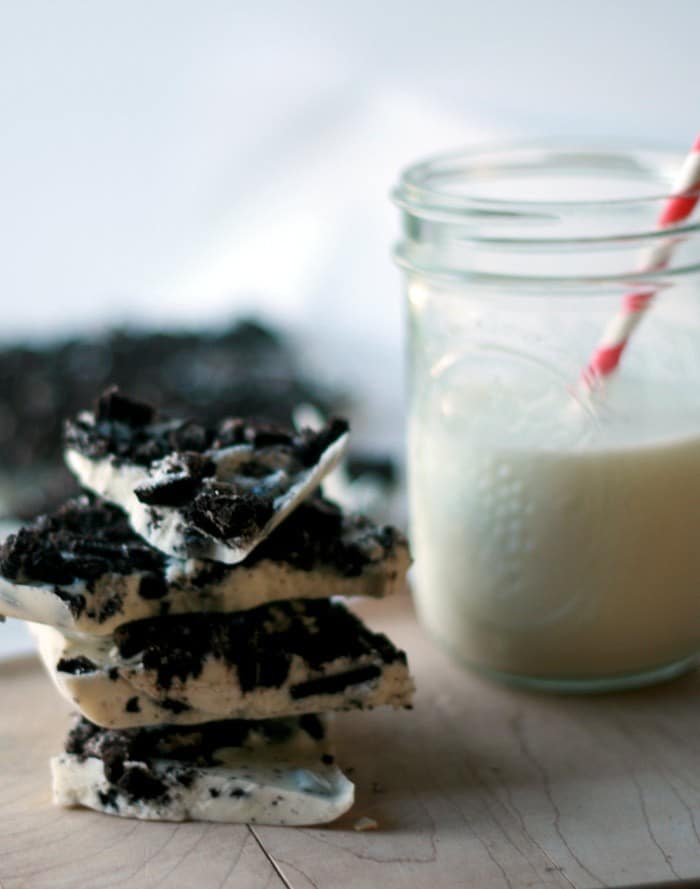 Ingredients
Oreo (2 cups, broken up pieces)
Almond bark (24 ounces)
Instructions
Line a baking sheet with parchment paper.
Put Oreos in plastic bag and break up. Melt almond bark in glass bowl in microwave according to package instructions. Mix most of the Oreos into the almond bark, leaving a handful to sprinkle over the top.
Poor Oreo candy mixture onto the baking sheet and place in refrigerator for about 10 minutes or until hardened. Remove and cut or break into pieces.
https://allshecooks.com/oreo-bark-recipe-is-delicious/
Copyright All She Cooks 2016
The following two tabs change content below.
Latest posts by Jessica McCoy (see all)