Happy Almost-New Year!  We're just hours away from a new year with new beginnings and new eating habits, so it's about time to clean out the pantry and have one last hurrah!  These 'Out with the Old' New Years cupcakes will help you finish off the last of the junk food before the clock strikes 12.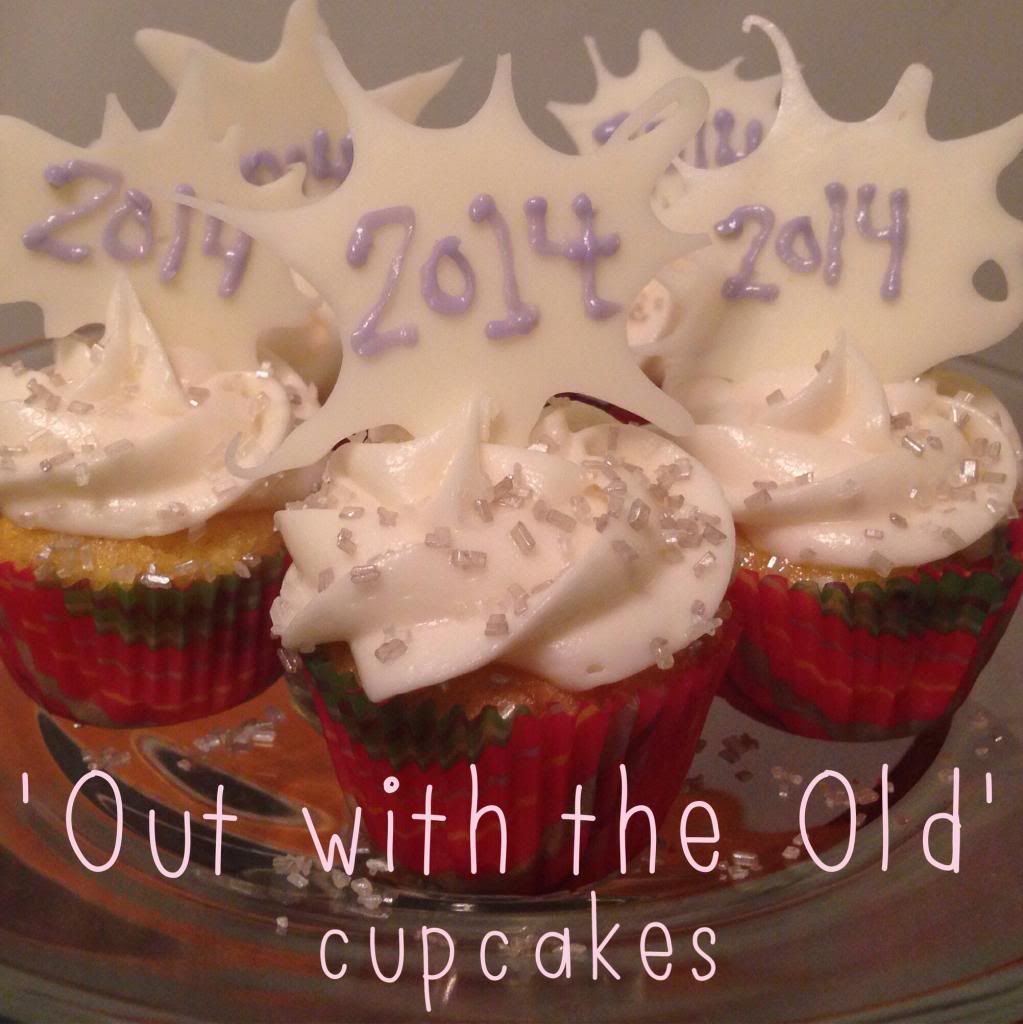 These cupcakes will start with a cake mix as a base, but then you're free to use whatever other ingredients you have on hand. Make them your own! The point is to just pile in the junk that you're trying to get rid of before beginning a new year.
If you're a 'by the book' person, don't sweat it. You can still make my cupcakes because I'll be listing specific measurements of the junk I threw in mine. And they were very tasty! A great dessert to end 2013 on!
I didn't buy a single item for these, I wanted to clean out my pantry so that's exactly what I did. That might sound a little odd to you, but I love two things…. saving money and experimenting!
Before we begin I'd like to offer you direction for what types of 'junk' I'm talking about when I say to just throw everything in there. What's good in cupcakes? Well… I've asked one of my best friends for help on this one. She just happens to own her own bakery! Here are some tried and trusted suggestions she gave…
Oreos (crushed)
Butterfinger (crushed)
Pretzels (crushed)
Toffee Bits
Reese's (crushed)
Kit Kat (crushed)
Peppermints (crushed)
Chocolate Chips
Rolos (chopped)
Heath Bar (crushed)
White Chocolate Chips
Andes Mints (crushed)
Butterscotch Chips
Nutella
Girl Scout Cookies (crushed)
Nuts (chopped)
Marshmallow Cream
Caramel Sauce
Fudge
Peanut Butter
It's surprising all the mix-ins she has put in her cupcakes, isn't it?
Her suggestions sparked my creativity and I started rummaging through my pantry to form an idea. I have an incredible cookie dough recipe that I make all the time. My favorite mix-ins have always been chocolate chips, white chocolate chips, and toffee bits combined. I got curious as to whether or not they would taste just as good in cupcakes. So that's what I decided to use, with a yellow cake mix and a homemade buttercream icing. I'll share my icing recipe, too!
Begin by making your cake mix according to package directions BUT be sure and add 2 TBS mayo and 2 TSP vanilla.
I was so excited to use my brand new Kitchen Aid mixer that the hubby got me for Christmas! He benefits from my baking habits more than anyone, so why not encourage them, right? He did good!
Add whatever mix-ins you chose. I did 1/3 cup of toffee bits, 1/3 cup of chocolate chips, and 1/3 cup of white chocolate chips.
Pour batter into lined cupcake pans 3/4 full. I used minis because I think they're cuter. Well, and because I had mini liners and no regular ones. That's probably a more accurate reason. But… they sure are cute though!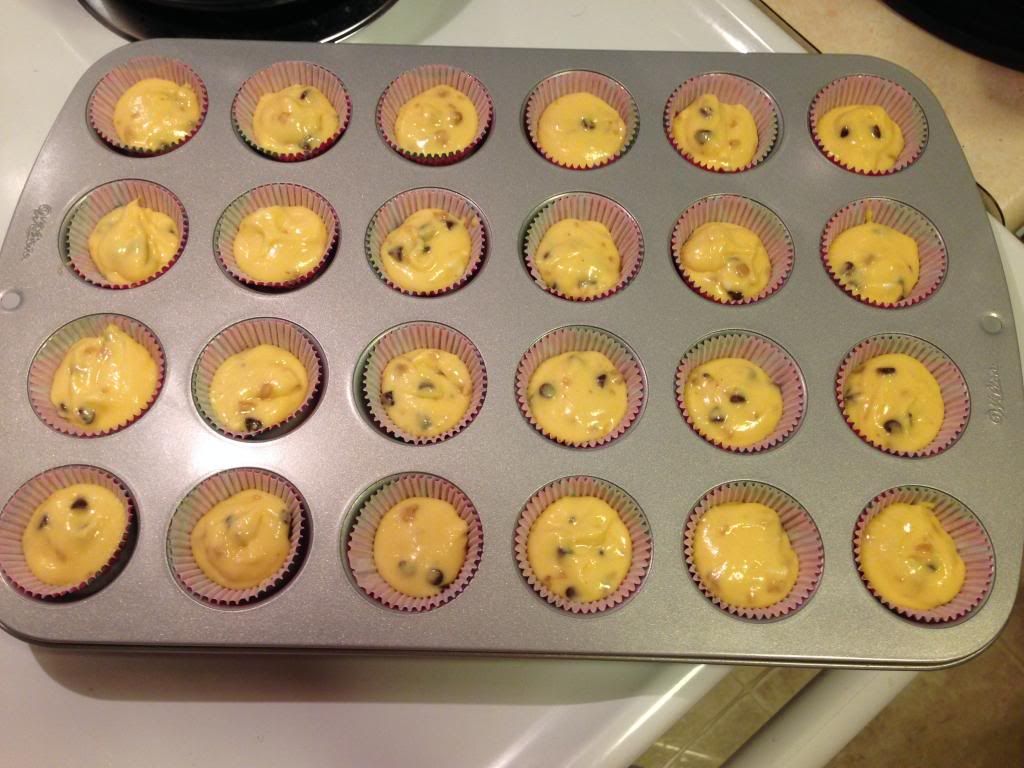 I bake according to package temperature, but not time. Feel free to if you want a decisive answer for when to remove them. I just check and see when they are springy to the touch.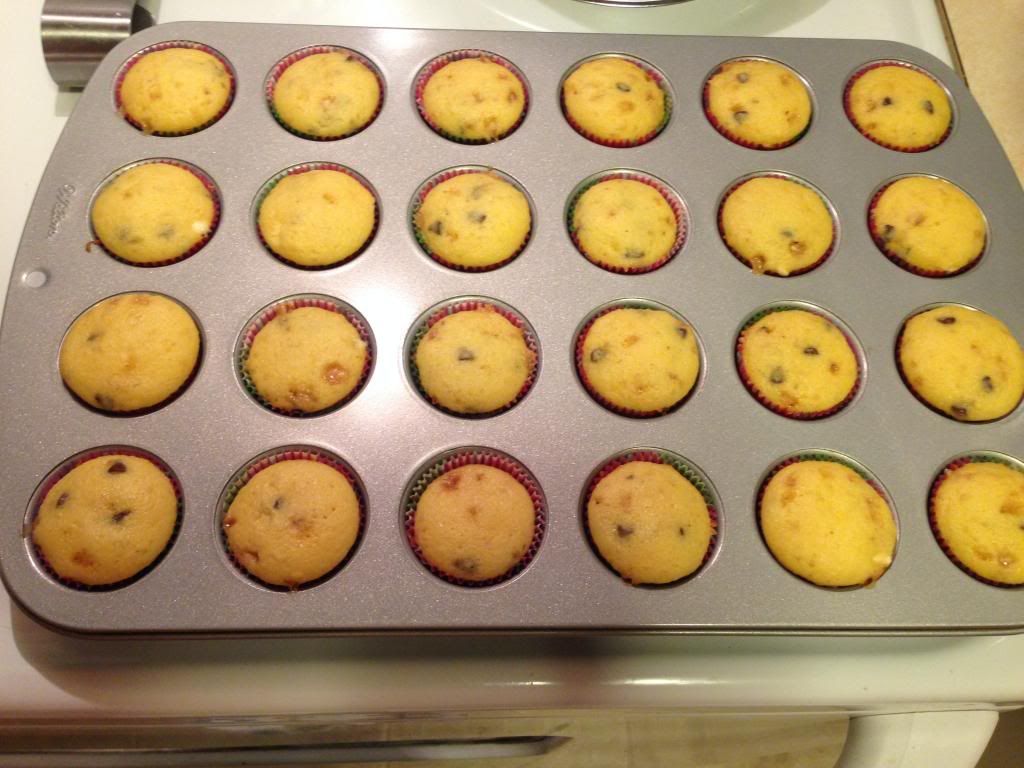 I don't know if I just fill my cupcakes less full than the package suggests, or if the mix-ins added that much volume, but mine made way more than it said one package would for minis. It said 48 but mine made just over 72! I had cupcakes lining every surface in the kitchen!
Just keep filling new batches and letting them cook, but while you're doing that (and while they're cooling) we'll make the icing.
1.5 cups of shortening, 1 stick butter (softened), 2 lbs powdered sugar, 1/4 cup milk, 2 tablespoons vanilla. Mix all that together and add a little more milk at a time if you need to thin it out a little. You can also add fun mix-ins in your icing! I did 2 tablespoons of caramel sauce in mine.
Once everything is cool, ice your cupcakes. Top them with whatever sprinkles or crushed candy you prefer.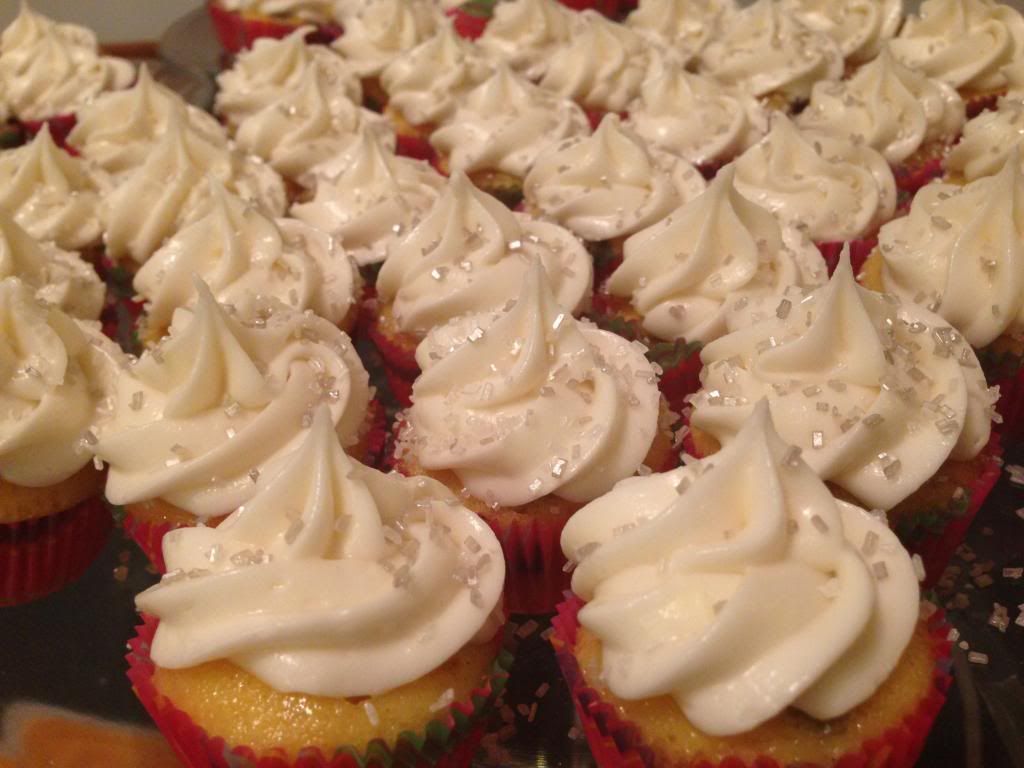 I had extra time on my hand so I went a little fancy and made 2014 toppers out of almond bark and leftover icing. I just heated the almond bark and put it in a piping bag. On wax paper, I shaped little fireworks with a stake at the bottom. I froze them until they were hardened, then popped them off and wrote on the flat side with icing. Like this…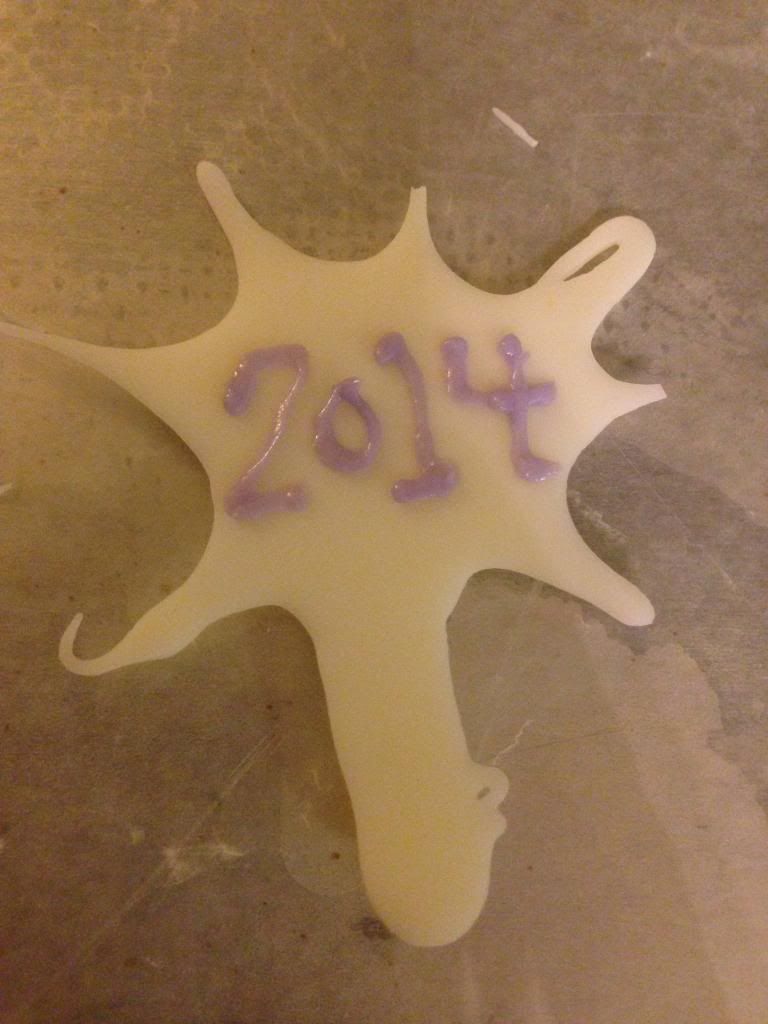 Stick them in your cupcakes and you're all ready for your New Year's Eve party. And for the diets that start tomorrow…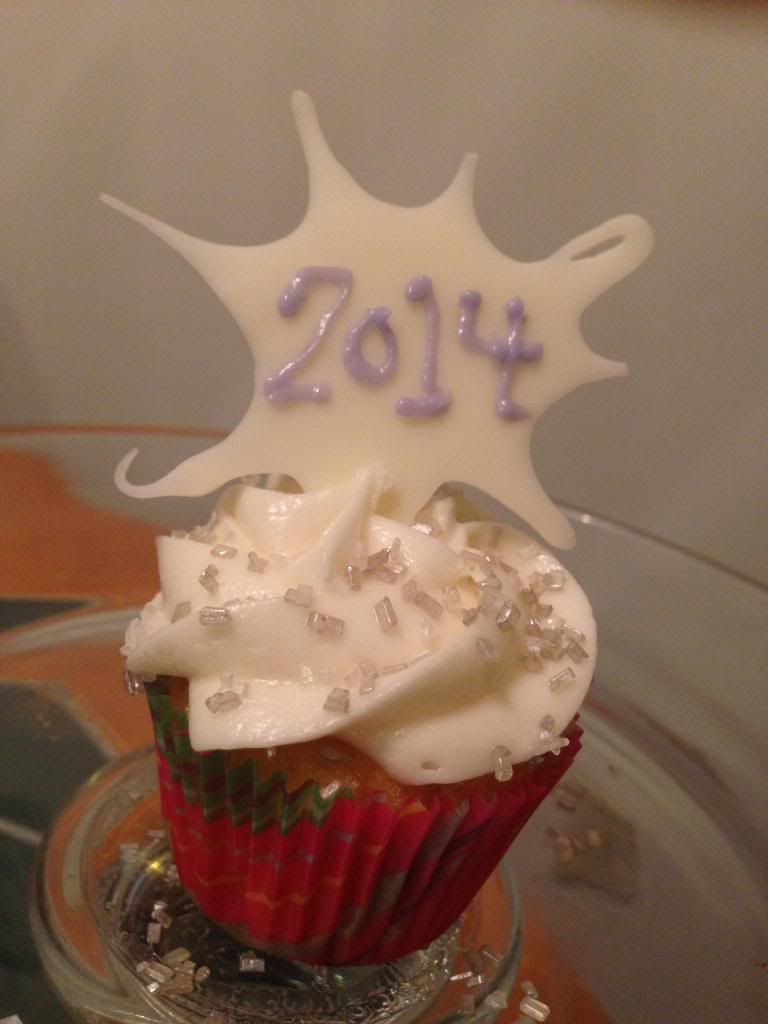 Print
'Out with the Old' Cupcakes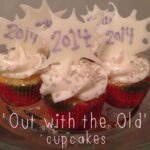 Author:

Cara, thehelpmates.com

Category:

Dessert
Ingredients
Yellow Cake Mix (plus ingredients to make it)
2 TBS mayo
2 TSP vanilla
1/3 cup chocolate chips
1/3 cup white chocolate chips
1/3 cup toffee bits
1 1/2 cup shortening
1 stick butter, softened
2 lb powdered sugar
1/4 cup milk
2 TBS vanilla
2 TBS caramel sauce
Sprinkles
Almond Bark
Instructions
Make cake mix according to package directions, adding mayo, vanilla, and mix-ins.
Pour into cupcake liners and bake according to package directions. Let cool.
In a separate bowl, mix shortening, butter, powdered sugar, milk, vanilla, and caramel sauce to make icing.
Ice cupcakes and top with sprinkles.
Melt almond bark and pour into a piping bag.
On wax paper, form firework toppers with stake at bottom.
Freeze until hardened, then write '2014' on the flat side with icing.
Stick them into the cupcakes.
The following two tabs change content below.
Latest posts by Jessica McCoy (see all)