Pico de Gallo Chicken Sandwich
Chicken Salad Sandwiches are the perfect summer sandwich.  Between that, my favorite grilled cheese sandwiches and a Caprese Sandwich–I have so many flavors of sandwich perfection to choose from.
Recipe Chicken Salad Sandwiches
One of my favorite summer flavors is cilantro.  When I actually have a garden that grows successfully, it is full of cilantro, tomatoes and peppers.  I absolutely love being able to go out to the garden and grab some Roma tomatoes and cilantro and then prepare a fresh pico sauce.  The blend of tomatoes, onion, cilantro and lemon juice with a little bit of salt and pepper is pure perfection in my book.  I normally pair it with some tortilla chips or add it to a burrito or impulsively made quesadilla.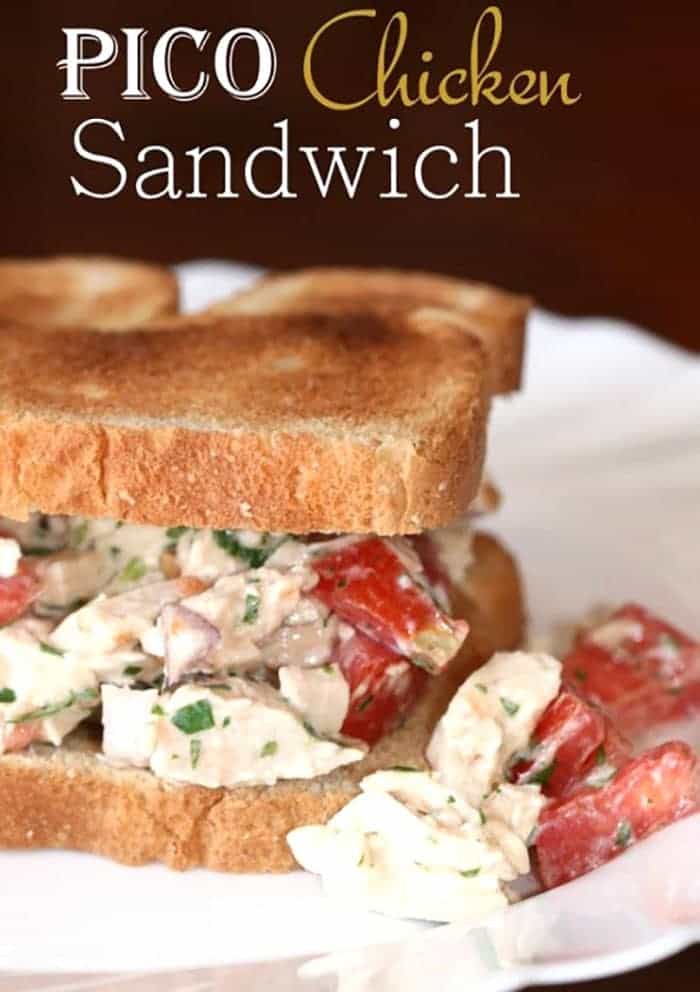 This weekend I was craving a little taste of summer and decided to add some homemade pico sauce to a light chicken salad and create a Pico de Gallo Chicken Sandwich.  I made extra pico and was able to serve my sandwiches with chips and additional pico sauce on the side.  It turned out wonderfully!
To make pico de gallo sauce, simply combine 4 chopped Roma tomatoes, 1/2 chopped red onion, and 2 tablespoons finely chopped cilantro, a dash of lemon juice and salt and pepper to taste.  Stir it all up until well blended.  Serve immediately, or refrigerate for a bit to let flavors blend.
Print
The Pico de Gallo Chicken Sandwich is equally simple to prepare.  You can use either freshly prepared chicken, leftover chicken, or canned chicken breast.  I typically use chicken that is leftover from making chicken stock.  A light chicken salad sandwich is a healthy way to use some of that chicken up for a noon meal.
This sandwich filling is delightful on toasted or plain bread. Add a little lite mayo is an excellent addition to your bread.
Print
The following two tabs change content below.
Latest posts by Jessica McCoy (see all)