Hi y'all!! Can you believe we're more than halfway through February?! With all of this crazy weather, I know some of you are looking forward to Spring – and I don't blame you! Here in Phoenix, we're setting records this weekend with high's in the upper 80's ……. which means I'm ready for warm weather food. Although Pineapple Upside Down Cake can be eaten any time of the year, I really love it in the Spring and Summer …. Fall and Winter are for pumpkin and peppermint, respectively, in my humble opinion!! 😉
 This is an easy, classic dessert. Some people like a dollop of sweetened whipped cream on top – and if you're a fan, by all means, add some. I like mine nice and warm just the way it is!
Print
Pineapple Upside Down Cake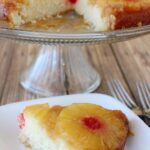 A classic cake dessert with pineapple and cherries.
Author:

Jamie, monthly contributor

Yield:

9

Category:

Dessert
Ingredients
1/4 cup (4 tbsp.) stick butter
2/3 cup packed brown sugar
1 can (20 oz.) sliced pineapple in juice, drained
Maraschino cherries, if desired (no stems)
1-1/3 cup all-purpose flour
1 cup granulated sugar
1/3 cup shortening
3/4 cup milk
11/2 tsp. baking powder
1/2 tsp. salt
1 large egg
Instructions
Preheat oven to 350°F.
Melt butter in a 10-in. oven-proof skillet or in a 9x9x2-in. square baking dish. Remove the skillet from the oven and sprinkle the brown sugar over the melted butter. Arrange the pineapple slices over the brown sugar. Place a cherry in the center of each pineapple slice.
Beat the remaining ingredients with an electric mixer on low speed for 30-45 seconds. Stop the mixer and scrape down the sides of the bowl. Beat on HIGH speed for 3 minutes, scraping the bowl occasionally. Pour the cake batter over the pineapple.
Bake the skillet for 45-50 minutes or the square pan for 50-55 minutes, or until a toothpick inserted near the center tests clean. Immediately turn the skillet or baking dish upside down over a heat-proof plate. Let the skillet or pan remain over the cake for 3-4 minutes. Remove the skillet or baking dish. Serve warm.
Don't forget to share and comment ♥
The following two tabs change content below.
Latest posts by Jessica McCoy (see all)