I have never in my life baked with a pudding mix, but for this delightful concoction I decided to mix it up a bit. These Pistachio Chocolate Chip Blondies are chewy and delicious, and to be honest, it's really hard to stop at just one.
Pistachio Chocolate Chip Blondie Bars Make a Tasty Treat!
Yep, you'll probably want more than one of these tasty treats. But, that's pretty normal, don't you think?
Thankfully, the recipe for this treat calls for an 8x8 baking pan, which means there are just nine sweet treats and not a lot of leftovers. Unless you decide to whip up some other desserts at the same time like I did! Use parchmentpaper so the bars are easy to release from the pan. I can't believe there was a time I didn't use this!
Pistachio Chocolate Chip Blondies
Dessert is something to be relished, and this one is no different. Not only does it look sweet and delicious, but it's got this amazing flavor that is just so good. The Pistachio flavor is light and gives an extra layer of flavor that delivers wonderfully.
Looking for other scrumptious desserts? Try one of these:
One of our favorite things to make are desserts. And taste testing--well, that's a benefit we just can't say no to.
Whipping up desserts like this is so easy. We love quick recipes that come together as quickly as these bars do.
Recipe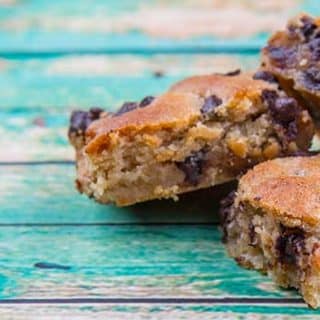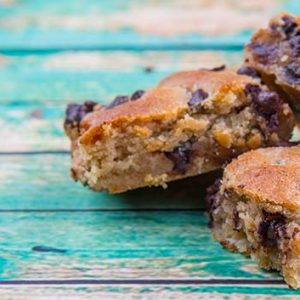 Pistachio Chocolate Chip Blondies
Learn how to maek Pistachio Chocolate Chip Blondies
Instructions
Preheat oven to 350 degrees. Mix together melted butter and brown sugar and then combine remaining ingredients. Spread out in an 8x8 baking pan. Bake for 20-25 minutes until inserted toothpick comes out mostly clean.
Nutrition
Calories:
494
kcal
Carbohydrates:
65
g
Protein:
5
g
Fat:
24
g
Saturated Fat:
5
g
Cholesterol:
41
mg
Sodium:
489
mg
Potassium:
115
mg
Fiber:
1
g
Sugar:
41
g
Vitamin A:
1074
IU
Calcium:
83
mg
Iron:
2
mg