Poor Man's Soup is great budget-friendly meal that is full of hearty, satisfying flavors. Made with common pantry ingredients, it comes together easily and turns out perfect whether you use the stove top or slow cooker. It's the cheap soup recipe you'll want to make again and again!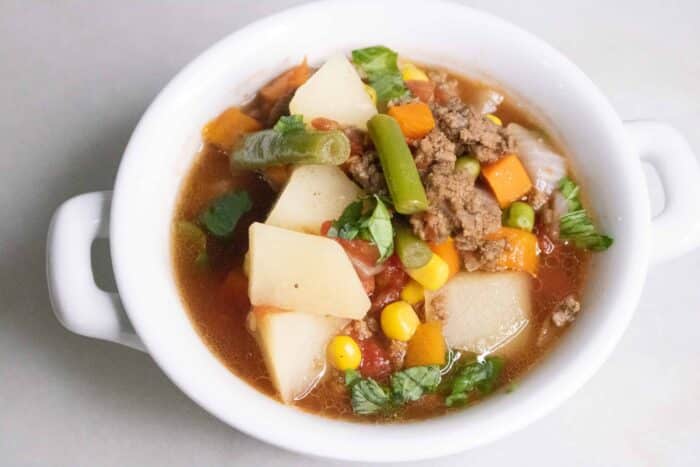 Poor Man's Soup is a recipe that, at its core, is about stretching a grocery budget. But it's also so delicious that it has remained on our meal plan rotation even as our grocery budget has grown.
How to Stretch Your Grocery Dollar and Eat Well
Here's my take on stockpiling: If it is something that you will truly use - get it and save it, but only the amount you will actually use in a reasonable timeframe. If it is something that you can get for pennies that you probably won't use - get it and donate it.
But, here is where it really counts (in my opinion) when it comes to saving money at the grocery store: Buy produce that is in season and on sale. Get store circulars and buy meat, dairy, and other items when they are on sale.
Shop around! Get the Sunday paper and look at grocery circulars! If you can save money by going to a couple different stores to do your weekly grocery shopping - do it.
And here is another thing - take note of how much you waste. We've all done it from time to time, whether it is produce we buy with the best of intentions or the leftovers we think we're going to eat, but don't.
So, shop from sales when you can. Use coupons if they are for products you already buy. And only buy and cook what your family will actually eat. I'm still working on the last one.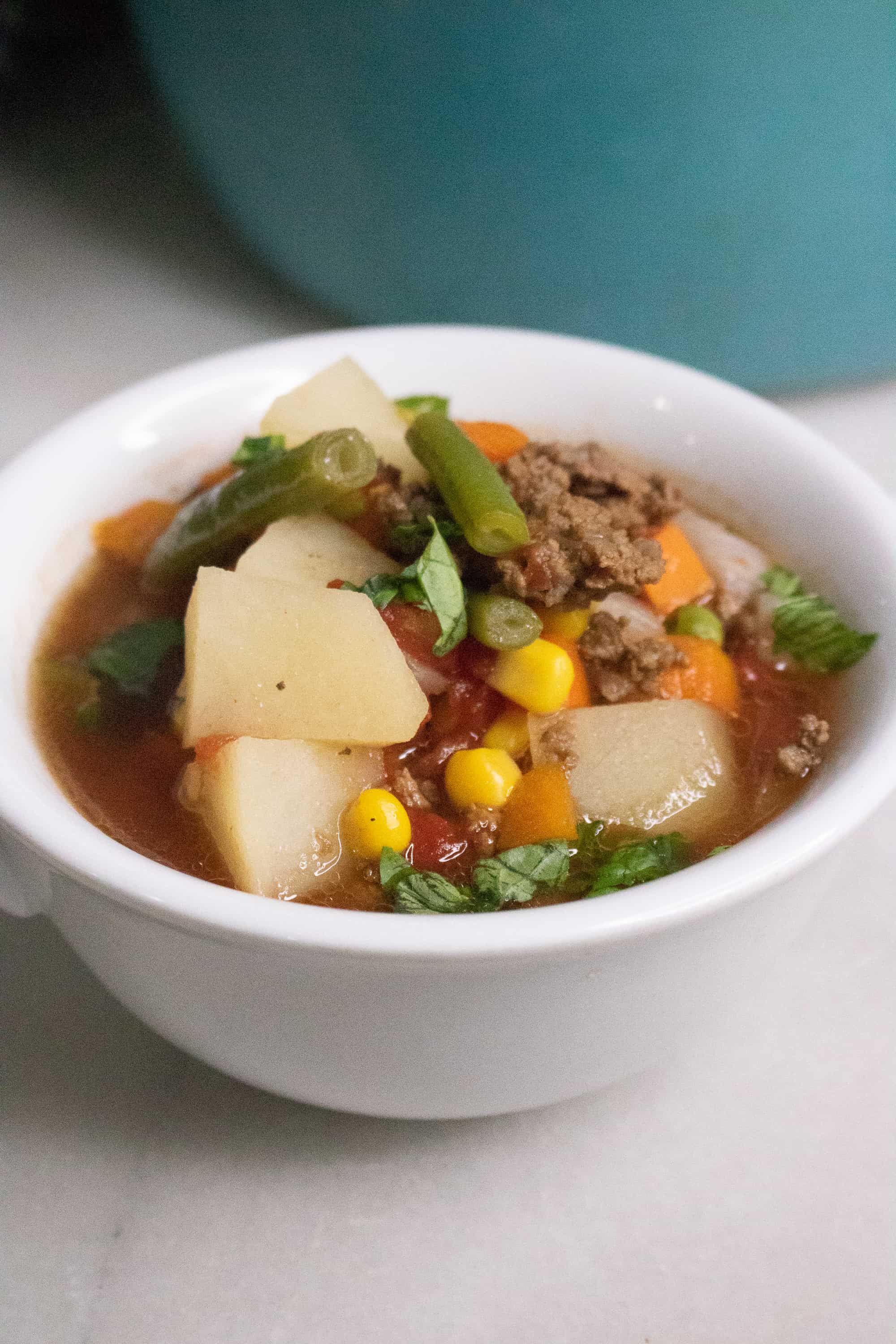 Get More Budget Meals
Poor Man's Soup is delicious on its own, but when you add a yummy bread on the side - well, it's a phenomenal cheap meal!
Pair this delicious dish up with Copycat Macaroni Grill Rosemary Bread, Copycat Olive Garden Bread Sticks, Italian Chopped Salad, or finish your meal off with our budget friendly and somewhat healthy Fruit and Berry Kabobs with Homemade Hot Fudge Sauce.
We love the Rosemary Bread. It's one of our favorite breads to eat, whether we're baking it up in our own kitchen or eating it at a restaurant.
Easy Soup Recipes Make an Easy Weeknight Meal!
Soup recipes are easy to make, and they are even easier to eat. With soup, I'm talking about a meal that not only warms you from the inside, it warms your soul. And this Poor Man's Soup delivers.
Soup is comfort food at its finest, and if you've scrolled around All She Cooks for any length of time, you probably know that I love comfort food. If you take a look at our most popular recipes, they are all comfort foods. Pure and simple.
And, in reality, any food you like could become a comfort food. Here are the recipes we see consistent, daily, high traffic to - which means they are great recipes that appeal to the masses:
We're talking about all kinds of good food here!
Quick Easy and Cheap Dinners You'll Love to Eat
I don't make Poor Man's Soup nearly as often as I used to, but I love how easily I can pull a meal together with ingredients I have on hand. No need to run to the store for this recipe. If you don't have one of the ingredients listed in the ingredients list, don't be afraid to try something else.
Adding a new ingredient can add both flavor and texture to a dish, making it something completely new! One of our readers tried this recipe and commented that they added kielbasa sausage and some different seasonings to the soup. I LOVE that - don't be afraid to experiment with variations.
If you want to get an idea of possible variations to try, check out the comment section to see what other people have tried. If you'd added something to this soup that you think is amazing - share it with us in the comments!
I'd love to hear how you've adapted our Poor Man's Soup recipe and I'm sure other readers would love to see your ideas as well.
Learn How to Make Soup from Scratch
Making soup from scratch is a skill that gives and gives.
Seriously. Once you learn how to make soup from scratch, you will not want to go back to serving soup from a can ever again. We're talking about super fresh flavor, amazing ingredients, and the ability to seriously cater to your own tastes.
What am I talking about?
I'm bringing it back—again—to the idea that if you don't like a specific ingredient or flavor, substitute, substitute, substitute! This is a great skill to have. Once you figure out the basics of how to make soup—and you know the ingredients and flavors that you and your family like best—you are ready to start experimenting and creating soup recipes all on your own.
The possibilities are limitless!
Quick, Cheap Family Meals
Toss all of the ingredients into your slow cooker, after you've browned the meat and let it cook up all day long. You'll be amazed at how delicious and filling a bowl of inexpensive ingredients can be.
Inexpensive, and cleanup is a breeze if you use slow cooker liners like we do.
And did I mention that Poor Man's Soup is healthy and cheap too?
Ladle Your Soup Up in Style
These colorful soup bowls with handles are on my wish list, and I'm hoping that the next time I make Poor Man's Soup (or any other soup for that matter), I'll be dishing it up in style.
Not to mention the fun Dinosaur Soup Ladle that I saw ALL OVER the internet last holiday season. We're talking about a great gift idea for the soup lover!
Cheap Easy Dinner Meals
If you want to make this soup even healthier, use lean beef or turkey and keep the salt to a minimum. I love using a combination of beef and turkey to maintain the beefy flavor but to still get the benefit from the lower fat in the turkey.
Cutting calories where you can when trying to enjoy a lower fat diet is always a good thing.
One of the things we love about Poor Man's soup in particular is that it is loaded with vegetables.
While it does have ground beef (or turkey!) in it, the amount per serving that you get really isn't that much.
Another great thing about this soup is that once it is ready to go in the slow cooker, it is perfect for serving to a crowd. No need to worry about dinner getting cold or food being left out too long since you can set your cooker to Keep Warm.
This soup also makes for great leftovers.
And as we discussed before - make sure you are going to use the leftovers if you cook enough to have them! If this recipe makes too much for your family size, consider cutting the recipe in half. There is no shame in that.
OR if you are going to have more leftovers than you will use in 1–2 days, freeze a part of the leftovers. Just like our favorite chili recipe, this soup freezes well and reheats perfectly!
What a great way to have a meal or two put up in the freezer for when you really don't have the time or inclination to spend time in the kitchen. Because let's face it—we all get busy soon or later.
Want to learn how to make more soups from scratch? You're in the right place!
Like I mentioned before, cooking soup from scratch will open all kinds of doors for you. And while I am speaking metaphorically, the knowledge that you gain when you learn how to cook soup from scratch is HUGE.
Case in point. My own experience cooking soup from scratch started when I watched my mother-in-law make her famous homemade broccoli soup. And, I say famous because this was the soup that I requested nearly every Thursday night that we went to their house while we still lived in Arkansas.
I would watch her cook the soups, starting with melting butter and then adding flour to make a thick roux. Then, she'd add milk, chicken stock, and later broccoli and cheese—and of course seasonings.
The thing I learned that stuck with me and changed the way I cook was the basis of making a roux. It wasn't something I'd experienced before because my own mom has always used cornstarch to thicken gravy. And it was always added later on in the process of cooking rather than at the beginning as a roux is done.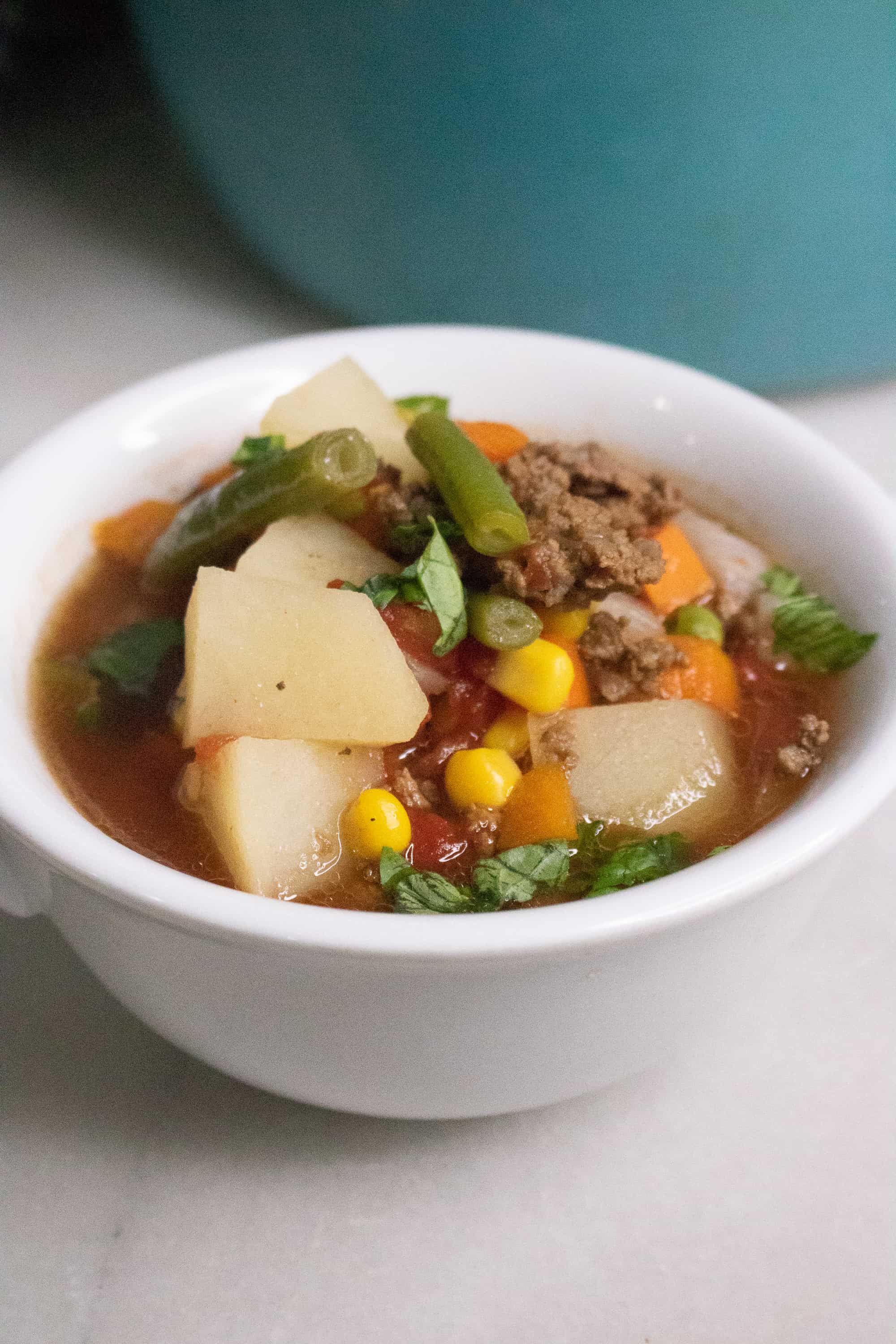 What is a Roux?
Roux is typically made from equal parts of flour and fat by weight. The flour is added to the melted fat or oil on the stove top, blended until smooth, and cooked to the desired level of brownness.
The knowledge of how to make a roux for gravy or soup has enabled me to comfortably create a variety of soup recipes using the same roux base. This is perfect for creamy soups. And creating new recipes by trial and error is always so much fun.
Delicious Dessert Recipes
Don't forget dessert before you scroll on down to get our Poor Man's Soup recipe!
Now that you've got dinner covered, you'll want to check out these delicious dessert recipes. They are amazing! And I'm not just saying that because I made these desserts in my own kitchen first.
We're pretty sure you'll love our Hazelnut Cheesecake Icebox Cake. This is one recipe that I will make over and over again. It has a gentle coffee flavor that is perfect for coffee lovers and non-coffee lovers alike.
I'm not a huge coffee drinker (seriously, I'll order a Mocha from Starbucks and request half a shot of coffee instead of the full shot!) but I adore the flavor in this dessert. It's delicious!
Just look at the layers and layers of creamy goodness in the photo below and you will see what I'm talking about. This dessert is one that you'll want to try. SO good!!
Or try our Banana Cream Dessert. Again, this dessert has phenomenal flavor. If you like banana pudding, you will love this dessert, because it definitely has the same sort of taste to it. SO good.
When I make desserts, especially during the summer months, I often stay away from baking. Everyone bakes. And baking certainly has its place. However, I really think that there is so much more in the grand scheme of quick dessert recipes that can be created when you take baking out of the equation.
Think easy.
Think refrigerator desserts.
Think no bake desserts. In this realm there are even cookies and bars like our delicious No Bake Chocolate Oatmeal cookies that are a family favorite. If you love those ingredients, you will love these cookies.
Our Banana Cream Dessert is an easy layered dessert to make. Graham crackers, our secret concoction of yummy creamed layer, more graham crackers and repeat. Deliciousness.
Absolute perfection!
Yum!
And now, let's face it—the reason you are here is to get our yummy Poor Man's Soup recipe! So hereis the recipe that you have been waiting for. It's flavorful, delicious, and SO amazingly easy to throw together.
I've loved this recipe for years and have been making it with some consistency since my children were small.
3 Reasons Why You Will Love Poor Man's Soup
Reason #1: This soup is a budget friendly recipe. Both fresh or frozen vegetables work equally well in this recipe, so make it using the produce you have on-hand. I recently made a Mexican version using frozen corn, diced bell peppers and topped it with grated cheese and tortilla chips. Delicious!
Reason #2: It is quick and easy to make. The soup comes together in just minutes, and then you simply can walk away while it simmers. If you use the slow cooker, it becomes a true set-it-and-forget it recipe! And since it freezes well, why not whip up an extra batch to stick it in the freezer? It's always a relief to know you've got a meal ready to go "just in case".
Reason #3: You can customize it. As mentioned earlier, feel free to swap out the ground beef for turkey. Shredded chicken also works well. And for those who like to spice things up, try using hot Rotel instead of original. Or toss in some some extra peppers if you really like to bring the heat.
Remember, a recipe is merely a starting point. Don't be afraid to veer a little off-script. You know your own tastes and likes better than I do.
How to Make Poor Man's Soup Step By Step
Step 1: Brown ground beef or ground turkey, drain and then return the the pot.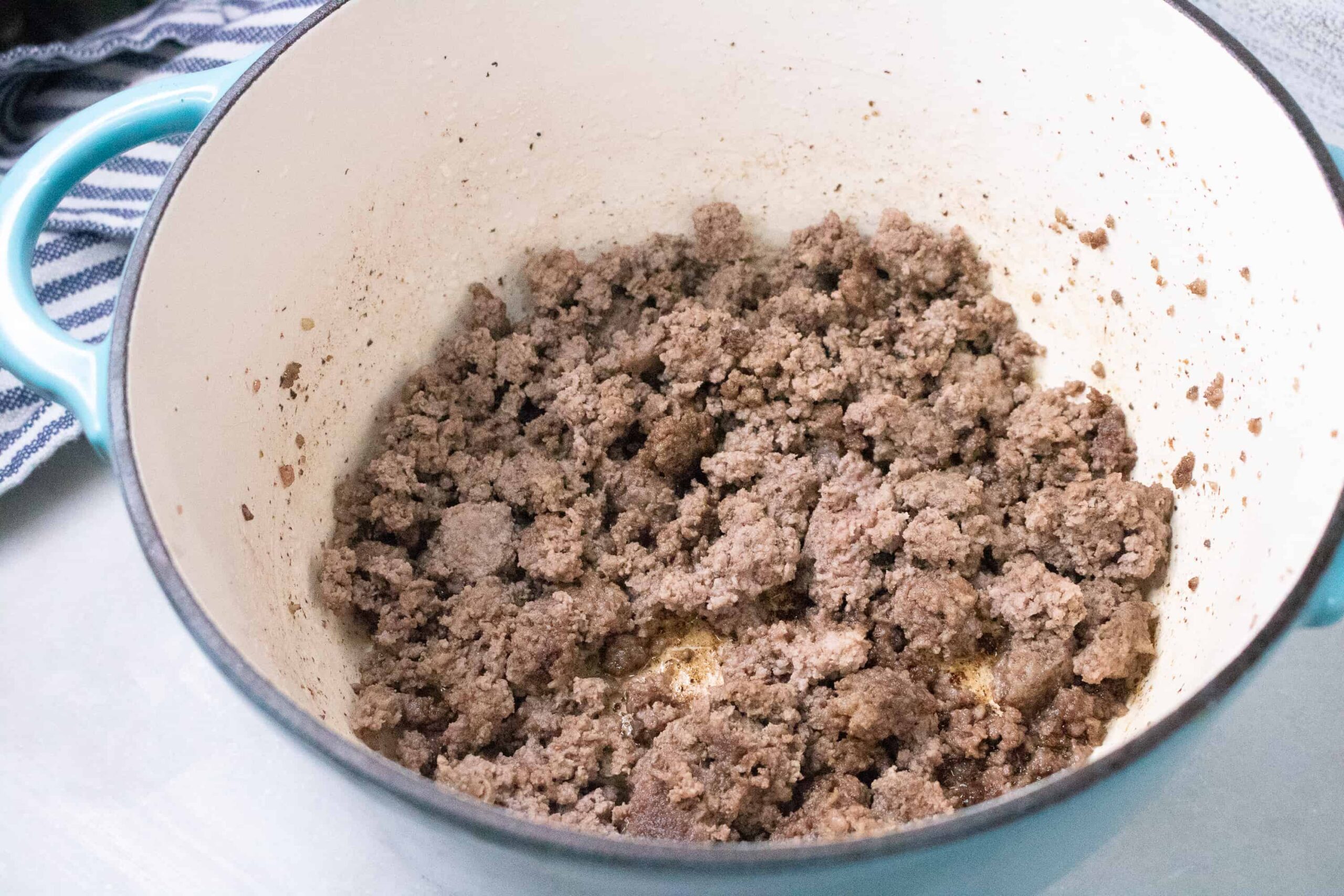 Step 2: Add diced tomatoes with peppers and frozen vegetables.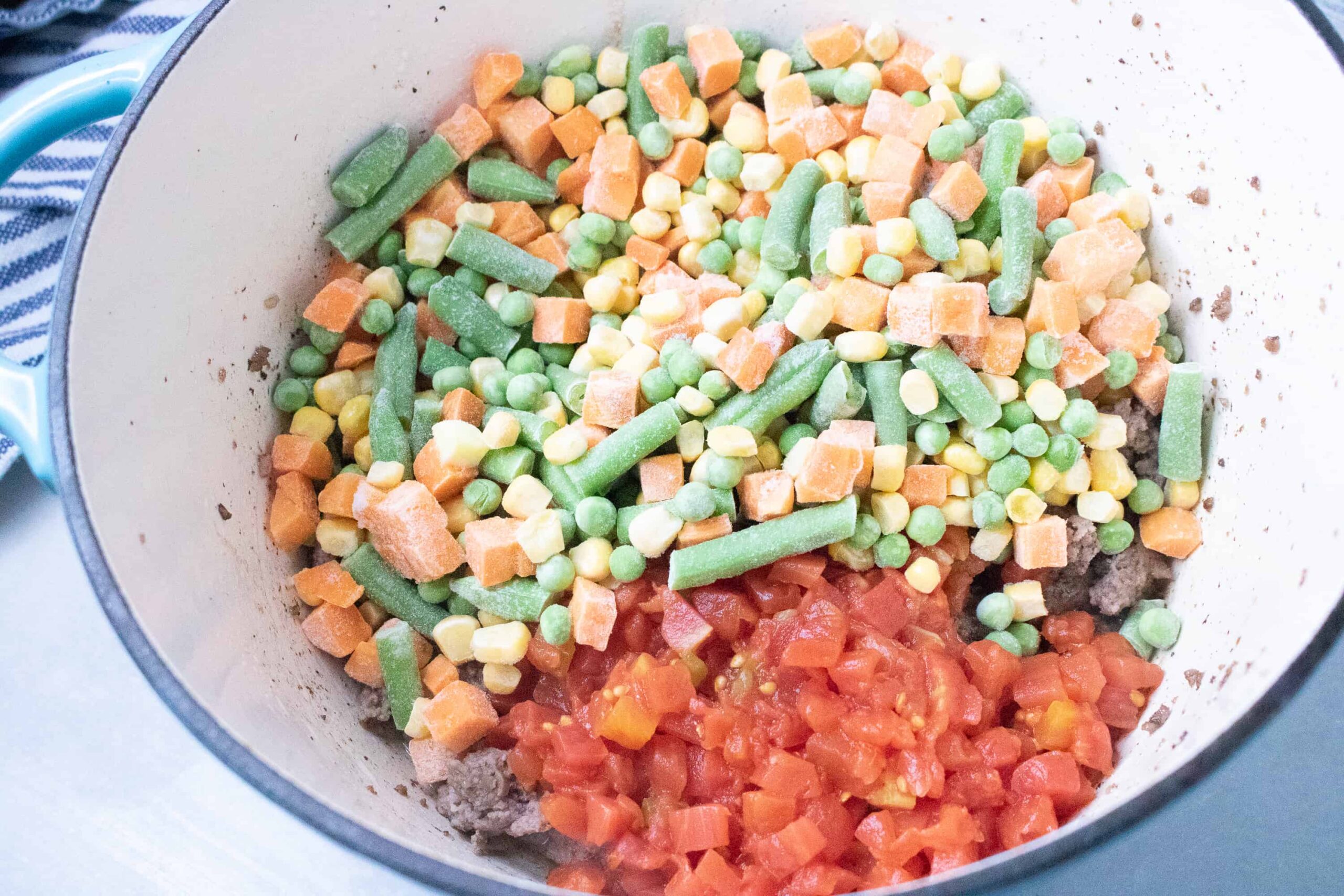 Step 3: Dice potatoes and onions and add them to the pot. Cover with beef broth or add beef bouillon and water.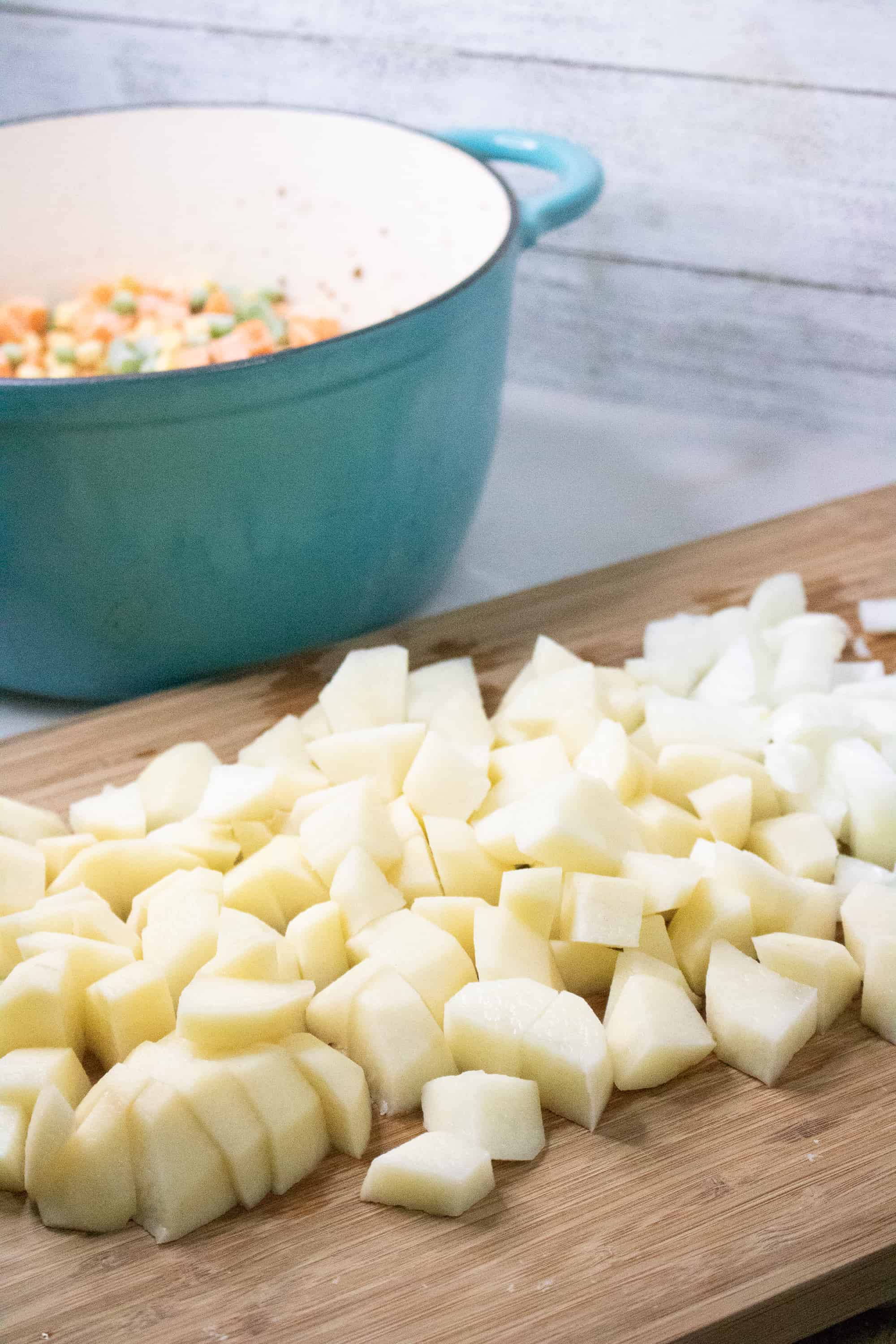 Step 4: Heat on stove top until lightly boiling and then reduce to a simmer and cook for 60 minutes. If you'd like more of a tomato flavor, add in a small can of tomato paste and stir.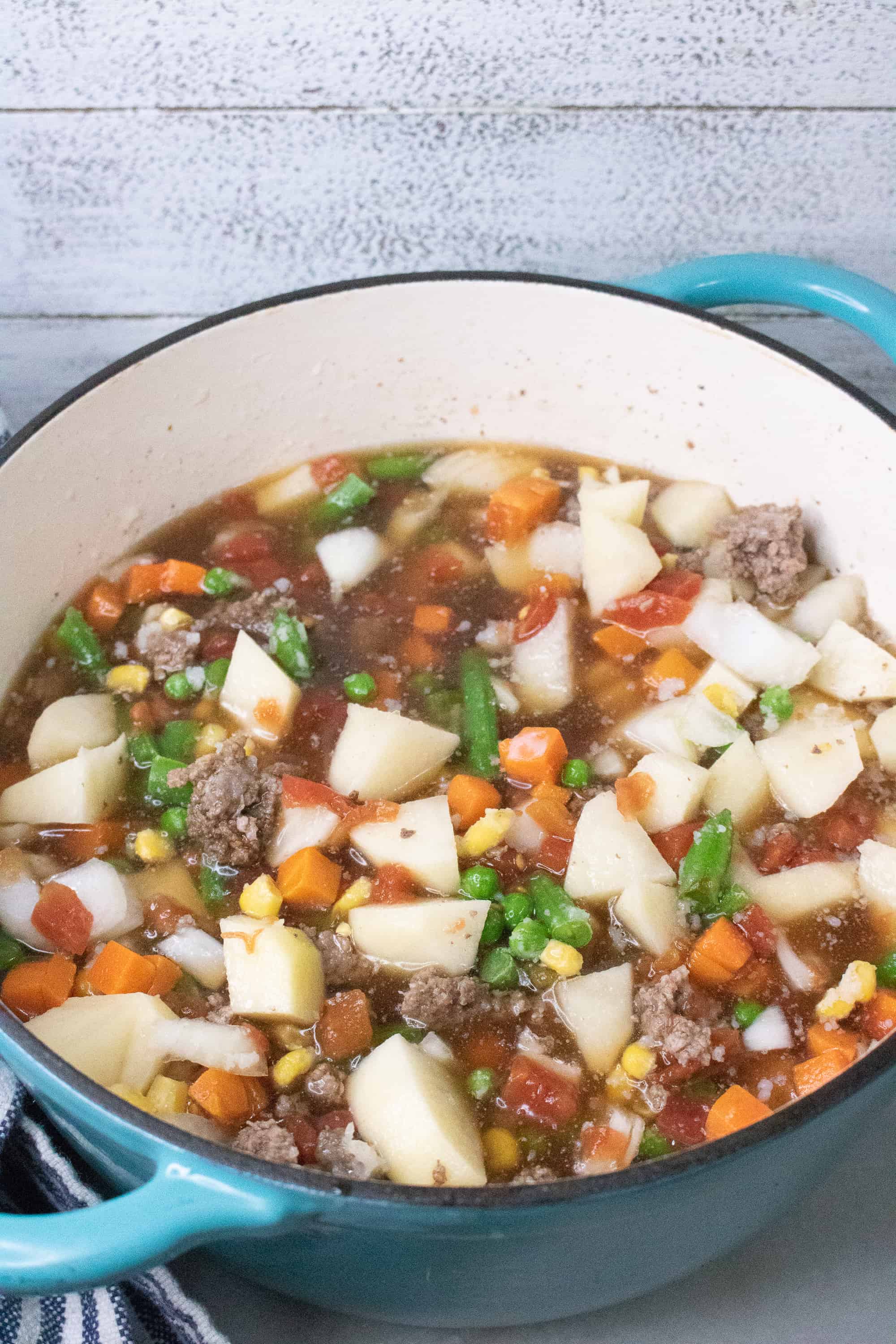 Serve and Enjoy!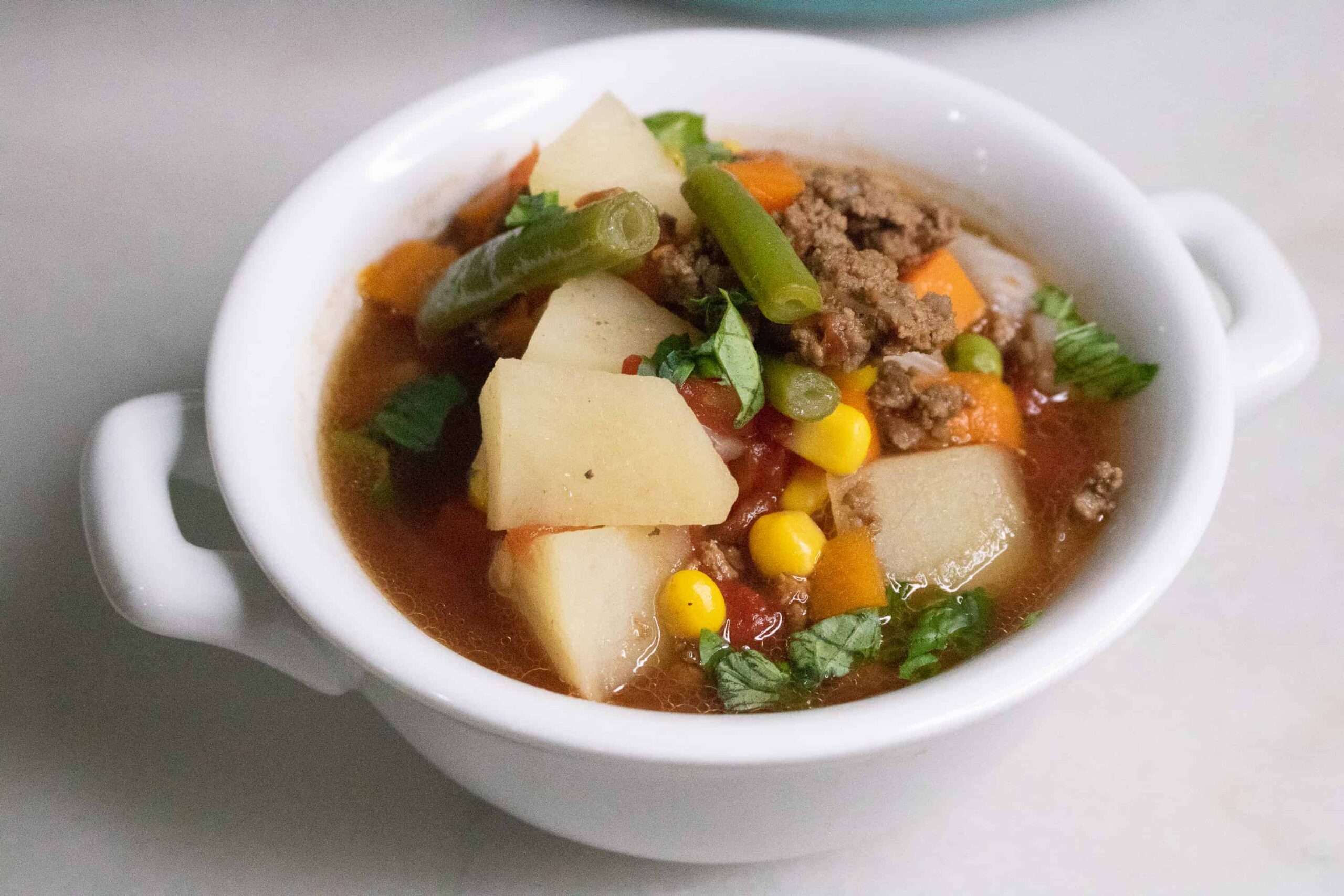 Don't forget, come back and comment with your favorite variations of this recipe. We're always excited to hear about what you're trying in your kitchen!
Recipe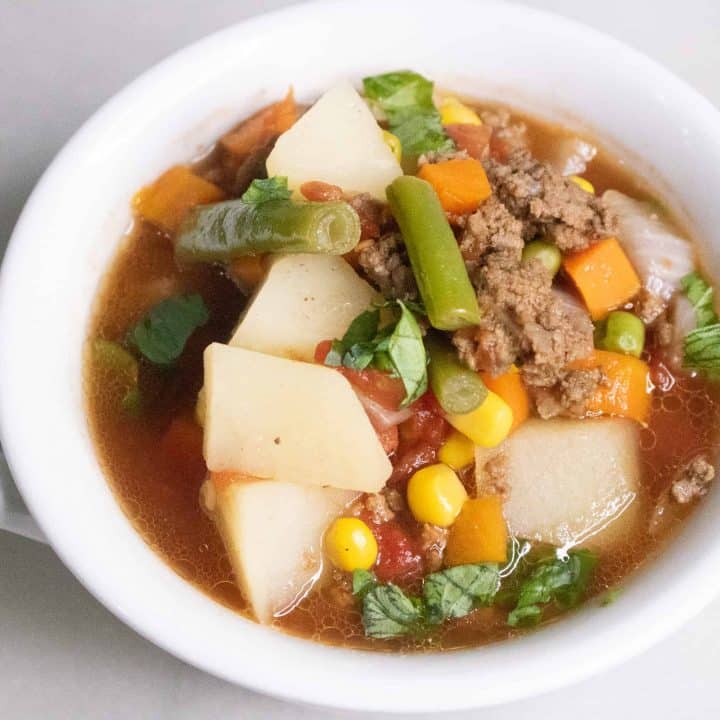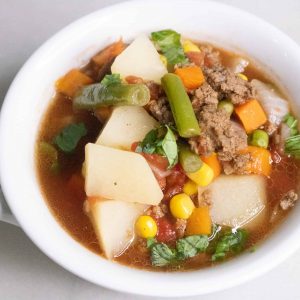 Poor Man's Soup
Poor Man's Soup is great budget-friendly meal that is full of hearty, satisfying flavors. Made with common pantry ingredients, it comes together easily and turns out perfect whether you use the stove top or slow cooker. You'll want to make this soup again and again!
Ingredients
1 to 1 ½

lbs

ground beef or ground turkey

I used ground beef

1

can

10 oz diced tomatoes and green chilies (or Rotel)

16

oz.

package frozen mixed vegetables

6-8

potatoes peeled and diced

1

small onion diced

8

cups

water

Tomato paste

4 ounce can (optional)
Instructions
Brown meat on stove top and drain grease. Combine all ingredients, heat to a low boil and reduce heat to simmer for about an hour. Add salt and pepper to taste and dinner's served! If more of a tomato flavor is desired, add in tomato paste.

This can also be prepared for the crockpot. Simply brown the beef or turkey and combine all ingredients in crockpot and cook on low for 6-8 hours.

Fresh ingredients can also be used if you have them, and are so delish!
Nutrition
Serving:
1
g
Calories:
482
kcal
Carbohydrates:
49
g
Protein:
33
g
Fat:
17
g
Saturated Fat:
6
g
Polyunsaturated Fat:
8
g
Trans Fat:
1
g
Cholesterol:
87
mg
Sodium:
564
mg
Fiber:
8
g
Sugar:
7
g