Mac and cheese.
Baked Macaroni and Cheese
It's one of those classic recipes–perfect for bringing to a potluck–that will never go out of style. It's simply delicious. Simply comforting. And, luckly–even macaroni and cheese made from scratch is pretty easy to make.
Take a moment and decide for yourself if you're ready to take this tasty dish out for a spin.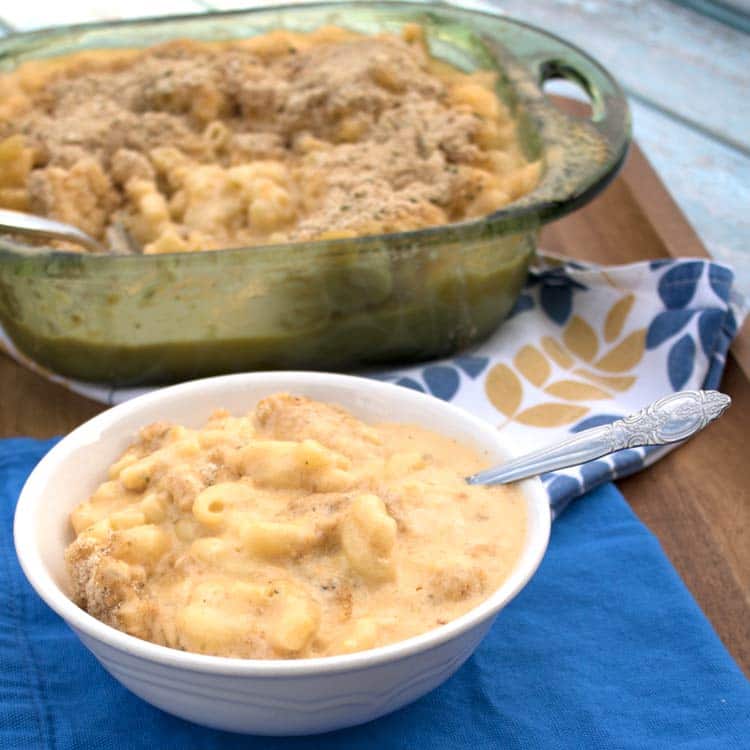 What we absolutely love about this recipe is that the macaroni is SO creamy. Scoop up a dish of this on its own, or serve alongside a deep-fried turkey on Thanksgiving–this recipe is a winner.
You can't go wrong bringing our Creamy Mac and Cheese to a potluck along with one of our favorite icebox cakes. Now that is a perfect combination of dinner and dessert.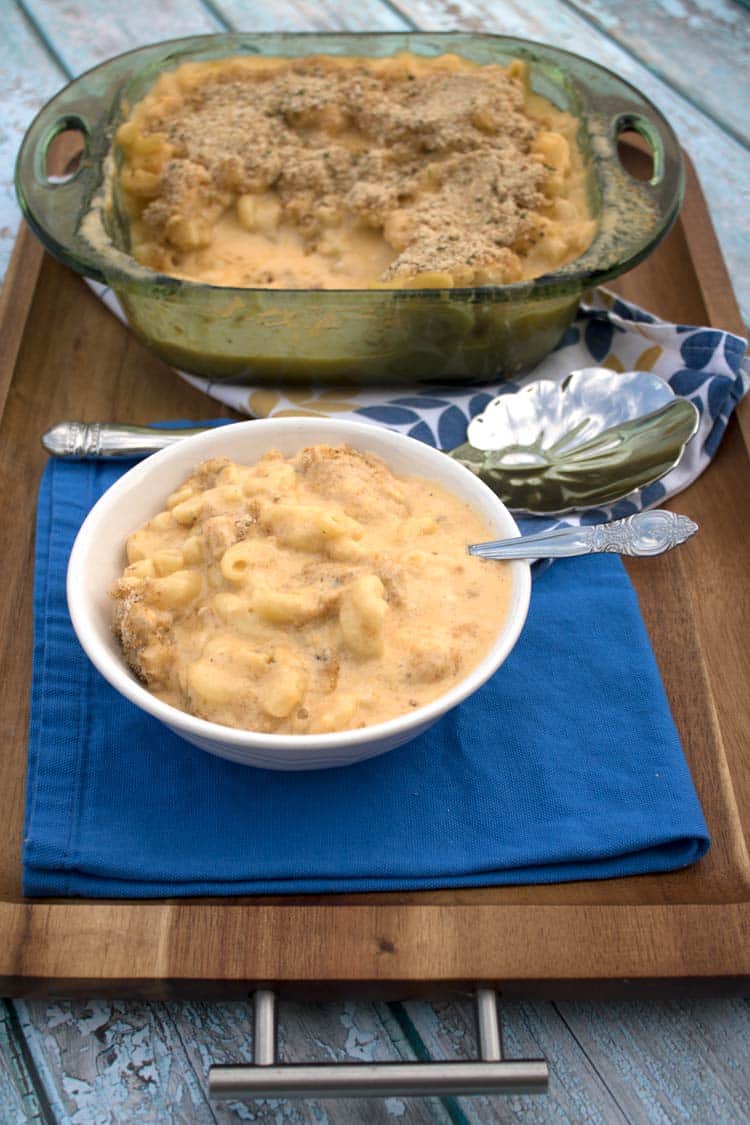 We've been testing out a lot of recipes lately…and so far we've been met with a lot of success.  Finding new dishes to serve up to the family–that everyone loves–is always something to be thankful for.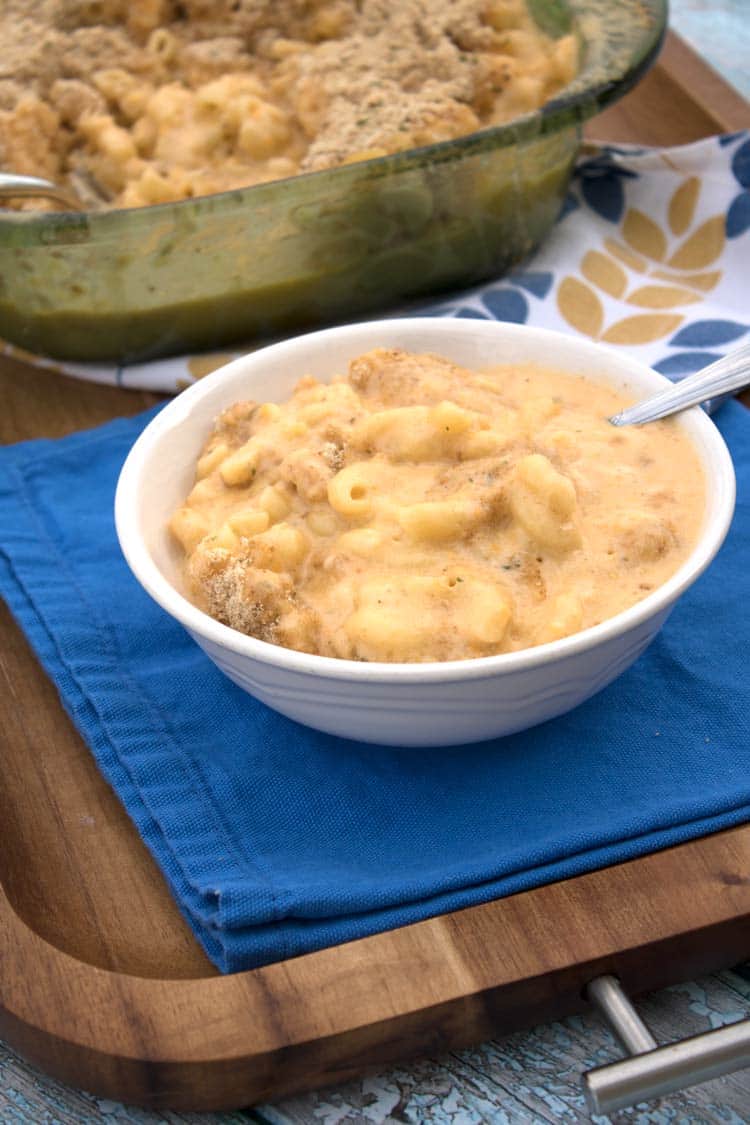 Get your appetite out and get ready for a scrumptious, cheesy dinner. You won't be sorry.
This is a great recipe for cooking with kids too, because it teaches basic cooking techniques like making a roux that can (and will) be used time and time again as they become more experienced cooks.
Making a roux is one trick that I wish I had learned a lot sooner because it really opens the doors to what you are able to cook. Think soups, sauces and more…the possibilities of what you cook are really limited only by imagination, time and taste.
Print
Potluck Baked Macaroni and Cheese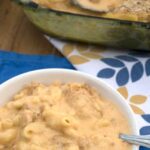 Ingredients
2 (16 oz.) packages and 1 (7 oz.) pkg. of elbow macaroni
1 1/4 cups of butter, divided
3/4 cups of flour
2 teaspoons salt
3 quarts milk
3 pounds sharp cheddar cheese, shredded
1 1/2 cup of dry bread crumbs
Instructions
Allow the oven temperature to rise to 350 degrees.
Spray three 13X9 inch baking pans well with a non stick cooking spray.
Cook the macaroni according to the package directions.
Drain the macaroni well and rinse under cold water.
Place 1 cup of the butter into a large saucepan over medium heat.
Allow the butter to melt completely.
Whisk the flour and salt into the melted butter until smooth.
Slowly add the milk to the pan whisking the mixture while adding the milk.
Bring the mixture to a gently boil, stirring continuously.
Cook 2 minutes, stirring continuously, or until thick.
Reduce the heat to low and stir in the cheese.
Continue stirring and cooking 3 minutes or until the cheese has completely melted.
Stir the sauce into the macaroni well.
Transfer the macaroni to the three prepared pans, spreading it evenly into each pan.
Place the bread crumbs into a mixing bowl.
Melt the remaining butter and pour over the bread crumbs and toss.
Sprinkle the bread crumb mixture over the three casseroles.
Bake 35 minutes or until golden brown on top.
Makes 36 servings
Who doesn't love macaroni and cheese?  It's easy to make and will definitely feed a crowd.  For a cheesier flavor reduce the cheddar cheese to 2 lbs. and add 1 lb. of cubed Colby cheese to the sauce.
Save
The following two tabs change content below.
Latest posts by Jessica McCoy (see all)