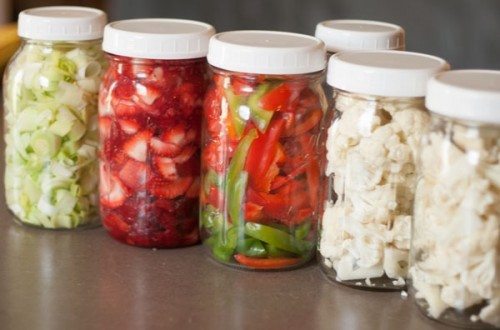 Produce Prep…  I don't do this nearly as often as I should, but preparing produce ahead of time is both a time and money saver.  I don't know how many times I have neglected to prepare my produce in advance, only to discover that I forgot to even use it.  By preparing your produce and putting it in see-through containers like these mason jars, you're offering a daily reminder every time you open the refrigerator.
Veggies, fruits, berries and even entire salads can be prepared in advance.  Days in advance.  I often prepare a week's worth of Mason Jar Salads, and enjoy knowing that my family is eating healthier and getting more vegetable and fruit servings.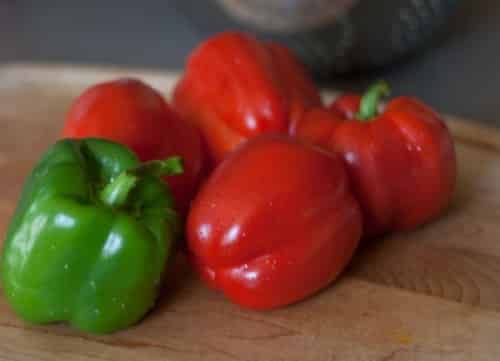 Want to save on produce?  Buy produce that is in season and on sale.  Groceries stores often reduce prices of produce that is in peak season.  Another great way to save is to buy locally grown produce at farm stands or markets.  However, I find the best way to save is to grow my own garden.  While I don't get all my vegetables from my garden, it does supplement what I need to buy elsewhere.  52 Weeks of No-Repeat Meal Plans uses a lot of fresh vegetables, so it is always good to find produce on sale.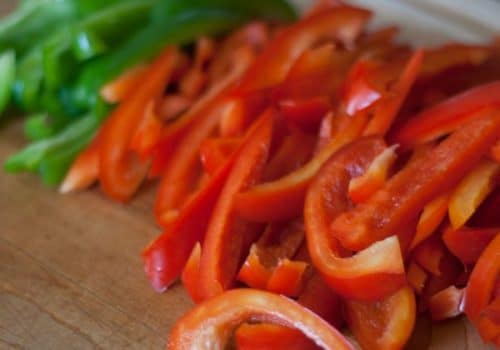 Looking for some veggie munchers.  Red bell peppers are my daughters latest favorite, and she is pretty choosey when it comes to vegetables.  Cauliflower, is another family favorite.  Switch it up.  Have salads one week and mix it up with veggies and dips the next.  Serve as a side a meal times, or as an afternoon or evening snack.  When veggies are cut up and ready to go, they are so much easier to offer as a healthy snack option.

Wash, cut up, and put up in glass or plastic containers.  I use mason jars because I have a lot of them on hand because I can tomatoes and salsa.  If you don't have mason jars, they are available at many grocery stores as well as stores like Ace Hardware.  A couple of years ago I was doing a lot of canning and needed extra jars.  I looked on Craigslist and found mason jars that were being given away.  If you're using used jars, make sure to wash and sanitize thoroughly.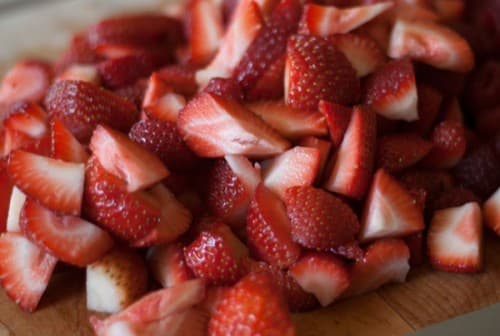 Berries are an excellent snack, topping to pancakes, crepes and waffles, as well as ice cream.  My kids like them with just a sprinkle of sugar.  Add some berries and chocolate chips to make a delicious yogurt parfait, or add to breakfast cereal.  A kick of healthy is always a welcome addition to any breakfast or snack.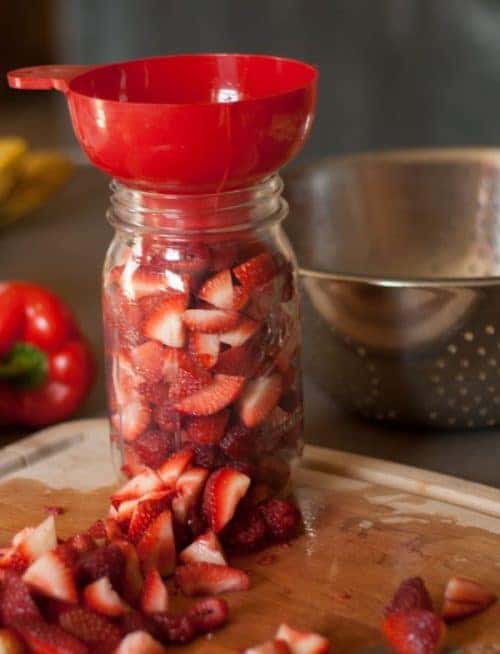 For my produce prep, I used one of my canning tools (pictured above), just to put the berries into the jar without getting it all messy.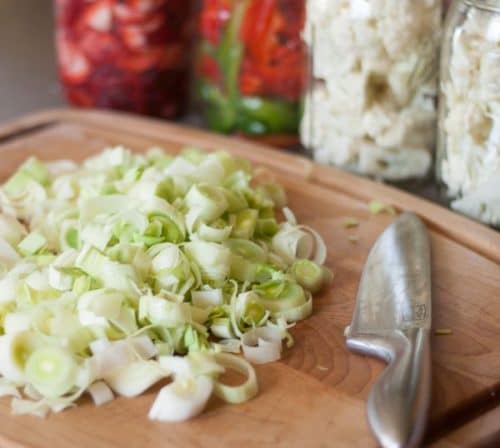 I went ahead and chopped up some leeks that I found on sale while I was doing my produce prep.  Now that they are chopped up and ready to go, I need to figure out what I'm going to make with them.  I love leeks, but haven't used them a lot.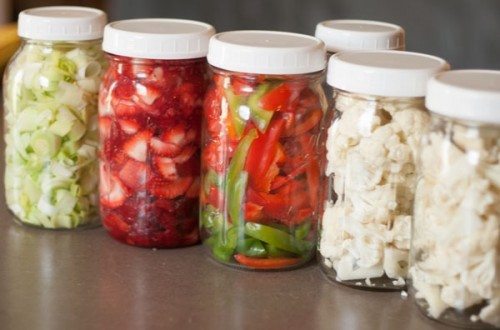 In just under 20 minutes, I chopped and sliced up all of these gorgeous vegetables and berries.  My produce prep is mostly complete for the week (although I still have some tomatoes and onions I'll need to cut up) and we have healthy snack options ready to go.
What do you do to make sure healthy foods are ready and available for your family?
The following two tabs change content below.
Latest posts by Jessica McCoy (see all)