Description
Quick and Easy Meal Plans volume 1 is a four week dinner meal plan complete with the recipes and grocery list for all the ingredients you will need for the week.
Each week there are 6 dinner recipes, 1 breakfast recipe, and 1 dessert recipe. There are even a few bonus recipes thrown in!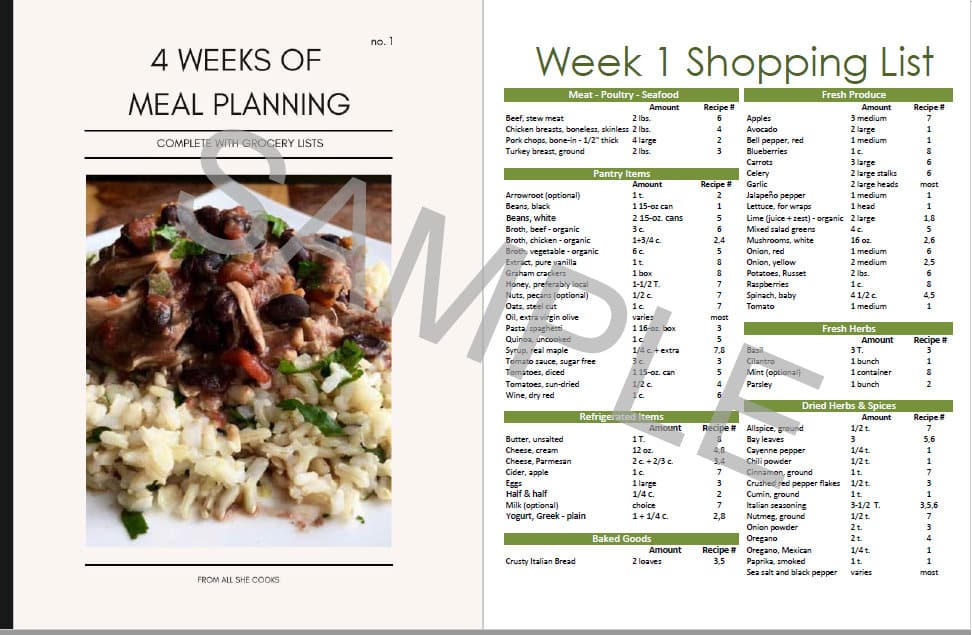 Get ready to cook up these delicious recipes:
Dinner Recipes
Spicy Black Bean Taco Wraps with Fresh Guacamole
Bone-In Pork Chops with Creamy Mushroom Sauce
Garlic-Parmesan Turkey Meatballs with Spaghetti
One-Skillet Tuscan Chicken with Cream Sauce
Slow Cooker White Bean & Spinach Soup
Slow Cooker Beef Stew
Herb-Mustard Sirloin Steak with Steamed Broccoli
Mozzarella Chicken Breasts with Balsamic Glaze
Boneless Pork Chops with Creamy Chive Sauce
Herb-Roasted Chicken with Red Potatoes
Slow Cooker Italian Sausage & Potato Soup
Slow Cooker Mexican Shredded Beef
Super Easy Atlantic Cod with Garlic-Herb Butter
Easy Chicken Marsala Soup
Slow Cooker Mexican Shredded Chicken
Bonus Recipe: Cilantro-Lime Rice
Apple & Herb Stuffed Pork Chops
Easy Steak Tortilla Wraps
Bonus Recipe: Homemade Taco Seasoning
Chorizo-Stuffed Poblano Peppers
Grilled Chicken with Fresh Avocado Salsa
Mustard Pork Tenderloin with Roasted Carrots
Tex-Mex Chicken Tenders
Thai Coconut Curry Soup
Slow Cooker Hearty Veggie Stew
Grilled Blue Cheese & Avocado Burgers
Breakfast/Brunch Recipes
Slow Cooker Apple-Cinnamon Oats
Easy Oven-Baked Cloud Eggs
Fluffy Banana-Chocolate Chip Pancakes
Cheesy Cauliflower Breakfast Muffins
Dessert Recipes
Mixed Berry Cheesecake Parfaits
Chocolate-Cherry Brownies
Baked Cherry-Almond Crisp
Chocolate Hazelnut Truffles
This Easy Meals Plan is a 4-Week menu plan that is delivered to you in PDF format, which you can view either in your browser or a PDF viewer like Adobe Acrobat.