Summer's fast-approaching and one thing that excites us more than anything is the start of...wait for it...BARBECUE SEASON. We're definitely ready to dust off that BBQ and cook outside again. So we immediately went on the hunt for some delicious recipes to try for BBQ season, and recently stumbled upon this protein-packed Blue Cheese Buffalo Burgers recipe.
Picture this: A sunny Summer afternoon with family and friends on your yard deck or by the pool with delicious BBQ burgers right off the grill. Relaxing, right? Nothing beats that.
And yes, we mentioned "by the pool." SWIMMING! If you're planning on going to the pool or beach for summer vacation, don't worry about fitting into that bathing suit that you've been dying to wear. We've got your back. Believe it or not, but this burger will curb your cravings and help you lose weight, too.
We've researched and found out that there are many health benefits of eating buffalo. Rich in flavor, low in fat and high in protein, buffalo meat is an ideal substitute for beef in your favorite recipes.
&
This recipe and more are in the cookbook Lose Weight By Eating.
Before you skip over this recipe because it contains buffalo meat, give me one minute of your day to convince you to try this delicious, lean form of protein.
Power-packed Nutrition in Burger
Ok, so what exactly are Buffalo meat's health benefits? Buffalo meat contributes significantly more iron to your diet than beef, with higher levels of vitamins and minerals and twice as much Beta-carotene as strictly grain-fed meats. Because buffalo has very little fat and contains more protein than beef, it doesn't shrink in cooking and it's more satisfying to eat. Pound per pound, it's a better value than many "cheaper" meats.
Let's start with the flavor. If buffalo were gross at all, I would just tell you to get lean ground beef. But it tastes exactly like delicious beef, but with more protein, iron, and B12 and less fat and calories. Plus it's usually available at your local grocery store. Try this lean and delicious meat yourself. You won't be able to tell the difference, and you'll be doing your body a favor.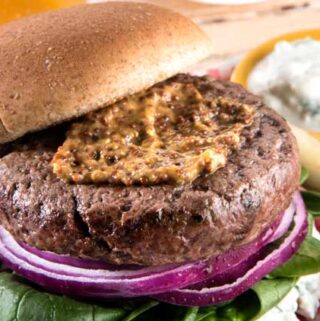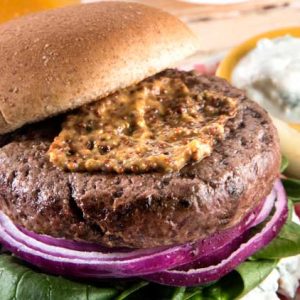 Blue Cheese Buffalo Burgers Recipe
Enjoy this savory quick Blue Cheese Buffalo Burgers. Perfect for a quick and easy dinner.
Ingredients
1

teaspoon

olive oil

for the grill

1

pound

all-natural ground buffalo

Kosher salt and freshly ground black pepper

½

cup

Chunky Blue Cheese Dip

page 108, Lose Weight by Eating

4

whole wheat buns

1

cup

baby spinach

½

red onion

sliced into thin rings

Spicy brown mustard

optional
Instructions
Heat a grill to high heat and brush the grill grates with olive oil. (Alternatively, heat a grill pan over high heat and spray it with olive oil.)

Make four patties from the meat. Push your thumb into the center and create a little dimple on both sides. This will help the burger cook more evenly and keep a flat patty shape. Gently sprinkle the patties with salt and pepper.

Grill the burgers for 7 to 10 minutes, flipping once. Transfer the burgers to a large plate and let them rest for 5 minutes.

To assemble the burgers, spread some Chunky Blue Cheese Dip on the bottom of each bun, lay on some spinach and onions, and top with a burger patty. Spread some mustard, if using, on the top buns and place them on the burgers.

Cookbook author's note: I love to serve this burger with Asparagus "Fries", (page 171). The combination is only 311 calories, leaving you with enough calories to indulge in a Strawberry Banana Shake (page 236).
Nutrition
Calories:
1787
kcal
Carbohydrates:
88
g
Protein:
118
g
Fat:
107
g
Saturated Fat:
47
g
Cholesterol:
368
mg
Sodium:
2091
mg
Potassium:
2101
mg
Fiber:
8
g
Sugar:
14
g
Vitamin A:
3328
IU
Vitamin C:
13
mg
Calcium:
620
mg
Iron:
20
mg