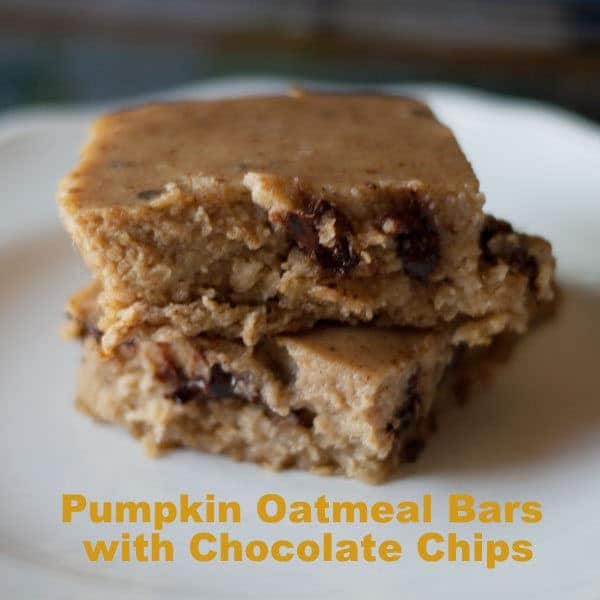 I love playing with food.  What's not to love, right?  It's like being a kid again and getting away with something you know you're not really supposed to be doing.  Except in this instance, playing with ingredients creates a magical experience that needs to be repeated again and again.
Pumpkin Oatmeal Bars with Chocolate Chips are a win.
Did you know that chocolate chips weren't developed until 1941?  1941!  Now, I know people cut up chocolate bars before that, and I'm sure they added the chocolate pieces to a myriad of recipes.  But, I just have to say how much easier my life is because of the invention of chocolate chips.  That is one ingredient to so many of my chocolate recipes that I am thankful that I don't have to live without.  Because I love chocolate.  I am a chocolate addict.  You heard it here first.
Are you ready for a delightfully inspiring, delicious and melt-in-your-mouth explosion of flavors?  Here you go…
First, blend oatmeal and brown sugar: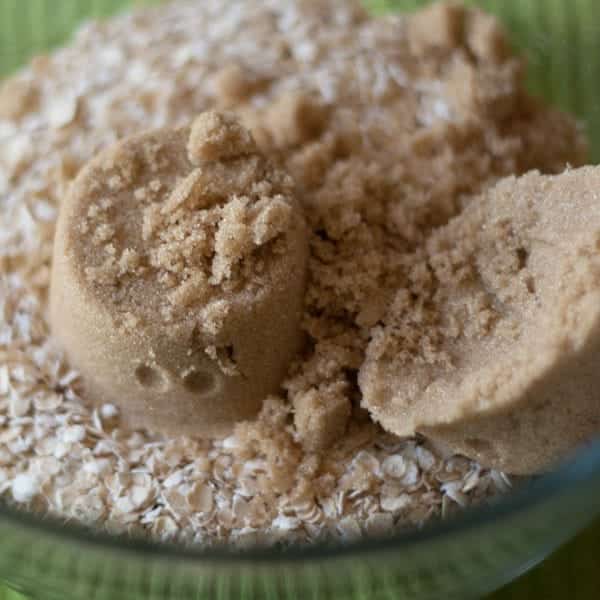 Add butter to the oatmeal and brown sugar and stir it all together.  This is what you'll use to form the bottom layer of the Pumpkin Chocolate Chip Oatmeal Bars.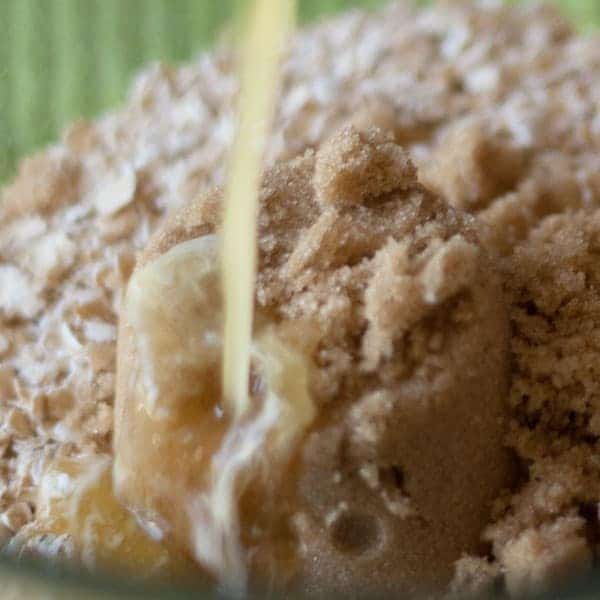 See?  It mixes up nice and holds together loosely.  The small amount of butter works perfectly to bind the ingredients and add richness to the dessert without being overly fattening.  Just a fourth of a cup in a recipe that easily yields 16 servings.
Dump oatmeal mix into a 9×13 pan that has been sprayed with cooking spray.  Press down gently.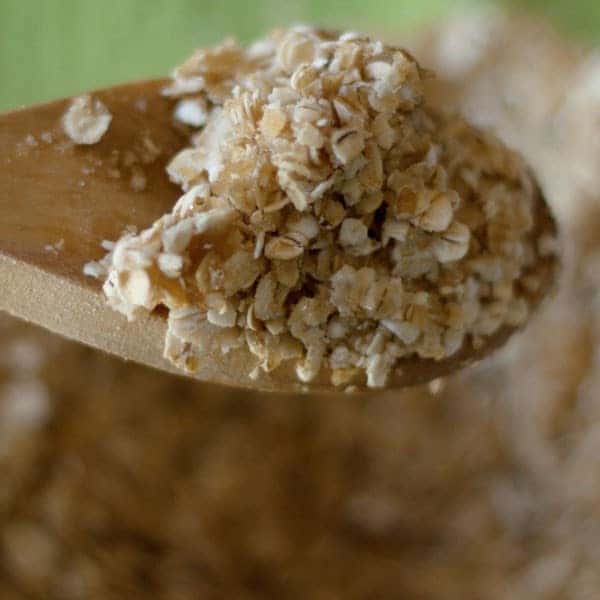 Remember I mentioned chocolate chips?  Well, go ahead and measure out a good cup of those babies.  There's the fat.  And chocolatey goodness. Go ahead and make it dark chocolate if it makes you feel better.  All She Cooks is totally down with dark chocolate.  It absolutely rocks.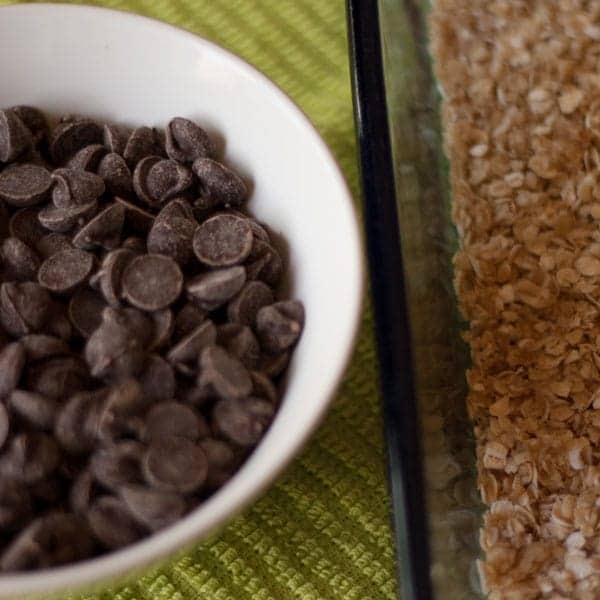 Sprinkle those babies around.  They don't have to be arranged perfectly, because when you add the next layer, the chocolate chips will float up into the pumpkin and disperse throughout.  That way you get chocolate and pumpkin in every bite, which I certainly can't complain about.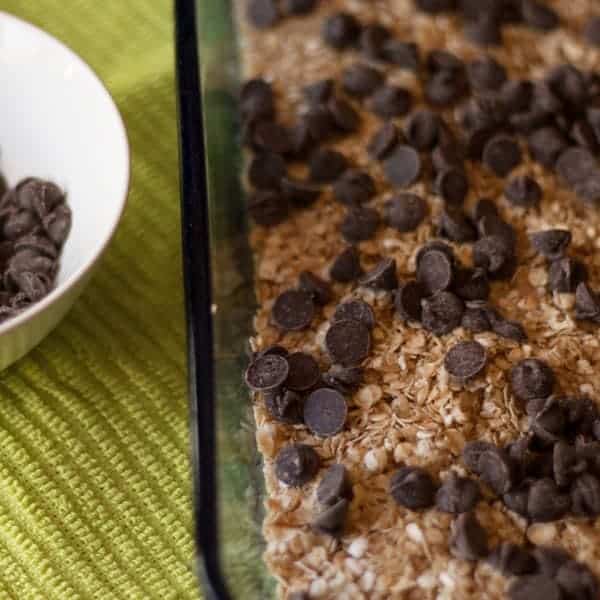 Now we're ready for the pumpkin.  For this layer, think pumpkin pie.  In fact, Pumpkin Chocolate-Chip Oatmeal Bars would be the perfect fall pumpkin seasonal flare.  I started lining up pumpkin recipes last fall and I haven't stopped.  Pumpkin Chocolate Chip Muffins were among those creations, if that tells you how much I love the combination of pumpkin and chocolate.
You know, whoever thought pumpkin was just for pumpkin pie and that pumpkin pie should be solely for Thanksgiving is missing out.
Pumpkin is versatile, appetizing and oh so delicious.  Think Pumpkin Cream Cheese Milkshake, Hearty Winter Squash Soup (with pumpkin), Pumpkin Pie Bagels, and the list goes on.
For the pumpkin layer, mix together 2 cups of pureed pumpkin with sweetened condensed milk, an egg, and seasons.  You can use store bought canned pumpkin, but you'll need to adjust the cooking time a little bit and the bars will be a little bit denser.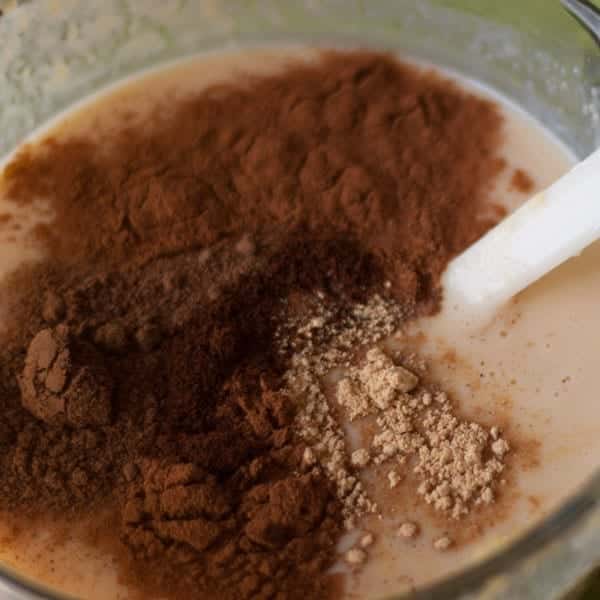 Pour the pumpkin mixture over the oatmeal and chocolate chip layers.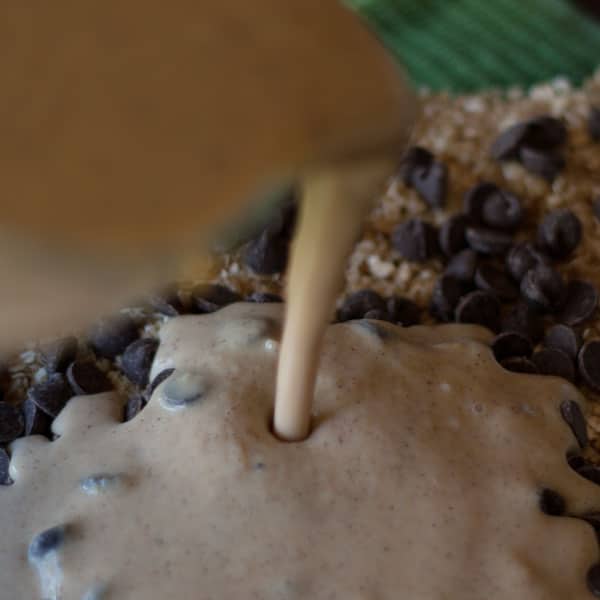 Bake in an oven preheated to 350 degrees for 33-36 minutes or until pumpkin is firm.  Cool just a bit and serve warm or completely cooled off.  I served this tasty sweet with a side of vanilla ice cream and it was gone in no time.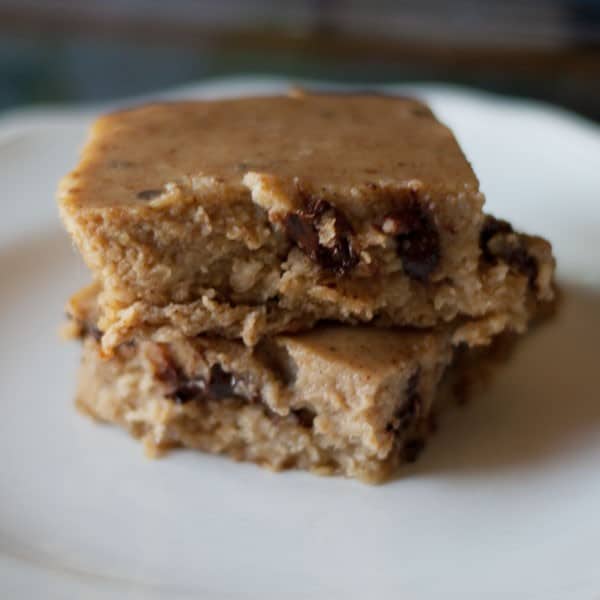 Print
Pumpkin Chocolate Chip Oatmeal Bars
The following two tabs change content below.
Latest posts by Jessica McCoy (see all)