Pumpkin Cream Filled Whoopie Pies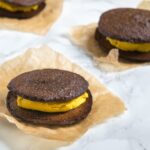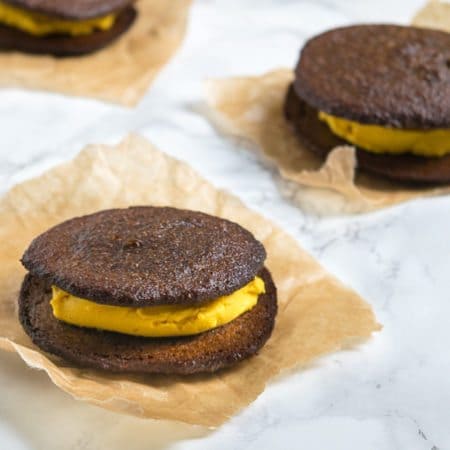 Prep Time:

7 minutes

Cook Time:

20 minutes

Total Time:

27 minutes

Yield:

14-16 single cookies
Ingredients
½ cup coconut oil, melted
½ cup pumpkin puree
½ cup raw honey
1 tbsp vanilla extract
1 + ½ cup almond flour
½ cup tapioca flour
½ tsp pink himalayan salt
½ tsp baking soda
Pumpkin cream filling:
2 cups coconut cream (about 2 cans of coconut milk refrigerated overnight)
1 cup pumpkin puree
¼ cup honey
Instructions
Preheat your oven to 175C/350F.
In a large mixing bowl, mix together your coconut oil, pumpkin, honey and vanilla till smooth.
Sieve in your flour and mix till incorporated.
On a baking mat or parchment paper, spread out 1-2 tablespoons of the mixture at a time and form flat cookies
Bake for 15-20mins, till browned and the centre of the cookies bounce back when you apply pressure.
Mix together your pumpkin cream filling in a bowl and place in the fridge until ready to use.
Once cookies are done, let cool completely before adding the pumpkin cream filling.
Construct your pumpkin whoopie pies, serve and enjoy!