PUMPKIN STREUSEL MUFFINS WITH CREAM CHEESE
The most wonderful time of year: fall! The time of year when leaves are changing, the air is crisp, and we break out our favorite pair of boots.
In the kitchen, well at least for me, fall means everything pumpkin! This week the winner is…….Pumpkin Streusel Muffins with Cream Cheese!
Sounds amazing, right? Right….that's what we thought too.  I've also done the test work for you and am happy to report these are family (kids included) tested and approved. Bonus!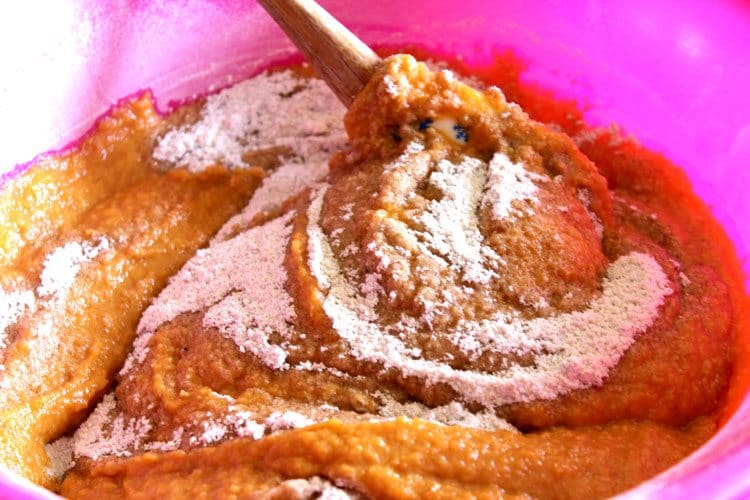 Second bonus? We will be using the muffin method to make these: stand mixers need not apply.
Awesome, yes? I thought so!
Start with two bowls and mix together the dry ingredients in one bowl and the wet ingredients in the other.  Dry ingredients are flour, sugar, brown sugar, baking soda, baking powder, cinnamon, cloves, nutmeg, and kosher salt.
For the wet ingredients, mix together the eggs, unsweetened applesauce, pure pumpkin puree, vanilla, and butter.  Be sure to whisk together the dry ingredients to evenly distribute all of the spices.
Then simply combine the wet into the dry and mix just until combined.  Matter of fact, stop mixing before you think you should.  As long as the flour is off the bottom of the bowl, you're good!
Next, you'll want to make the cream cheese filling.  This will include a portion of the pumpkin puree, cream cheese, and cinnamon.  Allow your cream cheese to come to room temperature prior to mixing everything together.  Once combined; add to a piping bag or zip-top bag, cut the tip off, and you're ready to fill your muffins.
Hold on, we still have to make the topping!
The topping consists of melted butter, sugar, cinnamon, and oatmeal. Simple, right?  A little advice with melted butter when baking; let it come to room temperature prior to using it in any portion of a recipe.  Unless a recipe is specifically calling for smoking hot butter, room temperature is usually preferred.

When filling the muffins with cream cheese, start with the tip on the bottom of the muffin liner and pull straight up when filling.  Stop the pressure just before you reach the top of the muffin mixture.  Once all of the muffins are filled, top with your streusel and prepare to bake!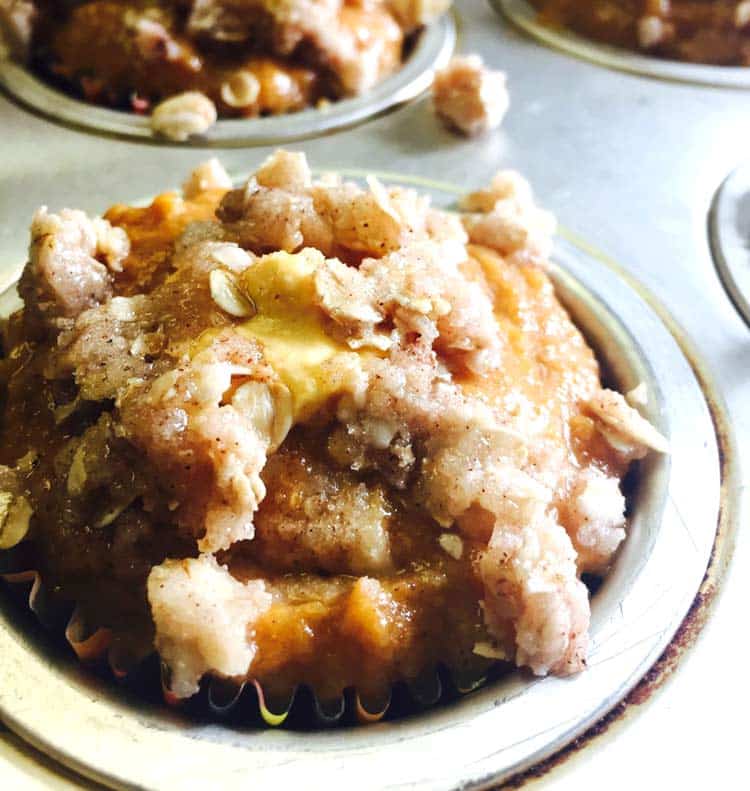 Bake at 350 for approximately 45 minutes to 1 hour.  Prepare to devour.
Enjoy!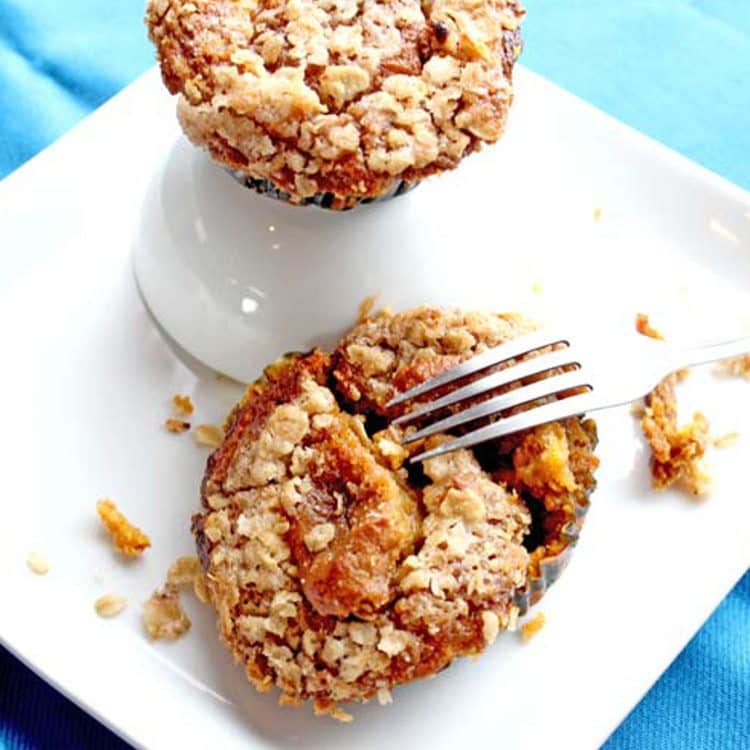 Print
Pumpkin Streusel Muffins with Cream Cheese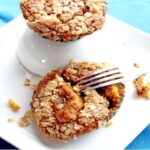 Ingredients
Dry Ingredients
1-1/2 cup low protein flour (cake flour)
1 cup sugar
3/4 cup brown sugar
1 teaspoon baking soda
1 teaspoon baking powder
1 tablespoon Saigon cinnamon
1/8 teaspoon ground cloves
1/8 teaspoon ground nutmeg
1/2 teaspoon Pink Himalayan Salt – finely ground
Wet Ingredients
2 eggs (whole)
3/4 cup organic unsweetened applesauce
1 29 ounce can pure pumpkin puree (reserve 1 cup for cream cheese filling)
2 teaspoon pure vanilla extract
1/4 cup melted butter
Cream Cheese Filling
1 cup pure pumpkin puree (reserved from wet ingredients)
1 8 ounce block cream cheese (room temperature)
2 teaspoons cinnamon
Streusel Topping
1/2 cup melted butter
1 cup sugar
1 cup rolled oats
1 tablespoon Saigon Cinnamon
Instructions
Preheat your oven to 350 Degrees
Muffins
Combine flour, sugar, brown sugar, baking soda, baking powder, cinnamon, nutmeg, and salt into a mixing bowl. Whisk ingredients together to evenly distribute the spices.
In a seperate bowl, combine eggs, applesauce, pumpkin puree, vanilla and melted butter. Stir, by hand, to combine.
Pour the dry ingredients into the wet ingredients and mix by hand just until the flour is off the bottom of the bowl and combined with the pumpkin mixture.
Line a muffin tray with paper liners or spray with non-stick cooking spray and fill each cup 3/4 of the way full.
Set Aside
Cream Cheese Filling
In a mixing bowl combine cream cheese, reserved pumpkin puree and cinnamon. Whisk until fully combined.
Place filling in a piping bag or zip-top bag and snip the end off to create an opening.
Start by placing the tip of your bag in the center of each muffin. Press to the bottom of each muffin and apply pressure, pulling upwards, just until you reach the top of the muffin batter. Repeat with each muffin.
Streusel Topping
Combine the butter, sugar, oatmeal and cinnamon in a bowl. Stir until well combined.
Place streusel atop each muffin and gently press into the batter.
Bake at 350 degrees for 45 minutes to one hour. You may want to rotate your pan half way through depending on your oven settings.
Your house will smell AMAZING!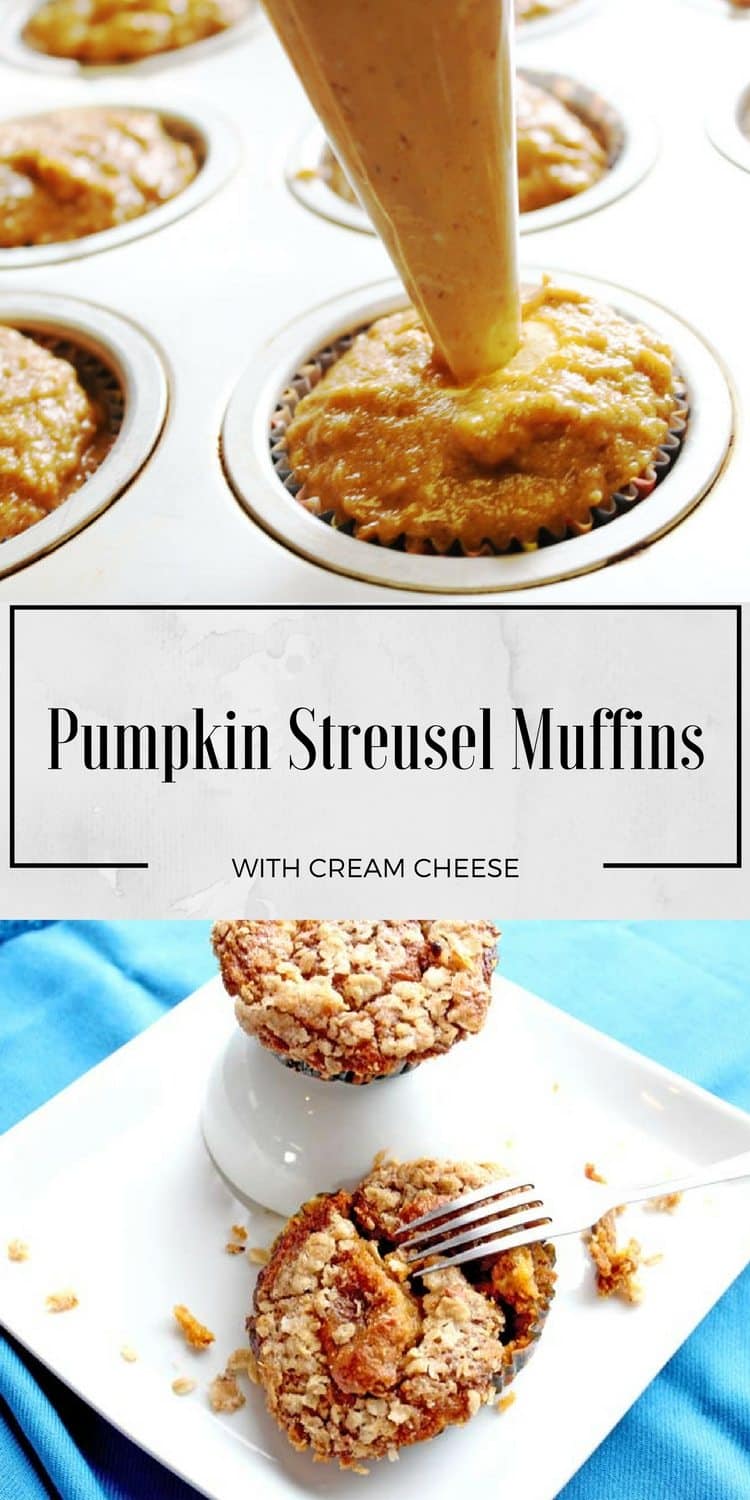 The following two tabs change content below.
Latest posts by Sally Cole (see all)