These Reece's Pieces Magic Cookie Bars are the bomb!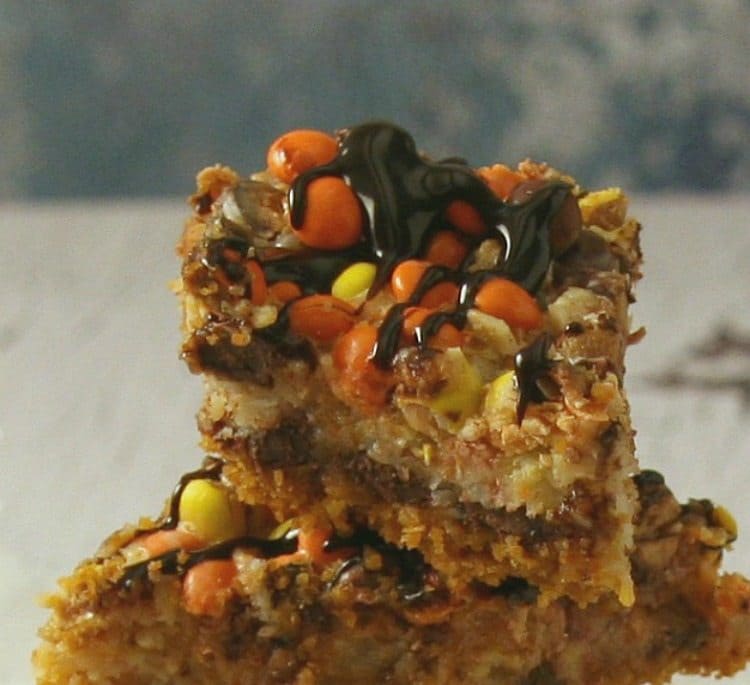 This recipe is not only a quick and easy dessert, but one that you can make ahead of time and freeze.  Just warm it up and slather on some yummy homemade chocolate sauce.
Definitely a triple chocolate EXPLOSION in your mouth, with a little peanut butter on the side! And with the holidays almost here, what better time to make magic cookie bars for your family!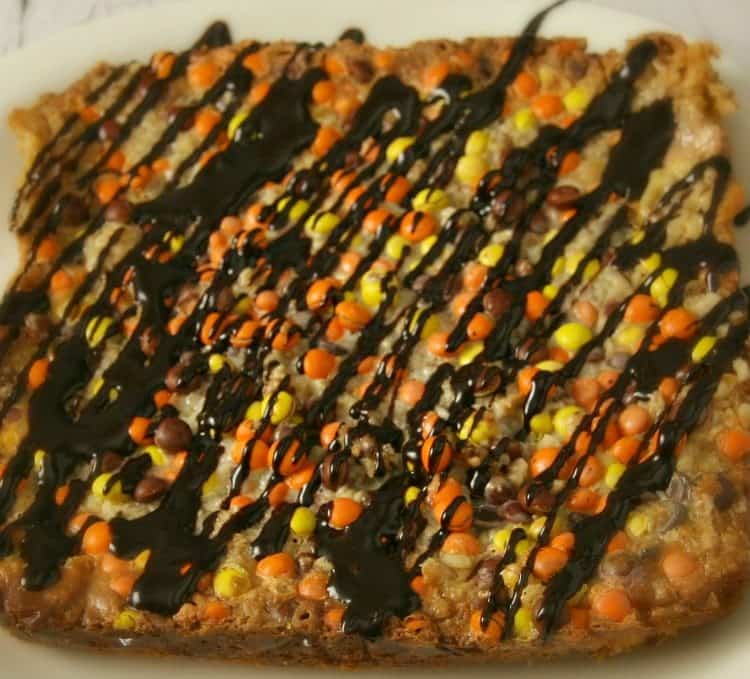 What's behind the triple chocolate you ask?  Well how about semi-sweet chocolate chips, mini Reece's Pieces and homemade chocolate sauce drizzled on top.  Yum! Yum!
There are many Magic Cookie Bar recipes out there.  You can search for Nestle Magic Cookie Bar, Borden Magic Cookie Bar, but my very favorite is the one my Mom always made.  Eagle Magic Cookie bar that was published many many years ago by as the 7 Layer Magic Cookie Bar recipe by Eagle Brand Condensed Milk.  I've tweaked it over the years, and this new edition is a Triple Chocolate spectacular.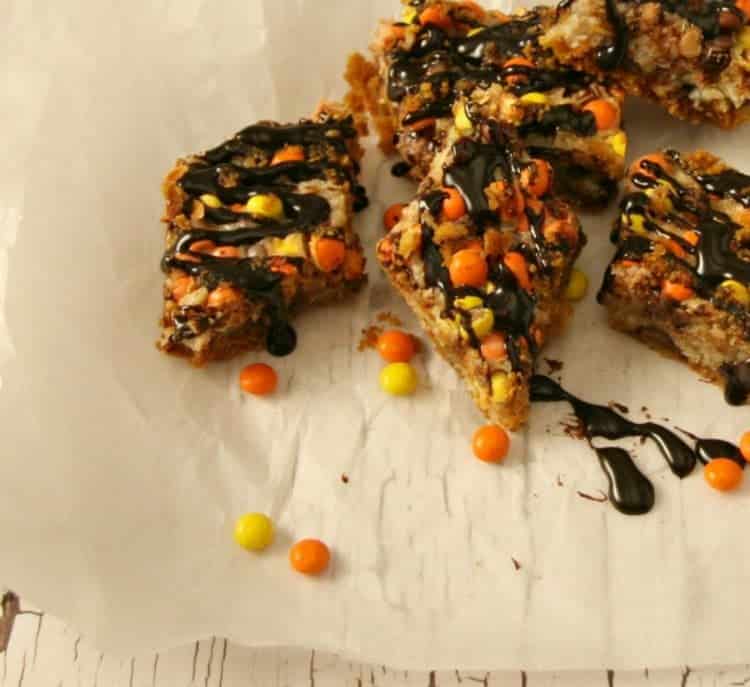 The secret to a really chewy and moist Reece's Pieces Magic Cookie Bar, is to split the eagle brand sweetened condensed milk into two layers.
Mix the graham cracker crumbs with butter and press the mixture into a greased 13 X 9 pan.  Next step is to pour half of the sweetened condensed milk over all.  Now you are ready to build your layers with each of the ingredients, but leave the Reece's Pieces until the last – that way they show through the top.
Then pour the remaining half of the sweetened condensed milk overall and bake – but be sure not to overcook.  We want to have a chocolaty, chewy and MELT IN YOUR MOUTH cookie bar!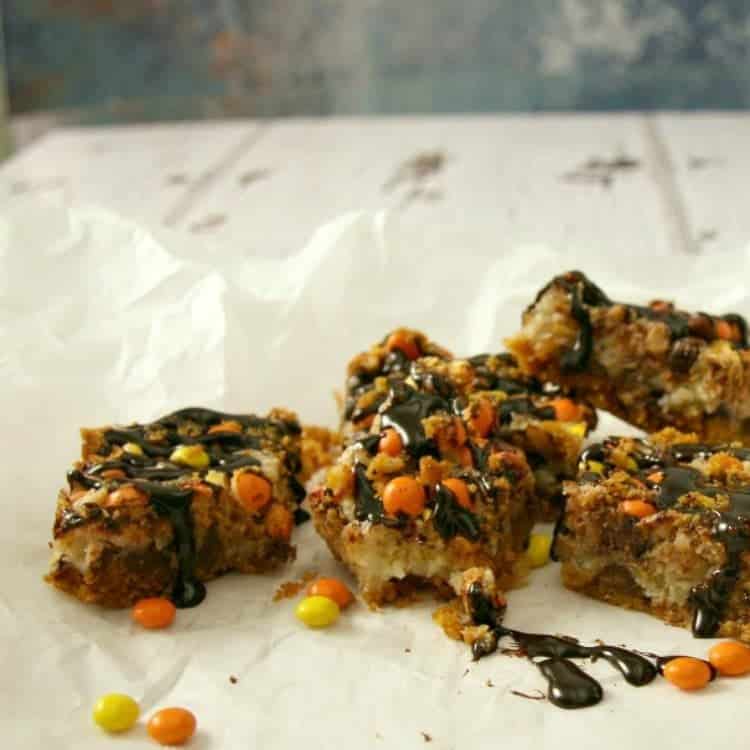 For equipment you will need a 13 X 9 cake pan, a mixing bowl, measuring cups and spoons.
I love to cut my Reece's Pieces Magic Cookie Bars into diamond shapes – don't they look amazing?  And to get perfectly cut cookie bars – line your pan with aluminum foil and lightly spray it with a no-stick cooking spray.  Once they have cooled, you can lift the bars right out of the pan.
The most important step?  Drizzle the entire pan with my Homemade Chocolate Sauce.  It's a Triple Chocolate Trifecta!  Easy as Pie!
Print
Reece's Pieces Magic Cookie Bars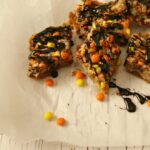 Ingredients
1 1/2 cups graham cracker crumbs
1/2 cup melted butter
1 1/3 cup unsweetened coconut
1 cup semi sweet chocolate chips
1 cup of chopped walnuts
1 cup Reece's Mini Pieces
1 can – 300 ml sweetened condensed milk
Homemade Chocolate Sauce
Instructions
Heat the oven to 350F.  Grease the plan with butter or use a non-stick cooking spray.
Mix the graham cracker mixture and press into the bottom of the greased pan.
Pour on half of the can of sweetened condensed milk
Layer the rest of the ingredients
Pour the remaining half of the sweetened condensed milk over all
Bake for 30 to 40 minutes
Be sure to check your oven at 30 minutes
When the cookie bar is golden brown you know your Reece's Pieces Magic Cookie Bars are done!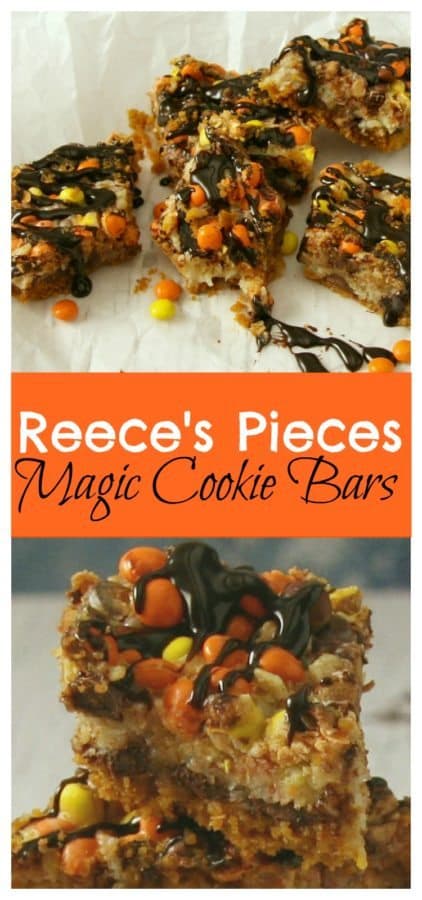 The following two tabs change content below.
I love to bake & create easy recipes that will turn novice bakers into rockstars! A full time administrator, writer, food blogger, mom and grandma, Perfect Pies and Pastry lets my creativity shine.
Latest posts by Judy Kahansky (see all)