This recipe is part of our monthly recipe series sponsored by Pick 'n Save. Follow along with All She Cooks on Pinterest and Instagram.
Fall is in the air peeps.  It's a great time to live in Wisconsin.  There is just so much to do: apple picking, pumpkin patches, hayrides and haunted houses.
Even without all of that, October is a busy month at our house: two birthdays, basketball practices, volleyball practices and games…not to mention Friday night football.
In between the running, its nice to know that I can celebrate Oktoberfest with some foodie flare and jaw-dropping tasty beer straight out of Lakefront Brewery, Inc., (shout-out to Milwaukee!).  They've partnered up with Pick 'n Save to bring customers a 6-pack assortment of flavors from Wisconsin.  It doesn't get more local than that.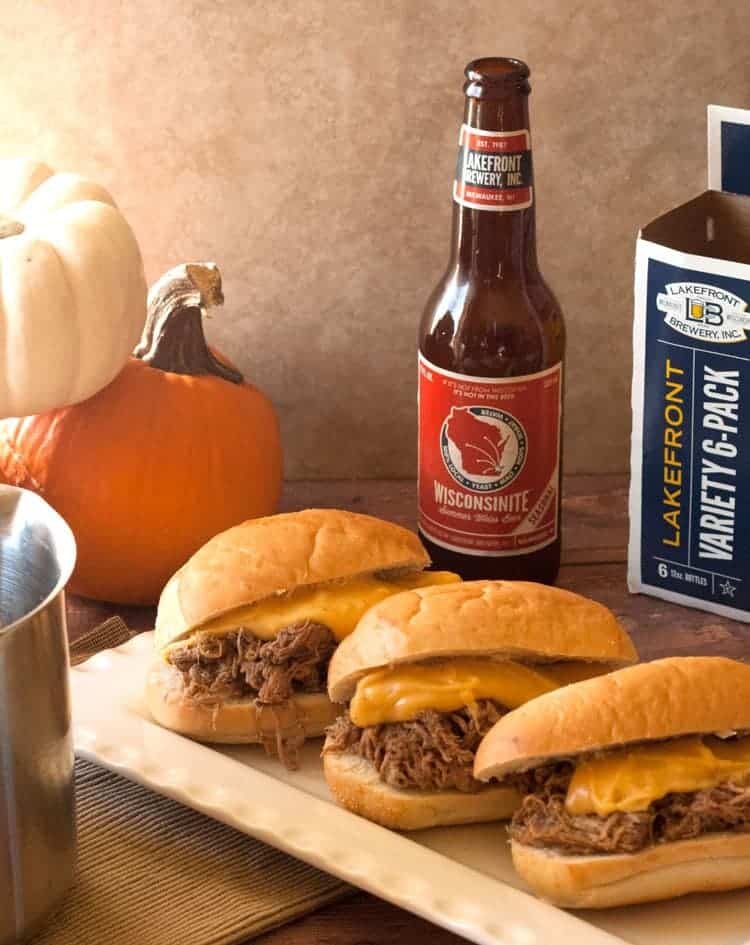 I paired up Wisconsinite beer with roast beef in the slow cooker for a juicy sandwich topper that was slow roasting all day, but any beer would work.
And, yes.  My house smelled sublime!
Seriously–all this best ever shredded roast beef required was a cup of beer.  I didn't even add salt and pepper until after I had shredded up all of the meat, which was about an hour before it was time for dinner.  Beef roast. Beer. Salt. Pepper.  That is all.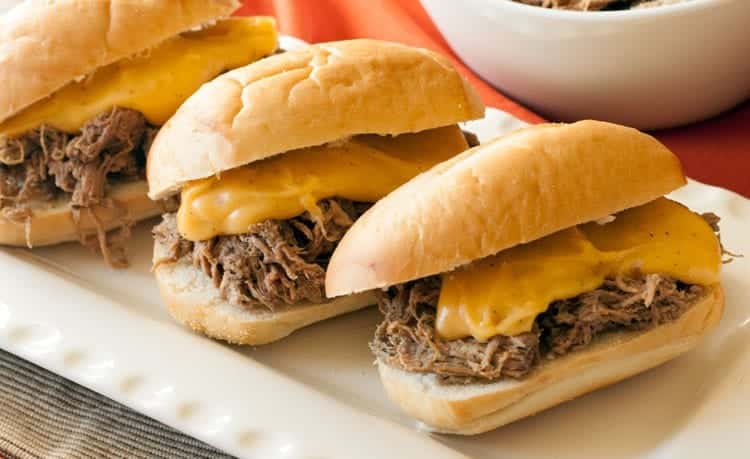 Oh… and cheese. Because, hello- Wisconsin!
But get this, because I guarantee you'll love where I'm going with this one.  You like beer, right?  Okay–even if you are not a beer drinker, you're going to fall in LOVE with this one–just like I did.
Beer Cheddar Fondue.
Fondue for two.
Or three, or four.  You name it–this is the fondue for you.
Again–we're working with simple ingredients to keep your life simple.  And this is an EASY recipe to make.  When you're running all over the place, sometimes cooking is the furthest thing from what you want to be doing–and something like a homemade cheese sauce can look intimidating.
But its not.  REALLY.  It's easy.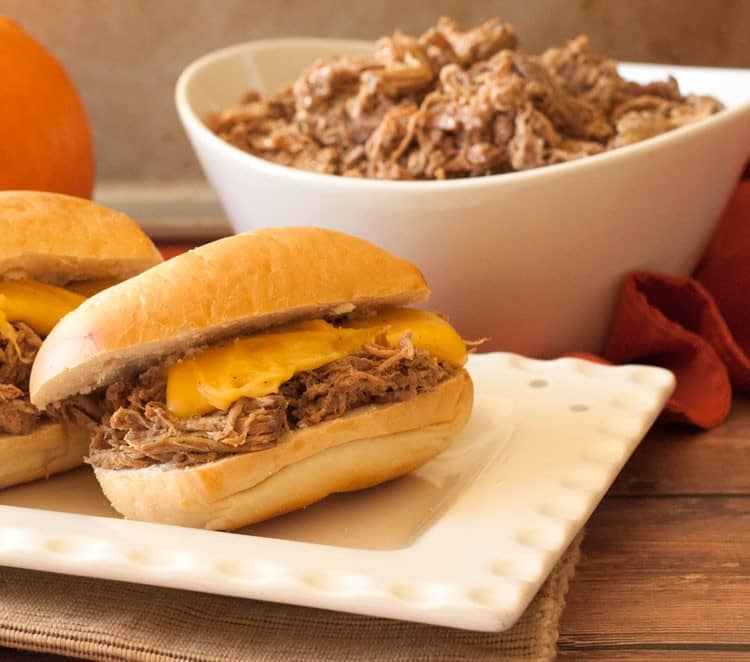 To make the Beer Cheddar Fondue sauce, all you have to do is to add 3/4 cup beer, 1/4 cup chicken stock and 2 tablespoons flour to a saucepan.  Whisk ingredients together until there are no lumps.  Heat over low heat and add in cheese.
Stir the cheese in and continue heating over a low temperature setting until all the cheese has melted and is well incorporated.  Add in a dash of salt and pepper to taste.
And in seriously five minutes, you have an amazing Roast Beef Sliders cheese sauce that is out of this world delicious!  No lie.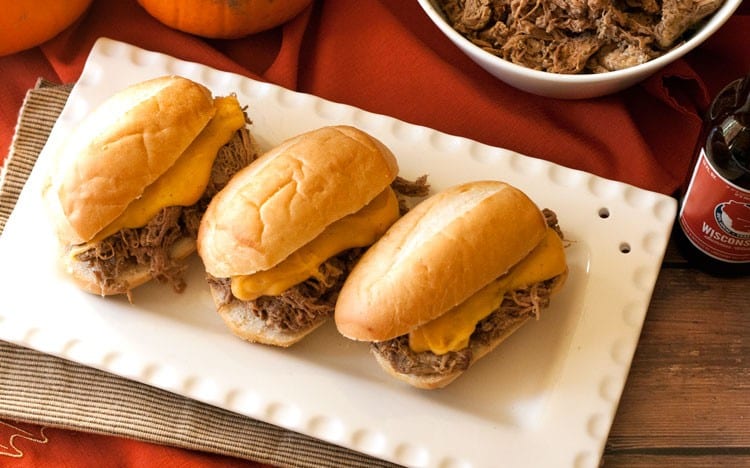 This is the PERFECT sandwich to serve for your next tailgate party or potluck.  You really can't go wrong.  And let me tell you, cooking that can't be messed up is my kind of cooking.
Throw in a salad, and you've got everything you need to make the perfect meal.
Now my only dilemma is deciding what to do with the other five beers in that Pick Six 6-pack. I'm thinking an easy beer bread might be on the horizon.
What would you make?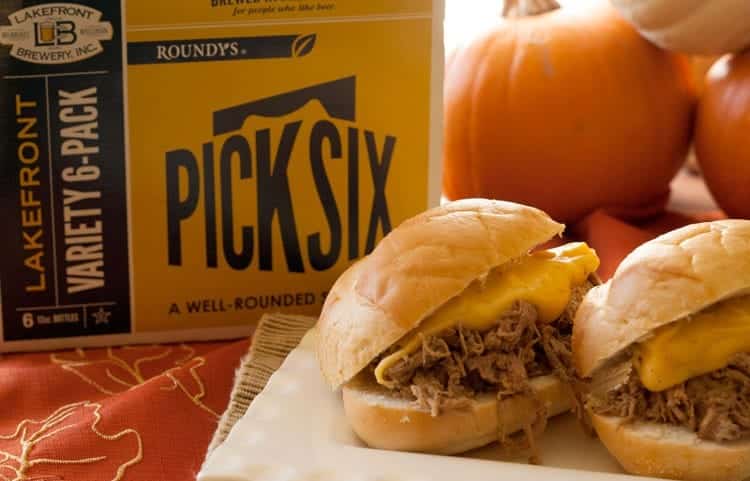 Print
Roast Beef Sliders Beer and Cheddar Fondue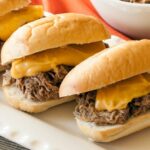 Cook Time:

8 hours 5 minutes

Total Time:

8 hours 5 minutes

Yield:

12-16

Category:

Dinner Sauce
Ingredients
3-4 pound beef roast
1 cup beer
2 teaspoons salt
1 teaspoon pepper
Sandwich rolls
3/4 cup beer
1/4 cup chicken stock
2 tablespoons flour
1 cup cheddar cheese, shredded
Instructions
Place beef roast and 1 cup beer in slow cooker. Cook on low for 6-7 hours. Using two forks, shred the beef and leave in the crock. Add in salt and pepper and cook for another 1-2 hours. Serve on sandwich rolls with Beer Cheddar Fondue (recipe below).
Mix together beer, chicken stock, and flour in a small saucepan over low heat until there mixture is smooth. Add in cheese and heat while stirring until cheese has melted and sauce is well incorporated.
Make sure to share any of your creations with #MyPicknSave
The following two tabs change content below.
Latest posts by Jessica McCoy (see all)