Healthy side dishes like Salsa 5 Bean Salad are not only quick to prepare, but they are loaded full of nutrients that every member of your family needs.  We're all looking for healthy recipes to add to our go-to list of family-approved meal ideas, right?
Don't let the fact that several of the ingredients come out of a can scare you.  In fact, canned vegetables are a healthy alternative to fresh produce.  And, since you're unlikely to have the time to soak, cook, and chill the beans in this recipe–in preparation for what could otherwise be an easy 5 minute recipe prep–well, I'd wager to guess you're probably going to go for the canned goods.
Or, in my case…reach into the pantry, because these ingredients just so happen to be things I love to cook with.  Think about it–fresh produce needs to be used up rather quickly, and when it is, there is nothing better.  But, as has happened way to many times in my house, if we don't have a plan on what to cook when we go to the store, sometimes the good intentions of buying that oh-so-good fresh produce can backfire.
Enter canned and frozen.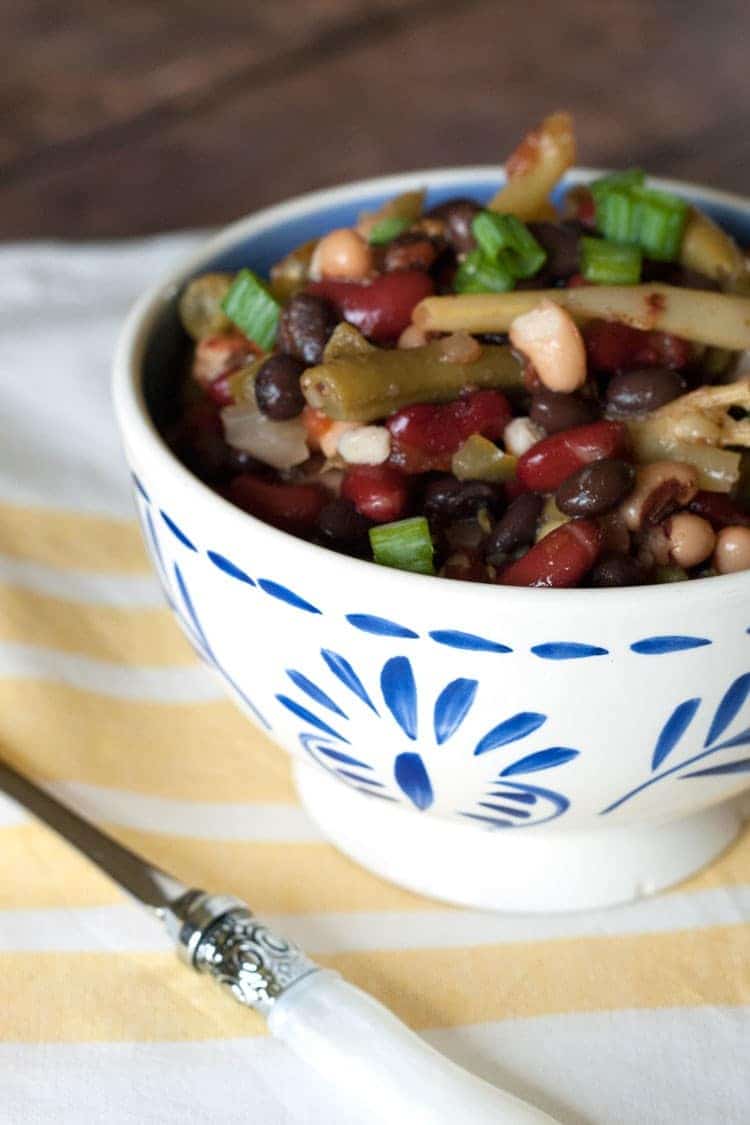 Canned and frozen produce can also be the best thing to use when a recipe calls for an ingredient that is out of season.  For instance, this recipe calls for salsa.  The salsa I'm using to add all kinds of flavor to my yummy Salsa 5 Bean Salad just happens to be homemade!
Yep, truly.  It was made with fresh ingredients grown right in my backyard.  So I get it.  You want to know where your food comes from.  You want to know that the ingredients that you are eating are healthy ingredients.  You want more wholesome and whole food products.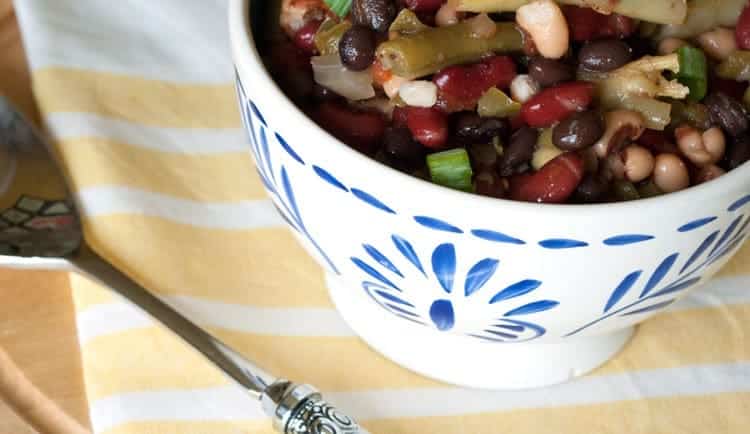 I'm a work in progress when it comes to whole food cooking.  I like my junk food, and I like convenience.  But, just like you, I also like to know that the food I feed my family is pretty healthy.
How to Make Salsa 5 Bean Salad
This is a SUPER easy recipe to make.  No lie!
Here's what you do: Open each of the cans of beans, drain and rinse in a colander.  Measure out the salsa and DIY Taco Seasoning.  Dump everything into a bowl and stir it all together.  Cover with plastic wrap and chill for a couple of hours before serving.
See?  Easy, right?  Try to tell me that you can't make this recipe–I totally won't believe you.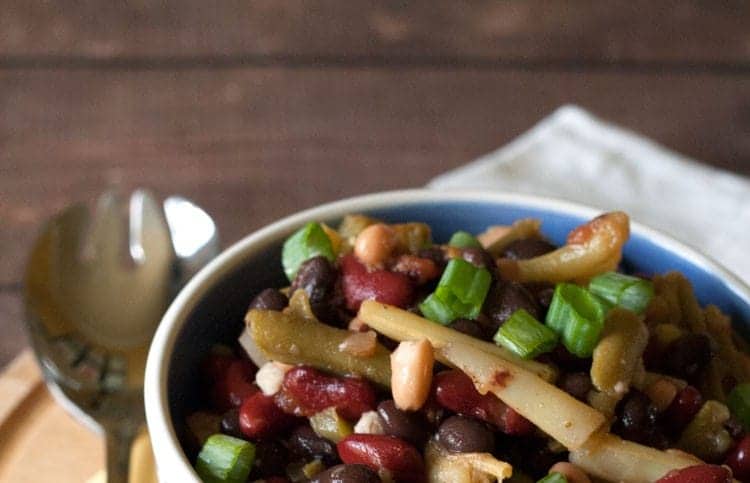 Recipes like Salsa 5 Bean Salad embrace the simplicity of home cooking.  There is really no reason why cooking from scratch should be complicated, but there is every reason for you to relish the experience of knowing that you can prepare and provide a healthy meal for your family.
Print
Salsa 5 Bean Salad Recipe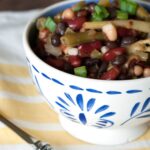 Prep Time:

5 minutes

Total Time:

5 minutes

Category:

Side Dish
Ingredients
16 ounce can kidney beans
16 ounce can black-eye peas
16 ounce can black beans
14.5 ounce can wax beans
14.5 ounce can cut green beans
1 1/2 cup salsa
1 tablespoon DIY Taco Seasoning
Instructions
Drain and rinse beans. Combine all ingredients in a bowl, mix and serve. If desired, chill for a couple of hours or overnight prior to serving.
Nutritious ingredients that are readily available can and should be used at every opportunity.  If you want convenience food–this recipe has healthy convenience food written all over it.  Just 5 minutes of recipe prep time, people.
You can do it.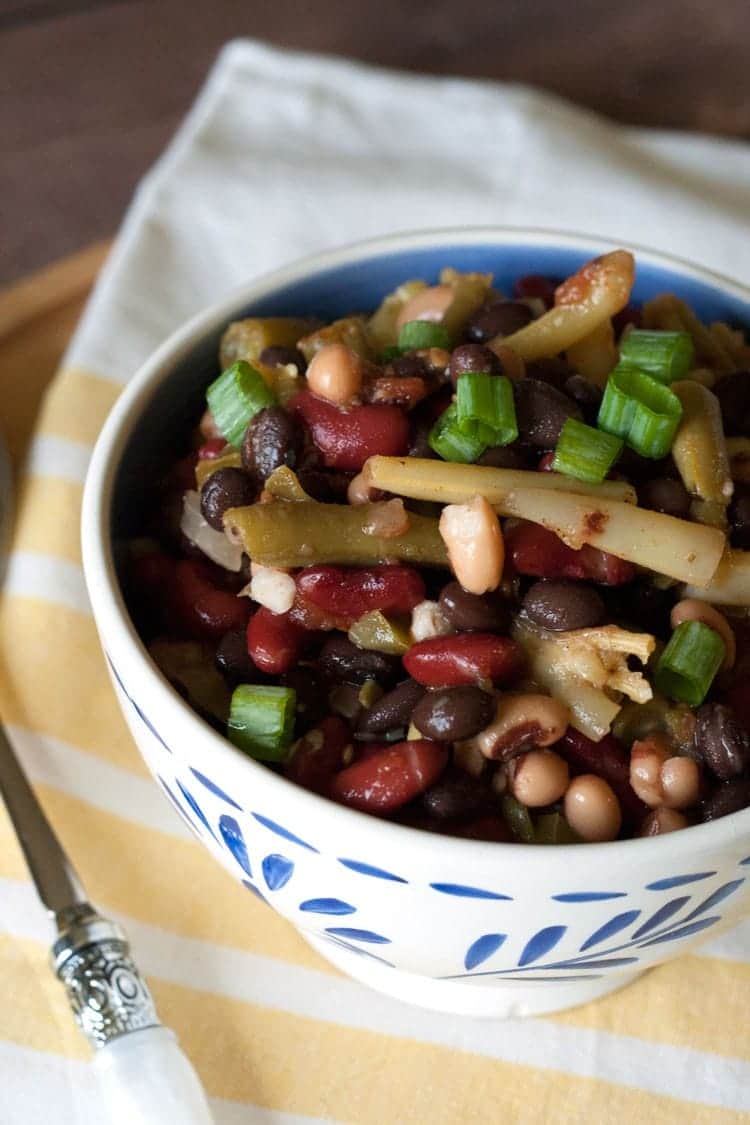 The following two tabs change content below.
Latest posts by Jessica McCoy (see all)