Butternut Squash "Noodles" for the Win

Love pasta but want to eat something a bit healthier than regular store-bought pasta noodles? You have to try butternut squash noodles!
Yes, you can buy butternut noodles ready-made in the produce section of some grocery stores, but butternut noodles (and zoodles and sweet potato noodles) are easy enough to make at home with the help of a spiralizer.
Not to mention the fact that eating butternut squash has tons of health benefits.
Butternut squash is a good source of vitamin C, vitamin E, thiamin, niacin, vitamin B-6, folate, pantothenic acid, and manganese. Just one butternut squash provides 582 mg of potassium, which is more than a banana.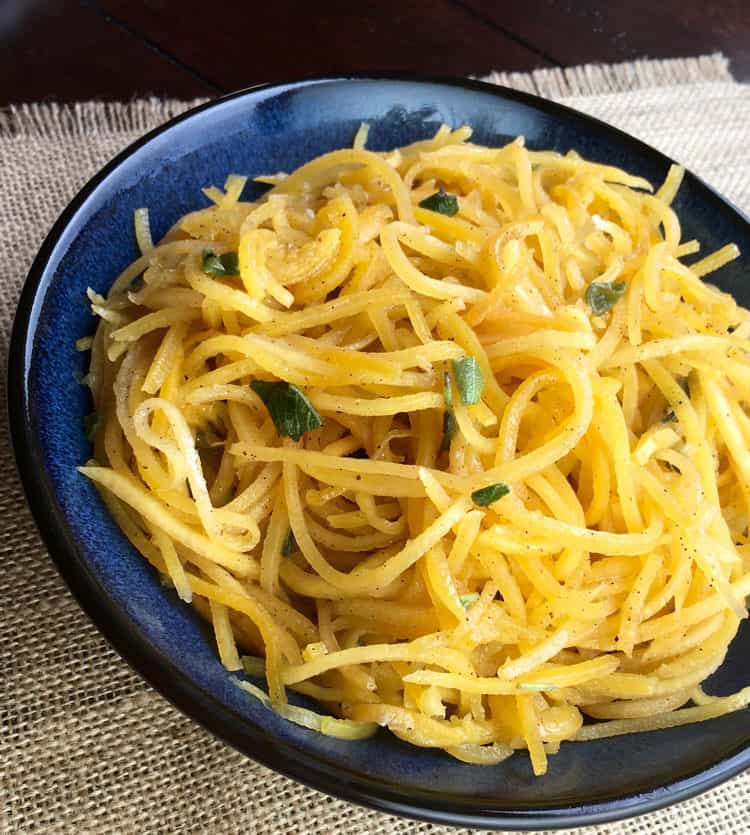 In most cases, pre-packaged "convenience" foods are a big no-no when trying to maintain a healthy diet.
However, this recipe features one time-saving convenience item that won't have a negative impact on your health!
When you don't have time to make the noodles from scratch--and it really doesn't take much time at all with a spiralizer--you can pick up some of the pre-made butternut squash noodles that are available at the grocery store.
It's all in the name of getting dinner on the table as quick as possible. And, that is something I seriously understand.
To Serve Meat or Not
I'm one that is perfectly happy without adding meat to a meal, but I know that not everyone feels the same way.
Because of that, I typically try to round out a meal with a meat dish--at least 4-5 times per week. With these delicious Butternut Squash Noodles, my favorite thing to serve is Mama's Meatballs.
I like to make Mama's Meatballs up with a lot of sauce. A meatball or two and a big heaping spoonful of noodles and sauce is more than enough to make a big meal.
The calories in the meal combo will be mostly from the meatballs. The sauce and noodles are veggies, so they don't add up to a lot calorie-wise. And that is always a good thing!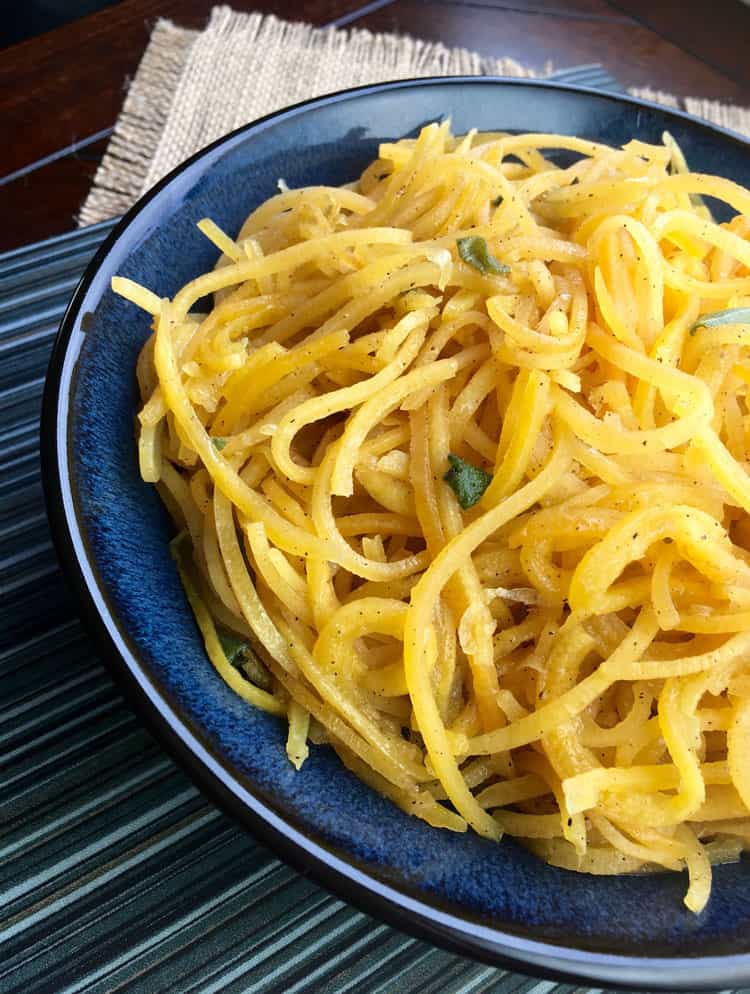 If you have a vegetable spiralizer, you can always make your own butternut squash "noodles" in just a few minutes.
If you do have one, don't be shy about trying it out on other vegetables. It can be a lot of fun creating new and interesting recipes when you're using veggie "noodles" as an ingredient.
You're going to love this fast and delicious recipe for butternut noodles. We seriously can't get enough of them.

One of the things I love most about butternut noodles specifically is that you can eat them in a variety of ways.
Add sauce to them and make a dish somewhat like regular spaghetti. Or, you can add pesto to them for a dish that totally wows. You could even add butter and cinnamon and brown sugar for a sweetened up fall flavored recipe.
There are so many ways to flavor butternut noodles, and this recipe really just gives you a starting ground for playing around with this versatile and delicious ingredient.
Love butternut squash? Here are some other delicious recipes to try:
Creamed Butternut Squash, Carrot, and Sweet Potato Casserole
Cheesy Butternut Squash Pasta Bake
Enjoy!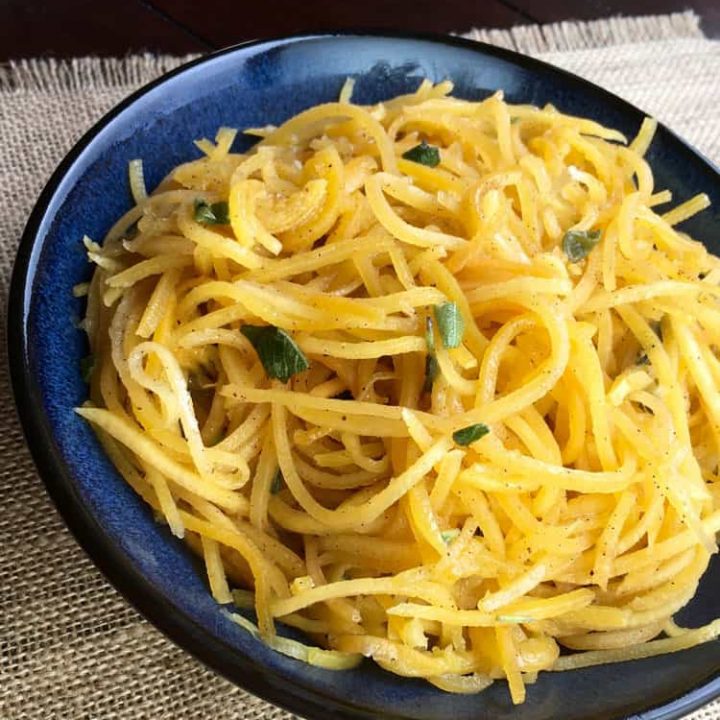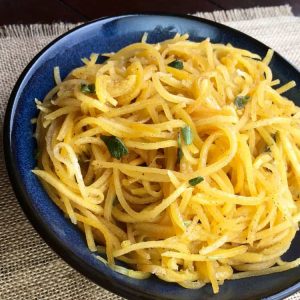 Savory Butternut Squash "Noodles" - Healthy Noodles Recipe
Want to eat pasta but counting your calories? Need an eggless noodle? Butternut Squash Noodles are so delicious, easy to make and good for you.
Instructions
Heat olive oil in a large skillet over medium heat. Add butternut squash noodles and cook for 4-5 minutes, turning frequently to ensure they cook evenly. When noodles are slightly softened, remove from pan and set aside. Keep warm.

Add butter to pan and heat until melted. Stir in chopped sage and cinnamon and cook until fragrant, approximately 2-3 minutes, stirring frequently.

Return butternut squash noodles to pan and toss to coat in sage butter mixture. Remove from heat and season with salt and pepper, to taste.

Serve immediately with your favorite entrée or as a light main course.
Nutrition
Calories:
206
kcal
Carbohydrates:
18
g
Protein:
2
g
Fat:
16
g
Saturated Fat:
6
g
Cholesterol:
23
mg
Sodium:
7
mg
Potassium:
502
mg
Fiber:
3
g
Sugar:
3
g
Vitamin A:
15144
IU
Vitamin C:
29
mg
Calcium:
94
mg
Iron:
1
mg