Shrimp Bowl Recipe - Perfect Party Recipe

Easy weeknight dinners never looked so appealing! Check out our savory quinoa and shrimp party bowl. You'll find a melding of flavorful elements in this appetizing dish. It's simple to cook this homemade meal for lunch or dinner tonight.
Shrimp and quinoa are balanced out with green onions and cabbage. Our shrimp bowl is seasoned to taste. Add a little more or a little less depending on your palate.
You might also want to try our Chicken Enchilada Bake, our Black Bean Enchiladas, and our Blackened Grilled Chicken.
Weeknights can be so busy, which is why it is good to have many healthy recipes to choose from when its time to decide on a meal plan for the week.
We like to mix things up and don't often eat the same recipes week after week--although we do have those that we eat more frequently.
When it comes to finding healthy recipes to eat that everyone in our family approves of, meal planning can get complicated. Sitting down with a meal planner and working through lists and recipes is the best way to plan out a week or month's worth of meals.
For your shopping convenience, here are some of the items needed for this recipe:
quinoa, Tabasco sauce, olive oil, salt, pepper, lime juice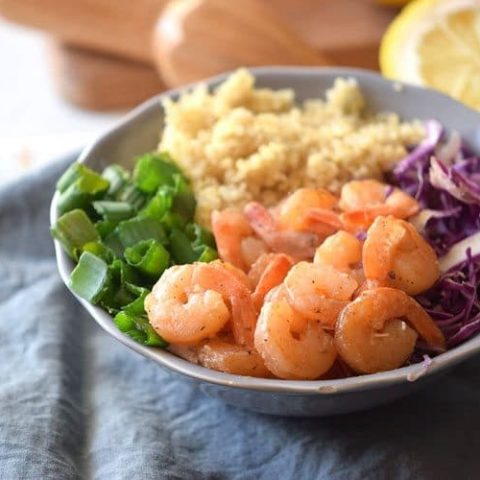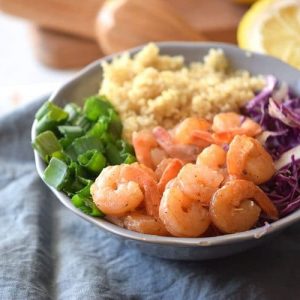 Shrimp Party Bowl
Make a shrimp bowl for a healthy dinner. You'll enjoy this dinner full of good-for-you protein and an easy dinner recipe.
Ingredients
Instructions
Mix the shrimps, Tabasco sauce, lime juice, pepper, and olive oil in a bowl.

Set a saucepan over medium-high, and cook the shrimps for 2 minutes on each side until they turn into a pink color.

Fill one part of the bowl with the quinoa, red cabbage, green onions, and grilled shrimps.

Serve and enjoy.
Nutrition
Calories:
337
kcal
Carbohydrates:
29
g
Protein:
29
g
Fat:
11
g
Saturated Fat:
1
g
Cholesterol:
286
mg
Sodium:
1050
mg
Potassium:
364
mg
Fiber:
3
g
Sugar:
1
g
Vitamin A:
125
IU
Vitamin C:
9
mg
Calcium:
197
mg
Iron:
5
mg
Tips
Instead of olive oil, a mix of butter and garlic and be used to cook the shrimp to give it even more flavor.