Do you drink water regularly? We don't drink nearly enough. But this Citrus-infused boost water will make you reach out for a glass when you check out how beneficial it is! It has abundant health and beauty benefits. It keeps your metabolism cranking and it is also known to help naturally smooth and tighten the skin.
This skin firming boost water is budget-friendly because it's insanely inexpensive to prepare. It keeps our skin glowing, aids in digestion, and is packed with vitamin C. Plus it can help you lose weight. Take that!
Although people have been chugging down the citrus-infused boost water for ages, some of its benefits have just recently begun making the rounds on the health and fitness circuit.
Regularly consuming vitamin C can lead to younger-looking skin and less wrinkles.
The reason is that the antioxidants found in vitamin C do double duty especially in this Citrus Boost Water. They fight the damage caused by free radicals, keeping our skin looking fresh and glowing. The vitamin C we get from the citrus water also keeps the body producing collagen which is essential in smoothing out lines in the face. Younger-looking skin, check! Less wrinkles, check!
This and so many more great recipes are available in the book Lose Weight by Eating.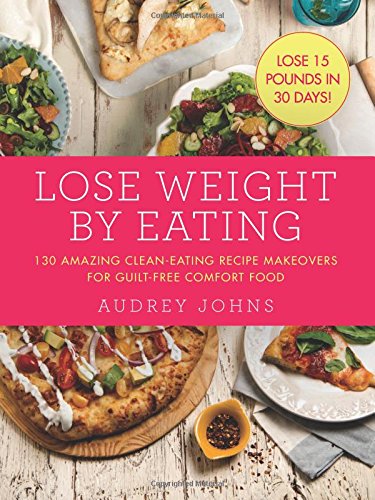 &
The benefits are impressive for such an effortless and inexpensive drink. It's awesome for the mind and body.
You can easily prepare it every morning or even at night before you go to bed, so you can drink it the next day while you're on the go. You'd feel more hydrated, healthy, and glowing than ever!
Make this recipe even easier when you use an infusing water pitcher. There are even infusing water bottles so you can have your infused water on the go.
Skin-Firming Citrus Boost Water
Bored of plain flat water? Try adding some fruit! This water is one of my personal favorites. I like to make it at night before I go to bed. I awake to a delicious, full-flavored drink with abundant health and beauty benefits. Mangoes and citrus boost your metabolism, and they're also known to help naturally smooth and tighten skin. Drink as much as you like—remember, you're trying to drink a gallon of water a day, and this will make your goal deliciously possible to meet.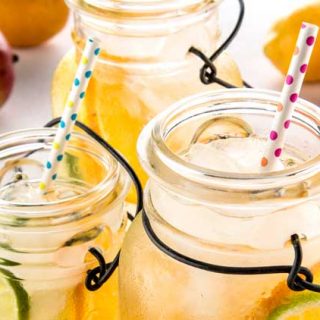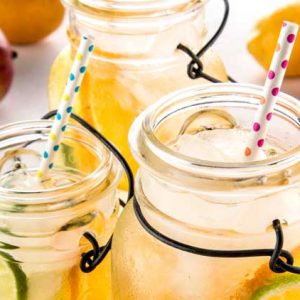 Skin Firming Citrus Boost Water
The best water for skin firming boost!
Ingredients
Makes: 1 gallon
2

mangoes

2

oranges

cut into slices

1

lemon

cut into slices

1

lime

cut into slices

4

cups

ice
Instructions
Peel and cut the mangoes into large chunks, reserving the pits. Divide the mango chunks between two large pitchers. Squeeze the excess juice off the pits and drop them in as well. Add the citrus slices and top with the ice, which will hold down the fruit. Pour in 1 gallon water.

Let the water infuse for at least 2 hours before serving or store overnight in your fridge. If you like your water at room temperature, let it infuse on the counter top, but be sure to add the ice to hold down the fruit, or use a fruit infusion pitcher, which will hold all the fruit down for you without the ice.
Nutrition
Calories:
106
kcal
Carbohydrates:
27
g
Protein:
2
g
Fat:
1
g
Saturated Fat:
1
g
Sodium:
14
mg
Potassium:
347
mg
Fiber:
4
g
Sugar:
21
g
Vitamin A:
1267
IU
Vitamin C:
92
mg
Calcium:
57
mg
Iron:
1
mg